Hands-On: Apple Music Lossless and High-Res Lossless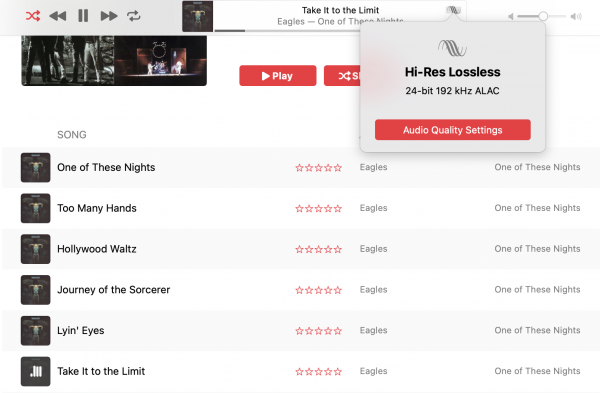 Apple Music Lossless streaming is now live with an ever-growing library of songs available in Lossless and some in High-Resolution Lossless audio formats. While Lossless is available at no extra charge to Apple Music subscribers, there are a few things you need to know before experiencing these premium-quality offerings.
Apple Music's Lossless is considered "CD quality," with the tracks being in 16 bit/44.1 kHz or 24-bit/48 kHz format. Those resolutions can be played on iPhones or iPads (with iOS 14.6 or above), via AirPlay, on an Apple TV, and on Macs with MacOS 11.4 or above. (Support for Lossless on Apple's HomePod and HomePod mini speakers is coming soon, while Lossless isn't available at all for Windows PCs or Android devices.) Since Bluetooth can only handle 2Mbps bandwidth and 16/44.1 requires 2.62Mbps (24/48 requires almost 4 Mbps), wireless headphones can't play Lossless audio.
Apple Music's High-Resolution Lossless format goes up to 24-bit/192kHz and requires 9.2Mbps of bandwidth. But AirPlay, Apple TV, and the company's Lightning (or USB type-C) to 3.5mm headphone adapter only handle up to 24-bit/48kHz audio formats. So, to listen to Lossless high-res music, you'll need to use an external Digital-to-Analog converter (DAC). For my test, I used an iFi Audio Zen ($135), a desktop DAC that's sufficient for high-res streaming. For high-res audio on-the-go, you'll want to use a portable DAC/headphone amp such as the dongle-sized AudioQuest Dragonfly, which can connect with an iPhone or iPad using Apple's Lightning-to-USB camera adapter.
Before connecting the DAC and headphones, you must change some settings in Apple Music. On an iPad or iPhone, go to Settings and scroll to Music, then Tap on Audio Quality and choose High-Resolution Lossless for Cellular and Wi-Fi Streaming. Note that you'll want an unlimited data plan if you decide to stream hi-res audio over your cellular connection, as you'll quickly hit your data limit due to the large file size. You can also choose an Audio Quality option for songs you download.
Lossless songs and albums in Apple Music are indicated with a wavy line icon. When playing a song, you can tap or click this icon to see the exact resolution of the file that's streaming. There are no official Apple playlists for high-res audio, though such playlists are available for Spatial Audio. For my evaluation, I compiled a playlist of Apple Music high-res albums that you can check out here.
There is a plethora of Apple Music Lossless content, but only a smattering of songs and albums available in high-res. You'll find albums from Neil Young and Crazy Horse, along with Crosby, Stills, Nash, & Young's Déjà Vu. New York by Lou Reed, The Goo Goo Dolls' Dizzy Up the Girl, and Green Day are also available. And there is no better way to experience to Joni Mitchell's crystal-clear voice than playing her Blue album in 24/192. For something more contemporary, try Coldplay, kids.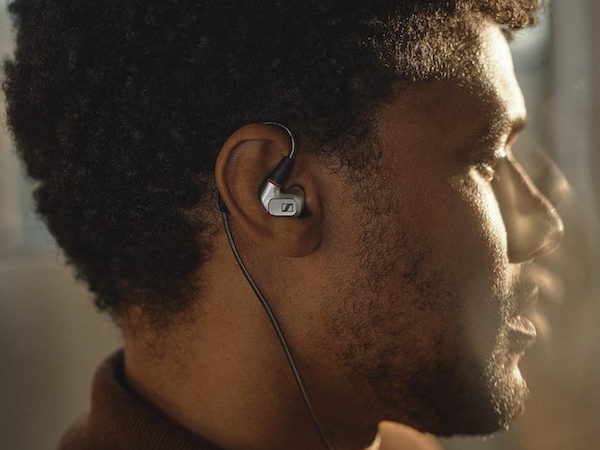 Sennheiser IE 900 In-Ear Monitors
When listening to lossless high-res music, you'll want to use high-quality headphones such as Sennheiser's recently released IE 900 in-ear monitors ($1,300). These are not typical wired earbuds, but well-crafted headphones that are an ideal match for high-res.
Each IE 900 in-ear monitor is made of a solid anodized aluminum core that's precision-milled in-house at Sennheiser. The tiny port feeding the driver's output is shaped to control the frequency response using a complete structure that "swirls" acoustic energy and levels out frequency response peaks.
Three Helmholtz resonator chambers are located inside each earpiece. A Helmholtz resonator has a spherical shape with a small neck on one end and a larger hole on the other. When the small end is placed inside your ear, a specific frequency can clearly be heard. Each chamber in the IE 900 addresses a different frequency and absorbs excess energy for more precise sound reproduction. To increased accuracy across the low- and mid-frequency bands, a small chamber-within-a-chamber is used to control the direction of the volume of air.
Sennheiser also chose to use a single driver for the IE 900 in-ear monitors to create better phase performance as there is no need for a crossover. The drivers of the two earpieces are also matched during production for the best sonic balance.
Sennheiser's IE 900s come with three cables with different-size gold-plated connectors. The earpieces connect with MMCX plugs that can easily snap off and attach to a different cable. For testing, I attached a Lightning-to-USB camera adapter to my iPhone, a USB type-A-to-USB type-B cable to my iFi DAC, and the included 3.5mm cable from the DAC's headphone output to the IE 900s.
The earpieces fit comfortably, with bendable wire holding them in place. Both Memory foam and silicone tips in three different sizes are provided, so you can choose the one that fits in your ears most snugly. It's easy to wear these in-ear headphones for hours, as I did while testing.
Hands-On: Apple Hi-Res Lossless and Sennheiser IE 900
Once I was fully set up with a list of hi-res lossless music, I was ready to dive in for what I expected to be the best sound quality streaming can offer. The experience ended up being magical—similar to what I have experienced in audiophile listening rooms.
Listening to the CSNY tracks, I felt like the foursome was seated with me in the room. The clarity of vocals was superb, and I could sense the dynamics of each guitar string strum or pick. The remastered Peter and the Wolf OP67 conducted by Leonard Bernstein perfectly revealed each instrument. Listening to the quiet moments of Rhapsody in Blue, I could hear the vibration as the hammer hit piano strings.
The Beatles' Sgt. Pepper's Lonely Heart Club Band in Lossless was limited to 24/44.1, but still sounded impressive. I also compared this album with the Spatial Audio version on Apple Music using the company's AirPods Max headphones. Spatial Audio created a bigger soundstage with greater separation of the vocals and instruments. But with the Sennheiser in-ear headphones playing Lossless, I could clearly hear whistles, laughter, and audience applause sound effects on certain tracks.
There is much debate about whether most people can hear a difference between compressed, Lossless, and High-Res Lossless audio formats. But in my experience, when a recording is reproduced this faithfully, the music sounds full and natural, and I hear songs in a whole new way. Kudos to Apple—and to Sennheiser—for elevating the streamed music experience. Apple Music Lossless has renewed my desire to sit down and listen to music.