GoldenEar launches HT-centric in-wall/in-ceiling speakers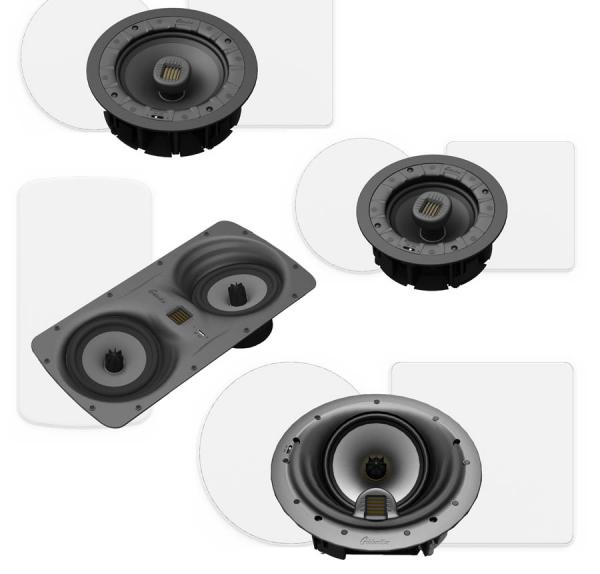 If there's anyone who writes about audio who hasn't raved about GoldenEar Technology speakers, we don't know 'em. So far, the company's biggest hits have been its Triton Two and Triton Three tower speakers, but it's been rather quietly expanding into other categories, too. Last week the company expanded its line of architectural (i.e., in-wall/in-ceiling) speakers with two new models: the Invisa HTR 7000 in-ceiling LCR and the Invisa MTX multipolar in-wall/in-ceiling speaker. These join the existing Invisa 650 and Invisa 525 in-ceiling speakers.
The Invisa HTR 7000 is intended for use in the left, center, and right channels of a home theater system, with the speakers mounted in the ceiling above and slightly in front of the screen. The drivers are the same as those found in the Aon 3 bookshelf speaker. The 7-inch woofer is angled to fire toward the listener, and the High-Velocity Folded Ribbon (HVFR) tweeter sits in a tiny module in front of the woofer, angled in the same direction. A high-frequency EQ switch allows fine tuning of the sound. A magnetically attached grille covers the speaker and the mounting flange for a clean look.
The Invisa MTX is designed primarily for use in the surround channels of a home theater system, but can also be used in the front channels of a stereo system if you want extra-spacious sound. Its rectangular design is typical of a in-wall model, but the company says it can also be used in-ceiling. The dual 5-inch woofers are angled in different directions to produce broader dispersion, and an HVFR tweeter provides the highs. Like the HTR 7000, the MTX has a high-frequecy EQ switch and a magnetically attached grille.
Price for the Invisa HTR 7000 and the Invisa MTX is the same: $499 each.