Garcia Remembered in Acoustic Oasis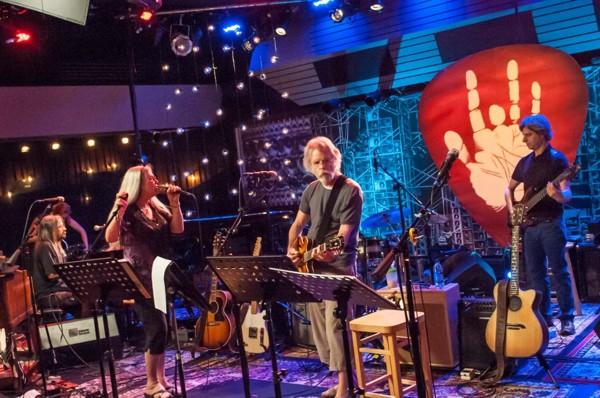 Jerry Garcia's premature death at age 50 left a void comparable to that of John Lennon at 40. We ache from the loss of their iconic presence, their wry wit, and songs they might have written. But though Garcia did not live to see his 70th birthday celebrated on August 3rd, 2012, he was present in spirit at the marathon concert convened at Bob Weir's TRI Studios in San Rafael, California. It included old friends, new acolytes, songs that have not worn out their welcome, heart-on-sleeve performances, an audience that spanned generations, and the subtle use of technology that let the musicians do what they did best while spreading the event to a webcast audience.
The Grateful Dead were tech-savvy before it became fashionable. As they began filling bigger and bigger venues in the early 1970s, they became dissatisfied with then-primitive concert PA systems. So they had Owsley "Bear" Stanley and members of their sound crew design the famous Wall of Sound: a mountain of scaffolding covered with 641 drivers, powered by 93 amps, separated into 6 independent sound systems, comprising 11 channels. Phil Lesh alone had 4 channels, one for each string of his bass. When first tested in 1973, the system blew all its tweeters, but it supported Dead tours from 1974-76 before being replaced with something more practical.
Fast-forward through the tie-dyed corridors of time to the 21st century. When not helming various post-Dead bands, Bob Weir has been busy with TRI Studios, a performance and recording space built for HD webcasting. Bear and his acid-inspired crew no longer being available, Weir has installed a Constellation PA and monitoring system designed by Meyer Sound of Berkeley. The Constellation deploys its resources less flamboyantly than the Wall of Sound. In the ceiling, virtually unseen, are 35 small full-range speakers and 20 microphones that capture and manipulate the sound in the room. In a soffit running around the room are 24 larger full-range speakers and a dozen subwoofers. Each speaker is individually addressed by digital signal processing which avoids feedback and enables the participants to fine-tune reverb. The result is an obedient acoustic chameleon: a room that listens to itself and does what the musicians demand.
With something simple—voice, piano, acoustic guitar—the Constellation system can generate a long, spacious reverb that flatters the instruments. If the music is busier and louder, and reflections threaten to mush the mix, the musicians can touch an iPad and deaden the room interaction. They can even synchronize the slap echo to the beat of the song. This DSP-driven approach is both more precise and less unwieldy than conventional acoustic treatments, with their massive reflective/absorptive panels and other physical impedimenta. It makes TRI a hospitable home for just about any kind of music—especially in the larger of its two studios, which can accommodate up to 60 musicians.
The system at TRI is analog-savvy as well as digital-savvy. It includes vacuum-tube mic preamps, a 1970s-style analog console, and other components that sprinkle a little analog magic dust on the digitally processed signals. One thing it does not include, at least not yet, is surround: TRI is sensitive to the Dead's fan base, and while some of those fans would welcome a 5.1 mix, others are two-channel traditionalists. Also, because of the difficulties in monitoring two simultaneous live mixes—one stereo, one surround—the engineers would have to monitor the surround mix and use an unmonitored downmix for stereo. They're not ready yet to make that leap.
In Move Me Brightly, the Garcia tribute, it was impossible to see the system's mechanics except for a brief glimpse during Weir's single solo performance. He stepped up to some equipment at the front of the stage, pressed some buttons, shook off a sandal, and used a bare foot to operate an electronic foot-stomp panel. Even when the stage was filled with musicians, coming and going, drifting from song to song, the system was detectible only in the preternatural clarity of the mix, which was impressive even with the stingy data rates of a webcast.
The players included Weir, who despite the white walrus beard seemed to have drunk from the fountain of youth, his singing and playing unimpaired; an endearingly grandmothery Donna Jean Godchaux-McKay, who was in fine voice; and for the first few songs, Phil Lesh, who then relinquished the bass to Phish's Mike Gordon and moved onto another Garcia tribute at his own nearby Terrapin Crossroads, a combination music venue and restaurant. Other participants included Joe Russo, who tirelessly played drums for nearly the entire four-hour event; Jon Graboff, whose pedal steel helped fill the void left by Garcia's irreplaceable electric guitar; and singers, guitarists, and keyboard players too numerous to list.
The live stream was jointly carried by TRI's website and Yahoo Music, with the latter being less glitchy. You can see the entire event—all 4:24 of it—on YouTube, though a two-hour selection with better sound is available from Yahoo Music. A list of the dozens of musicians and songs can be found here.
If the end result wasn't exactly the Grateful Dead, it did have the lazy-river flow of a Dead concert. Even in the voices of different artists, the songs spoke for themselves across generations. The standout track, "He's Gone," visibly moved everyone on stage. Jerry Garcia was gone, but somewhere out there he must have been smiling.
LATEST VIDEO