Fujitsu P55XHA30WS plasma monitor
If you've been following the plasma marketplace, you've surely figured out that there's a lot of product re-selling and "private labeling" these days. It's not unusual for five or more companies to be selling the same 42- or 50-inch plasma panel, albeit with different-colored trim plates and bezels. Some re-sellers even go so far as to put their own processing electronics inside, but these days, that's largely the exception to the rule. There's no end to the companies who are offering plasmas for sale, but only a handful of them actually make the things.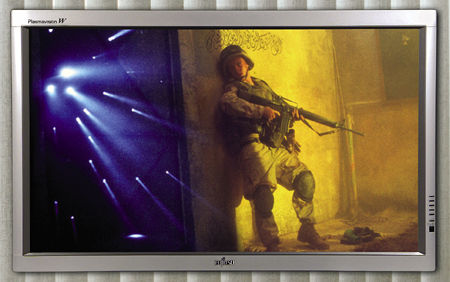 So it was quite a treat at CEDIA Expo 2003 to see that Fujitsu, one of the early players in plasma, had come out with an all-new 55-inch plasma monitor, produced at their state-of-the-art factory in Kyushu, Japan. (The factory is co-owned by Hitachi, who is also selling this monitor.) The Fujitsu display was given the model number P55XHA30WS and "officially" launched at this year's Consumer Electronics Show, and I quickly put my name in the hat for a review sample. The P55XHA30WS (say, is that model number long enough?) is not an integrated TV—just a plain-vanilla monitor with a variety of signal inputs. It even comes with an onboard stereo amplifier rated at 10W per channel, although no accessory speakers are currently offered to match.
Out of the Box
When you first think about it, a 55-inch plasma doesn't sound all that large—its picture is only 10% longer diagonally than the multitude of 50-inch products offered for sale. But appearances can be deceiving! The P55XHA30WS measures 54 inches wide by nearly 32 inches high, and it weighs 121 pounds without the accessory stand. That's about 20% larger and heavier than your garden-variety 50-inch plasma.
At 4.8 inches deep, it's hardly thicker than a contemporary 50-inch panel, and the front retains the clean, sleek look of other Fujitsu plasma monitors. The accessory stand is a departure from previous products. It's a large U-shape design that stands on end with stabilizing legs; a piece of textured, beveled glass slides into the space between the legs to add a nice trim touch.
The monitor can be controlled from buttons mounted on the lower right front panel. These controls include volume up/down, input signal selection, widescreen mode selection, and power on/off. If you need to get into menus, that requires the companion remote control, which has a sparse button layout.
Fortunately, you can access any of the six available video/PC inputs directly; there's no need to sequence through unused inputs. Eight different user-defined picture memories can be applied to any input, and a full range of menu adjustments and settings is at your fingertips.
The connector complement is definitely biased toward consumers. In addition to a composite video jack and an S-video input, three RCA jacks are provided for connection to a Y-Pb-Pr analog component video source. This can be anything from a 480i/480p DVD connection to 720p and 1080i HD set-top boxes.
You can also connect the 15-pin D-sub connector to a set-top box or computer. There's also a DVI-D connector with HDCP for connection to set-top receivers, DVD players, and PCs.
For those who are counting, that's a total of three component inputs, and Fujitsu includes three pairs of RCA audio jacks if you want to switch audio sources through the monitor as you change from one video or PC source to another. For systems integrators, a standard 9-pin RS-232C jack is provided for connection to a home automation or wired room-control system.
Operation and Menus
Fujitsu hasn't changed its menu interface and onscreen display much over the years, but this newest implementation definitely looks a lot nicer than previous models, with their large, blocky lettering. Menu navigation remains the same, with access to a full range of image controls.
Like previous Fujitsu plasma monitors, the P55XHA30WS allows independent setting of gamma and white balance (drive/contrast only). There are five preset combinations of gamma, brightness, contrast, and white balance, identified as Natural, Fine, Effective, Conventional, and Still.
You can select the User color-temperature setting in any of these presets, and you can modify the parameters of each to suit your taste. To do it right, you'll need some sort of test-pattern generator and a way to measure the actual color temperature, or compare it to a known value of gray.
The Fine menu preset goes a step further and lets you adjust the overall picture white level and black level. This lets you tune the P55XHA30WS to display movies with dark scenes in a room where you have full control over ambient light. But you can accomplish the same thing in at least one other preset (Still), which I'll detail shortly.
Additional menu settings let you fine-tune the horizontal and vertical image position and size for all images (except HDTV through the DVI input). Fujitsu provides numerous widescreen modes, depending on whether you're watching 1.85:1 or 2.35:1 programs from DVD (anamorphic stretch) or 1.78:1 HD programming; there are also some in-between steps that allow for captions. In addition, you can zoom in and fill the screen with letterboxed 4:3 programs, if you wish.
Other menu settings allow you to label various inputs for specific equipment, such as VCR, Cable TV, DVD, etc. The 15-pin RGB and DVI-D inputs can be configured to work with standard PC display rates or with a set-top receiver. In addition, a Mask feature can be applied to the 15-pin input to crop the top, bottom, and sides of displayed images by 5, 10, or 15 pixels.
Fujitsu has provided some internal protections against image burn-in. One method is to use the Screen Orbiter, which slowly rotates the entire image over a range of 5 to 15 pixels (your choice). If you find a network logo "bug" or new-channel crawl has already created a ghost image, select the White Screen mode to apply equal aging to all pixels for a brief period of time. (You might also find that this clears the residual image seen after you power down the monitor, which is created by a small lingering charge across the pixels.)
There's even an Exhibition mode, which is intended for industrial digital signage. I wouldn't recommend it for home theater; the P55XHA30WS was plenty bright enough in its normal modes for watching TV and movies.
Setup and Operation
Given my previous experiences with Fujitsu's 50-inch plasma monitors (which used Panasonic glass), I expected a lot in terms of gray-scale performance and picture quality. The fact that I could tweak and save eight different groups of image parameters only piqued my interest in what the P55XHA30WS could do under test.
LATEST VIDEO