Free Wavz Sports Earphones Track Your Beats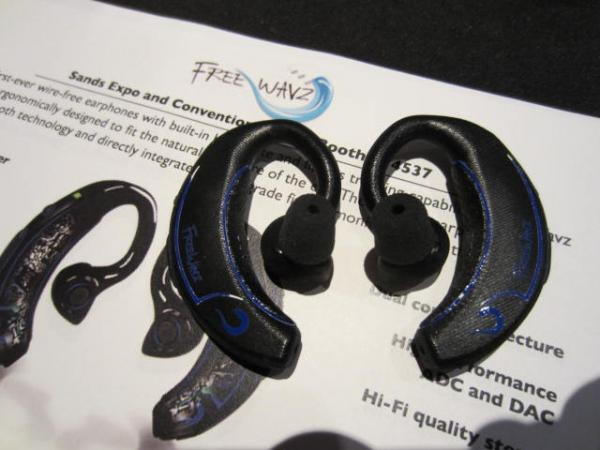 Some people listen to music while sitting in a concert hall. Some listen to music sitting in their La-Z-Boy. Still others listen to music while running the Boston Marathon, preferably while on the way to breaking the 4-hour mark. Surely you are among the latter. The Free Wavz is the earphone for you.
The Free Wavz are cordless, 100% wire-free, Bluetooth earphones. They are also sweat and water resistant. Nothing special about that. But they also have built-in heart-rate monitoring and fitness tracking. Also, lending themselves to your vigorous lifestyle, they also have a "4-point" fit; in other words, they are designed to not fall out of your ears – definitely a fashion no-no especially just as you cross the finish line, arms raised in triumph.
Other perks you might like: independent left/right volume and equalizers and pause to talk. And, you get active updates on heart rate, calories burned, distance, steps, and exertion. You can select what updates you want, based on the type of workout. You can also perform basic Siri commands. Also, importantly, you can control the balance of music and environmental listen-through for each ear. If you've ever cycled while wearing earbuds, you will instantly note the importance of this.
A lot of earphones are designed by people who majored in industrial design; primarily, those earphones look really, really cool. The Free Wavz were designed by Dr. Eric Hensen, a ear/nose/throat (and fitness) guy who understands how an earphone should fit within the ear.
Other info: 3-axis accelerometer; IR and R wavelength tuned pulseox photodiodes; 16MB internal and 64MB external memory; 100 mAh battery in each bud; 5-band equalizer for each ear.
Home theater may be a sedentary pasttime, but your music doesn't have to stay indoors. Nearly 125 million Americans exercise regularly and the majority of them track their performance with an eye on measuring and improving their performance. Earphones such as these that also function as activity and fitness trackers let you combine music playback with fitness and indeed let you use music as a motivator. Earphones like these are among the hottest products in the audio biz.
Now drop and give me twenty.