Free Discs for Everyone!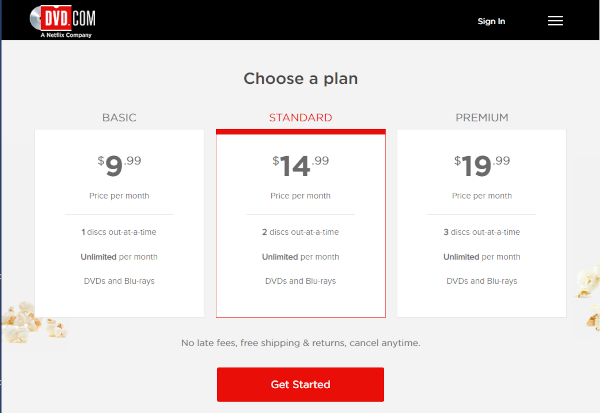 Well, okay…not everyone but as
Netflix gets ready to exit the disc rental service
it has run for 25 years, it is offering subscribers to its DVD/Blu-ray mail-order service a chance to get up to 10 free titles.
If you're not a member — or cancelled your membership years ago — and want to get in on the deal, you still have time but you need to visit dvd.netflix.com before 11:59 p.m. PT on August 28th. There you can sign up for the basic one-disc-out-at-a-time plan for $10/month or opt to get two discs for $15/month or pay $20/month and get three discs shipped together.
Whichever plan you sign up for, be sure to opt in to receive Netflix marketing emails. That's key, because it's the only way you'll have a chance at getting those free discs.
Once you're an official subscriber, load up your queue with a list of DVDs or Blu-ray Discs you want to watch and, assuming the titles you select are available, wait for the discs to arrive via the U.S. Mail. Yes, all very short-lived and quaint the age of instantaneous streaming, one dominated by — you guessed it — DVD.com parent Netflix.
So, sure, go ahead and order a couple of discs for a short nostalgia trip, but don't lose sight of the mission: to have a go at getting those 10 free discs, even though you won't know if you made the cut until the discs arrive sometime after September 29, the official end date and last shipping day for the disc-by-mail service. You also have no direct say over what titles Netflix sends you! We can only hope that Netflix will look at the discs in your queue to make a decision on what to ship.
Again, all very quaint, but the fact is many titles remain hard to find on streaming services because of licensing rights that don't cover DVD and Blu-ray rentals. Along with recent theatrical releases, including the likes of Avatar: The Way of Water, DVD.com is known for maintaining an enormous inventory of classic movies that simply don't exist on streaming services.
So go ahead and spin the disc. Who knows, maybe you'll get lucky and end up with 10 awesome discs.