Four Days in LA
Elsewhere on this site I discuss my experiences at the press events I attended in Los Angeles (
LG
) and New York (
Sony
). Between these two events I elected to spend a few extra days in Los Angeles to pay informal visits to two manufacturers and also to check out the latest movies in good movie theaters—including one of the best in the country.
Company Visits
The manufacturers I visited were Starke Sound, an up and coming company specializing in speakers and amps, and Revel. Starke's Los Angeles area facilities were impressive, located in a large, purpose built room (28' x 20' x 14') custom treated with a mixture of absorption and diffusion. Starke's flagship Halo speakers filled the space with dynamic, Dolby Atmos sound, courtesy of 3 Halo IC-H5 Elite floor standers across the front, 4 Halo IW-H5s for surrounds (both designs going for roughly $13,000/pair), smaller IW-H3s overhead, and Starke subs. All of them, apart from the subs, were driven by a pair of Starke's own A7MkII 7-channel class A/AB amplifiers. The video system consisted of a 130-inch wide perforated screen (gain 1.4) from Spectro Pearl (a company unfamiliar to me), and a JVC DLA-X570 projector (last year's most affordable JVC e-shifter). The video quality was good, the audio outstanding.
I also visited Revel's Kevin Voecks in his audio lab/home theater. The space there was also large, though just a bit smaller than Starke's, and while the acoustic treatments weren't as overtly visible, they were clearly done with care. Kevin has been using this same space for over 20 years and is intimately familiar with its characteristics. That's significant, as he must make decisions on the designs of Revel speakers there as well as using the space for industry meetings and seminars. He also has access to the world-class facilities at Harman's Northridge, CA headquarters (Harman is the parent company of Revel).
The speakers in his setup were, of course, all Revels, including no less than 3 pair of Revel's flagship Ultima2 Salon2 floor-standers, an Ultima2 center, four Revel Ultima2 18-inch subwoofers, and smaller Revels to fill out the full Atmos setup. The video system consisted of a newly installed Sony VPL-VW885ES 4K projector ($25,000) and the screen was a 10-foot wide (I recall) Stewart Studiotek 130. The projector is still in the tweaking stage, but showed immense promise, with subtle but visible differences between 2k and 4K source material fed to it via Kevin's Kaleidescape server and several UHD discs I had brought with me. It should be no surprise to readers that the sound from the Revel speakers was world class.
Needless to say, neither setup is open to the general public, though groups such as local AVS Forum members have visited the Starke room. Revel products are widely available around the world, and Starke's currently limited dealer network is in the process of expansion.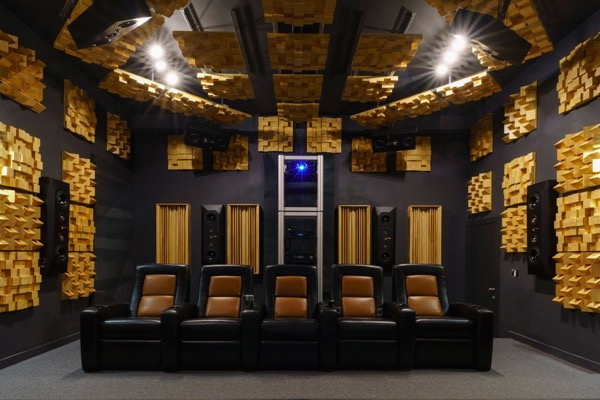 Out to the Movies
I also took in four movies in LA theaters and 2.5 on the two legs of my flights offering entertainment options. More on the latter at the end of this tome. The AMC multiplex in Burbank, CA is one of less than 100 in the US to offer Dolby Cinema, nearly all of them, to my knowledge, located in AMC multiplexes). I've mentioned Dolby Cinema before; it's the best theatrical movie experience you can get today, offering not only the best black levels you'll see in theater projection but a peak light output of 30 foot-Lamberts (you're lucky to see 16 in the best conventional theaters, even IMAX). It doesn't do 3D (no loss for me) as 3D would invariably sacrifice peak brightness.
The films shown in Dolby Cinema theaters are typically graded for the capabilities of the theater's projector and screen. Dolby controls everything about these theaters (at least as much as possible) from the size of the screen to the sound (including Atmos), along with reclining seats with butt-kickers (not my favorite feature, but the effect isn't overdone).
But not all films shown in Dolby Cinemas are so graded, and those that aren't can't use the full capabilities of the setup. This isn't always made clear in the theater's show listings, but a Google search for Dolby Cinema Films will show you which are properly graded for Dolby Cinema theaters. (Most of them are, but if a non-graded film is a major hit, and no major Dolby Cinema-graded film competes with it, the non-graded film might be shown in the Dolby Cinema house since it's often one of the biggest screens, with the most seats, in the multiplex.)
I planned to see Black Panther in the Burbank CA Dolby Cinema on my first day, but it turned into a washout. After 30 minutes from the scheduled start time a young lady came out to announce that they couldn't get the projector started so that showing was cancelled!
At that point I felt snake-bit. On a visit to LA last year I went to see Star Trek Beyond, in that same theater, on a Thursday evening showing the day before its formal Friday opening. Same thing—no picture, no show. But my flight was leaving the next day so I couldn't see the movie, at least not in a Dolby Cinema. (The nearest Dolby Cinema to where I currently live is about 150 miles away, in Tallahassee, FL!)
But this time I could wait, and taking advantage of the free pass the theater offered (in addition to a refund for the scrubbed showing) I went back two nights later for Black Panther. I was more than a little concerned that the movie would be loaded with the PC SJW preaching that infects too much of Hollywood product these days (see The Shape of Water, or rather don't!), but while there was some of that it wasn't enough to get my panties in a bunch. (The only thing I found creepy were persistent shots of Saucer Lip). It was a solid Marvel entry, and its monster-hit status is no surprise.
It also looked fantastic in Dolby Cinema; I'm not sure I would have enjoyed it as much in a regular theater, even IMAX. Dolby Cinema comes closer to HDR than any home projector can manage, though apart from sheer size still isn't a match for HDR from a good flat screen set. Nevertheless, I do look forward to seeing the movie again, on UHD Blu-ray, in my home theater. A home theater projector might go somewhat brighter than 30 ft-L (though also heavily dependent on the screen size and gain, which is why Dolby Cinema also controls these parameters), but the grading for home HDR sources is never a match for the peak light output of even the best projector, home or otherwise.
But I digress. Earlier the same day I took in two more films. I had intended to see A Wrinkle in Time in a nearly Dolby Cinema theater in Hollywood—the El Capitan. It has all of the Dolby Cinema projection qualities and grading, but lacks other amenities—no powered recliners, no Dolby Atmos—so it can't be called Dolby Cinema.
But no matter; I never got to the El Cap. The LA Marathon was running that day, and it was nearly impossible to get anywhere in Hollywood. But I did manage to find a way to the Arclight theater nearby to see a very different film: The Death of Stalin. It's a combination of brutality and black humor that's not for everyone, but I was never bored and the projection quality, as it always is at the Arclight, was second only to those Dolby Cinema presentations.
I did see A Wrinkle in Time later that day at a small AMC theater in Burbank (three films in one day—a record even for me!). The technical quality in the theater was routine, and comparable to what I can get in my local theaters here in NW Florida. That may have affected my impression of the film, which was so bad I'd have walked out if I hadn't been blocked in by other patrons at both ends of my row. But I might have enjoyed it more if I had seen it in Dolby Cinema. That evening, at the Dolby Cinema Black Panther presentation, they showed a trailer for Wrinkle, and it looked vastly better. Had I been able to see it that way, I might have enjoyed it at least a little. I know others who did enjoy this movie in Dolby Cinema, but also likely had fond memories from reading the book as youngsters to help fill in the blanks in the movie's script. (The book is reportedly far better—it was a children's book and a huge seller back in the early '60s.)
Last day, last film. The new Laura Croft was an enjoyable live action adaptation of a video game—certainly no real characters could have survived all the obstacles and injuries our intrepid heroine endured. But it looked great in Dolby Cinema (It was alternating showings with Black Panther that week, which allowed me to catch two different films in the same Dolby Cinema theater). It provided less obvious eye-candy than Black Panther (apart from Alicia Vikander in the title role), but I enjoyed it more than last year's Kong Skull Island, if that's any sort of recommendation.
I did see 2.5 additional movies on the plane. I can't say much about the technical presentation, but it could have been worse and the screen was only a foot or two from my eyeballs. My noise-cancelling headphones also subdued the planes' noise, at least enough to hear the dialogue. Geostorm may have won a few Razzy Awards (not sure, as I somehow missed them this year) but it was actually dumb fun in a dumb science, good special effects (at least on a 10-inch screen), so bad it was (almost) good sort of way.
The Shape of Water, on the other hand, had just one thing in its favor; I didn't have to pay to see it. (The prices in those LA theaters were horrendous, topping out at about $22/seat in the Dolby Cinema house on Sunday night—luckily I didn't go for the nearly $9 large popcorn and $6.00 soft drink). It started off interesting enough, but became sillier as it went along. One wag dubbed it The Creature from the Black Lagoon Meets Helen Keller, though this Helen was merely mute. A podcast commenter called it Beauty and Bestiality. How it won the Oscar for Best Picture is beyond me in a year that gave us both Dunkirk and Darkest Hour. But it was at least well done technically (as far as I could tell on that tiny screen).
Oh, and that half movie? It was The Man Who Invented Christmas. I enjoyed it immensely (I'm a sucker for period pieces) until the captain told us to fasten our seat belts and return our tray tables to their up and locked position. I'll have to get the Blu-ray to see how it ends. I'm told there's something about a skinflint and four ghosts.