Flipping Over Libratone's Zipp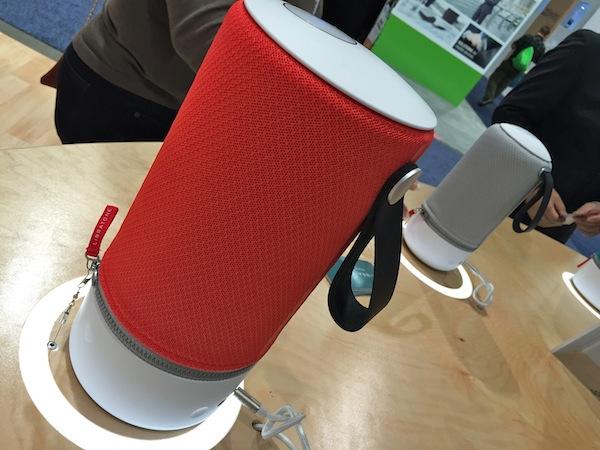 Buried deep in the Mobility zone of the LVCC's North Hall, Libratone's minimalist wood and glass-lined booth seemed an oasis of Scandinavian design amidst the electronic(s) noise.
The company was showing its recently released Zipp ($299) and Zipp Mini ($249) models. The wireless speakers use 100 watts and 60 watts, respectively, to drive a pair of tweeters (aimed into an acoustic lens to disperse sound) and an active woofer. A passive radiator is also on board to better extend bass. All Zipps have interchangeable mesh "grille" coverings that you can Zipp on and off if you get bored of the color.
Sound is streamed to Zipps via Wi-Fi and Bluetooth, and they have Spotify Connect and Apple Music compatibility. You can also store up to five internet radio assignments via a touch interface located at the top of the speaker. Battery life is spec'd at 8-10 hours for taking a Zipp on the road.
Perhaps the coolest thing Libratone demo'd was its 360° FullRoom sound feature. This lets you wirelessly link multiple speakers for multiroom sound, or for distributing sound around a large, open space. Listened to both solo and in 360° FullRoom mode, the Zipp and Zipp Mini delivered clean, powerful sound for compact wireless speakers.
WHERE TECHNOLOGY BECOMES ENTERTAINMENT