A First Look at the Beats Music Service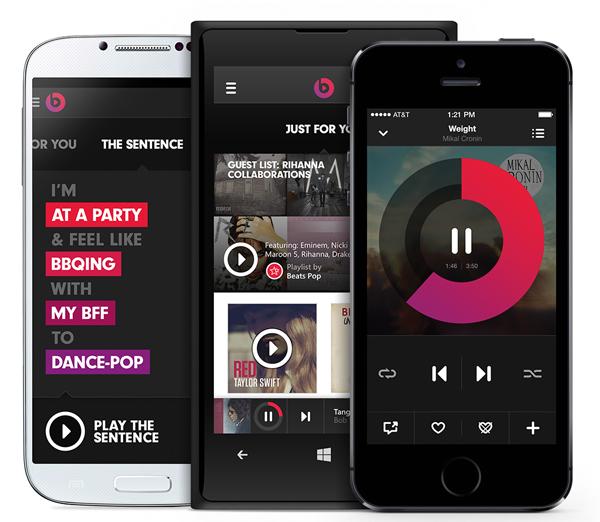 What do you do after changing the world of consumer headphones and becoming a name in computer and car audio? Get content to play on those headphones and audio systems, of course. Last summer, Beats Electronics acquired the MOG music streaming service with its library of 16 million songs and launched Beats Music on January 21.
Contrary to last summer's declaration that MOG would continue after the launch of Beats Music, the Beats website shows that the acquired service will be shut down in April. Beats is not MOG with a different face. It is a different approach to streaming music. Helmed by the music industry heavyweights Interscope/Geffen/A&M records chairman Jimmy Iovine and Dr. Dre who co-founded Beats Electronics, the new music streaming service is run by insiders including Creative Chairman Trent Reznor of Nine Inch Nails. The idea behind Beats Music is to use people to curate music playlists rather than employing algorithms to create radio stations such as those used by Spotify, Pandora, and others streaming services.
It's not an entirely new concept. The now defunct Napster app had a vast number of playlists of music genres and sub-genres that were curated by music experts. But then, hyped headphones weren't unique before Beats' enormous success either.
Beats has hired what music industry insiders might deem an impressive staff of music experts. Led by radio program veteran, Julie Pilat, other Beats experts include former Pitchfork Media editor-in-chief Scott Plagenhoef, veteran Detroit radio music director Suzy Cole, Los Angeles hip hop radio personality Fuzzy Fabulous, and country music writer Ken Tucker.
Curated Playlists: From BBQing to Punching Walls
The playlists created by the Beats staff experts are available in the "Find It" screen of the Beats app that is available for iPhones, Android and Windows Phones. The curators have put together playlists that fit into music genres so (in theory) you can find the kind of music you want to hear. If you are looking for music to accompany a specific activity or mood, the curators have created playlists to suit everything from BBQing to Being Blue, to Drinking and Driving (hopefully not at the same time), to Hitting the Slopes, Running, Punching Walls, and more.
Within each activity, there are several playlists from which to choose. The Driving activity includes a playlist called "Road Trippin" by the "Beats Country" curator. While the name of the playlist may not tell you what kind of music to expect, the name of the curator is usually a pretty good indicator (in this case it's obviously country music). Other playlists under the Driving activity are "Bored on the Road" by the Power106 DJ, and "Car-aoke! Rock ' Roll Traffic Jams" for those who like to belt it out in the privacy of their own vehicle.
Once you choose a playlist, all of the songs are displayed. There are no limitations to how you play the songs. Tap to play any song in the list, skip songs, repeat songs, or jump around the list as much as you like. Songs you discover in a playlist can be added to your library or to your own playlists with a tap of the plus button.
Next to the plus button are a heart and a crossed-out heart that appear to be the Beats equivalent of thumbs up and thumbs down that are found in other music apps. The thumbs up and thumbs down symbols make sense when used to tell a radio app what type of music you want to include. However, unlike the radio stations of other services, these Beats playlists are a fixed list of songs. Tapping the heart puts the song into a favorites playlist, but I'm unclear what the hate button accomplishes.
Along with curating playlists, the experts choose playlists created by others to include in the Highlights section of the app that encourages listeners to discover new music. Playlists in this area may include those created by subscribers similar to the way Spotify features their user's playlists. The Highlights section also displays celebrity playlists such as the "Britney Spears Workout Playlist," songs from the Ellen Show, and a country playlist by Kacey Musgraves. Top 25 lists of different music genres and new releases are available too. Beats music dangles a promise of a customized music service. During the app setup, a series of circles appear with music genres and specific artists/bands. Tapping a circle indicates that you like that type of music, holding a finger on a genre tells the app, "No, I'm not into Gospel" (or whatever type of music you don't want to hear). This is the basis for recommendations that appear in the app's "Just For You" section. In the Just For You screen, you'll find several suggested albums and playlists that should match your music preferences. The suggestions are refreshed four times each day so suggested evening songs may be more mellow than those suggested in the morning or mid-day.
Mad Lib-Style Personalization
Another way to get a personalize playlist is by using "the Sentence." Like an odd Mad Lib sentence, the sentence reads "I'm (choose where you are) & feel like (choose an activity or mood), with (choose who you are with), to (choose a type of music)." Because I often like to listen to music while working out I created the sentence "I'm at the gym and feel like running with myself to Classic Rock." The resulting playlist included a number of songs I wouldn't have chosen. While Elton John's "Saturday Night's Alright for Fighting" is my idea of a song that is good for running, the playlist also included slow R&B tunes and Roxy Music. The Sentence can be a bit crazy and a lot of fun. A random sentence is generated each time the app is opened. "I'm sick of being cold & feel like shoveling snow with no pants on to vintage soul and funk" may be amusing, but it's not clear what music will be played . Playlists created by the Sentence do not list upcoming songs so you don't know what you'll get, but you can skip past the songs you don't like.
Beats Music does not offer a free version. It also has no ads. The single user monthly subscription fee is $9.99. Beats is offering a deal for AT&T mobile customers. Five users are covered in the $14.99 per month family plan that includes up to 10 devices. No other music subscription service is (yet) offering a shared user plan. There is currently a seven-day trial period to check out the service. AT&T customers get 90 days to try out the family plan which will add the subscription fee to their phone bill after the trial period.
The bottom line is that Beats Music offers a number of ways to discover new music and is easy (and entertaining) to use. I always like the freedom to skip around while discovering new music in playlists and adding songs to my own library with a single tap. Still, in spite of the Sentence game and the Just For You recommendations, Beats delivers so many songs that I want to skip it makes me question whether it is truly customized to my tastes. The expert curated playlists make me feel like I'm a music outsider. Perhaps I prefer music chosen by algorithms over the songs curated by the experts. Perhaps you'll feel differently.