Updated Fire TV Stick 4K Can Handle More Formats and Control Your TV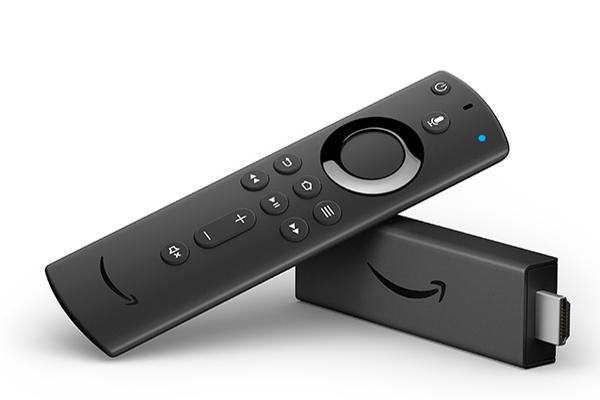 Amazon has announced that it will release the "most powerful streaming media stick available" at the end of the month. The updated Fire TV Stick 4K boasts an improved processor and a newly designed Alexa Voice Remote for $50, the same price as its predecessor.
"We've listened to our customers and pushed to deliver the complete 4K solution they are looking for, all within a compact stick form factor," said Marc Whitten, vice president, Amazon Fire TV. "The team invented an entirely new antenna technology and combined that with a powerful 802.11ac Wi-Fi chip that optimizes for the best possible 4K UHD streaming experience, even in congested network environments."
The Stick's specifications rival what you would expect to find on a full-sized media player, including a quad-core 1.7-GHz processor that can load content and navigate menus faster and respond more quickly to search results and commands. It also incorporates a GE8300 graphics processor that can handle the Dolby Vision and HDR10 high-dynamic-range (HDR) formats as well as the newer HDR10+ format, which makes sense since Amazon Prime Video was one of the first to stream in that format. The stick is also one of the few streaming players that supports Dolby Atmos surround sound.
The improved Alexa Voice Remote now has dedicated volume, mute, and power buttons and uses a combination of Bluetooth and multidirectional infrared (IR) to control a compatible TV, cable/satellite box, and audio system. For those who prefer voice control, the new Fire TV Stick 4K uses the cloud-based Alexa service so you can use voice commands to control power, switch inputs, tune to a channel on the cable box, or control volume on a connected TV and AV receiver. The remote is available separately for use with earlier Fire TV models, priced at $30.
Voice control of the Fire TV Stick 4K is available by pressing the microphone button on the remote or by pairing the Stick with an Alexa speaker or device. If there is only one Alexa device in your home, it will automatically pair with the Stick for voice commands without further setup. Many apps — Netflix, Prime Video, Hulu, Showtime, and ESPN — already have enhanced in-app voice controls on Fire TV. Amazon also announced that voice navigation is available for A&E, AMC, Sony Crackle, Hallmark Movies Now, HBO Now, History, IFC, Lifetime, and VH1. If you don't have an Alexa device The Fire TV Stick 4K will be available in a bundle with an Echo Dot for $80.
The new Fire TV Stick 4K will be available October 31 but is available for pre-order now. On November 14, the Stick will also be offered as part of a $250 in a bundle that includes the Fire TV Recast Amazon introduced earlier this year. Recast combines a DVR with two TV tuners and includes a TV antenna for recording up to 75 hours of high-def programming with no fees. You can record two programs simultaneously and recorded programs can be streamed to any Fire TV Stick or media player, mobile app, Fire Tablet, or Echo Show device. Connecting the Fire TV Stick 4K to the Recast creates an integrated streaming experience with a live TV guide.

SPONSORED VIDEO