How to Find and Stream Holiday Movies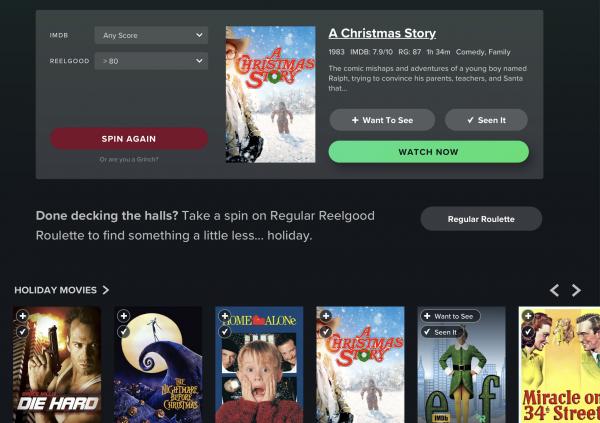 'Tis the season for watching holiday movies. As I put my box of Christmas DVDs in the donation pile, I'm wondering where I'll be able to stream them. Over the past few years, I've purchased digital copies of a few favorite titles. Still, in a year when the world is crazy, a binge on holiday movies may be the best way to keep spirits bright. New streaming services have made it harder to find classic titles as content is shuffled from one app to another when licensing rights expire. If you're growing tired of the same movies, you'll find Netflix has created sequels to last year's Holiday hits originals. And if live performances have been your family tradition, you can share some holiday culture via virtual streaming events.
Finding Holiday Titles by Search and Reelgood
As licensing deals for movies change, it can be hard to find where to stream your favorite titles. A perfect example is how Charlie Brown specials are no longer available on ABC after Apple TV+ obtained the rights. But don't worry, you don't have to subscribe to Apple TV+ to enjoy the holiday treasure Charlie Brown Thanksgiving. Apple is making it available to stream for free from November 25 to November 27. We can presume that there will also be free viewing dates for A Charlie Brown Christmas.
A streaming player or smart TV with voice search is the easiest way to find holiday movies. When asked to search for "Holiday movies," my Roku Ultra displayed zones (genres) for Holiday and Thanksgiving. Results included holiday movie titles, Thanksgiving or Christmas episodes of TV shows, animated titles, and adult holiday movies like Die Hard. Amazon Fire TV Cube displayed a shorter list but could find where to stream specific titles, including the 1970 Rankin/Bass stop-motion classic Santa Clause is Coming to Town.
If you don't have access to voice search, the Reelgood app and website is the best way to find which service can stream specific TV shows and movies. After indicating the services you subscribe to, Reelgood displays where you can watch for free and which apps have the titles available for purchase or rental.
A recent update to the Reelgood mobile app makes it easier to play your desired title directly from the app. Once it finds the title, there is an option to "Play on TV." Movies and TV shows now play directly to many devices, including Roku, Fire TV, Android TV, and LG smart TVs. The app should automatically find TVs or streaming players on your network, but if they aren't shown, follow the instructions for your device. (I had to manually set up my Roku TV using its IP address.)
This feature works exceptionally well. Our family has a tradition of watching Planes, Trains, and Automobiles on Thanksgiving, and the search showed that it was available on AMC. When I tapped to watch, I had to create an account and download the app to my Roku TV. Most apps would have made me start over after setting up AMC, but once I completed the setup and download, Reelgood continued to the Steve Martin classic and started to play it on my TV.
If you aren't sure what you want to watch, Reelgood has a button called "Holiday Roulette" that will recommend the best Christmas and Holiday movies. Choose an IMDB ranking (1 to 9) or Reelgood score (over 90, 80, etc.) to display either a great film or a campy one. It will say where you can watch it, or you can save to watch later.
If you want to browse through a list, you can check out Hollywood Reporter's blog about holiday movies and where to stream them.
New Holiday Movies to Stream
When it's time to watch something new, check out this year's Netflix original holiday movies. Netflix has released sequels to two of last year's original holiday hits: The Christmas Chronicles: Part Two and The Princess Switch: Switched Again. New 2020 releases also include a couple of original movies — Holidate and Jingle Jangle: A Christmas Journey. The Netflix original series Dash and Lily is a holiday-themed young adult rom-com. Those who prefer a holiday music and variety special might like Dolly Parton's Christmas on the Square.
So far in 2020, there's only one original Hulu star-studded holiday movie. The Happiest Season is a Christmas romantic comedy about a gay couple spending their first holiday with family. It stars Kristen Steward, Mackenzie Davis, and Daniel Levy of Schitt's Creek.
Stream a Christmas Culture Tradition
With music halls and theaters still empty due to COVID restrictions, companies are turning to streaming. From ballets to operas and musicals, there are numerous opportunities for families to keep the traditional cultural experience alive. Here are a few:
Nutcracker Online from the San Francisco Ballet. More than just the classic ballet performance, a ticket also includes a virtual tour of the opera house with fun activities, including historical highlights and learning steps from the choreography. Tickets are $49 for 48 hour access.
Handel's Messiah Reimagined is a live performance of four-star soloists and the London Handel Orchestra led by Laurence Cummings. It will be socially-distanced and streamed live from Handel's own church — St George's, Hanover Square in London's Mayfair, and include pre-recorded choruses, including a chorus of 150 singers from 16 countries. The performance will be live-streamed for free on Facebook at 2 p.m. ET on December 3rd, and live on YouTube thereafter.
A Christmas Carol: On Air is an audio stream of the Charles Dickens classic. This is the first time in its 44-year history that American Conservatory Theater's (ACT) celebrated production of the Charles Dickens classic will be available to stream. The San Francisco holiday tradition will stream online from December 4th through the 31st. Tickets are $40 to $60.
It may not be a holiday as we know it, but there are many ways to get yourself into the holiday spirit by adapting classic family traditions or creating new ones.