Fibaro's New Smart Plug Lights Up Your Nights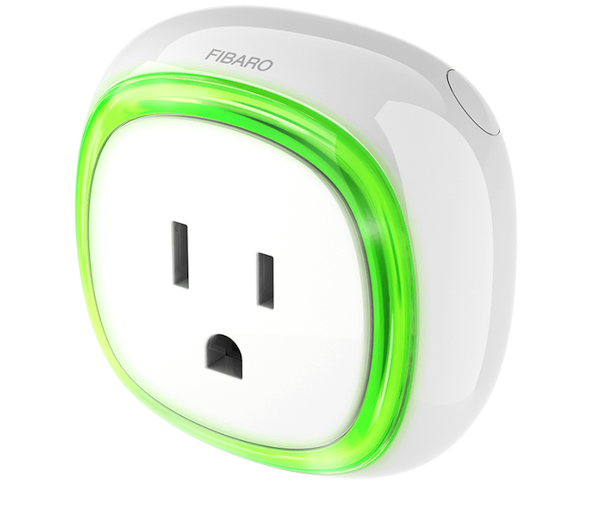 Fibaro
is using CEDIA 2017 to introduce to the US market a smart power adapter called Wall Plug, a device then company says is "the smallest intelligent power adapter with standard & USB plugs" incorporating Z-Wave Plus. Wall Plug is an unusual smart outlet switch that includes a standard, controllable AC outlet along with a built-in USB charging port and can monitor power levels and energy usage. It's compatible with most smart home hubs and systems that are Z-Wave-enabled.
Fibaro refers to the Wall Plug as "an intelligent outlet adapter" because it can monitor power consumption independently at the plug and the USB port. A color ring located around the front face of the Wall Plug provides a visual cue of the plugged-in device's current power load. When used with Fibaro's smart home controllers (Home Center Lite or Home Center 2), a maximum power limit for each connected device can be set; and, if the power consumption goes beyond a specified amount, the ring will turn purple and flash as a visual notification of the problem. If a short circuit is detected, the Wall Plug will automatically shut down power to the connected device.
The Wall Plug's list of unique features doesn't end there. For example, the color-changing capability of the Wall Plug's glowing LED ring can be used as a visual indicator of the Z-Wave network range during setup—and extremely useful feature that can help installers (pro or DIY) with problematic installations. As a bonus, the Wall Plug has a bonus soft-glow setting that allows the device to be used as a nightlight; and the Wall Plug also includes a built-in safety cover to keep young fingers out of harm's way when it is used in children's bedrooms.
Fibaro expects the Wall Plug to be available in the fourth quarter of 2017. Pricing has not been announced.