Face Off: Big-Screen Smackdown Mitsubishi VS-50607
Mitsubishi VS-50607
Face Off veteran Mitsubishi is like the Hulk Hogan of the television world. They consistently do well in competitions. Also like Hogan, Mitsubishi retired from the small-time ring and now only focuses on their version of a film career: rear-projection displays. Unlike the Hulkster,
Mitsubishi didn't change their name to Hollywood (although they did change their name to Mitsubishi Digital awhile back). Mitsubishi looked to carry on their winning streak and sent us one of their entry-level displays.
The VS-50607 immediately won accolades from the judges for its inclusion of front-panel inputs. Clint was elated to find this input accompanied by a y/c connector. On top of that, the VS-50607's back panel includes two additional y/c-equipped inputs and a fourth component input. As official setup boy, I wasn't crazy about the raised black lettering on the black background (read: it's lame). Outputs, though, are abundant, with both audio and video "tuner" outputs and a fixed audio output to send sound to an external surround processor. If you own other Mitsubishi products like a VCR, DVD player, or receiver, you can utilize the A/V Network link. This feature allows the TV to "talk" with the other products and arrange itself accordingly. Pop a tape in the Mitsubishi VCR, and the TV switches to the appropriate input automatically, leaving less chance that a loved one will be left in the dark.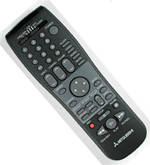 On top of its great features, the Mitsubishi includes an excellent user interface. The remote, as Clint pointed out, fits in your hand nicely and has buttons that are easy to find with your eyes and fingers. The preprogrammed codes offer control of up to five devices, but the controller lacks backlighting, making it hard to see in the dark. Everyone liked the Mitsubishi's onscreen menu. The attractive graphics, intuitive layout, and ability to see the image while making adjustments won big points.
The picture, on the other hand, garnered mixed results. I noticed that European fleshtones tended to look a bit pink, thanks to the color decoder that enhances reds. Compensating for this desaturates colors slightly but makes fleshtones look better. Chris and Clint, like most people, preferred this, but I tend to like a more-accurate yellowish look. Test patterns showed that color borders had some subtle artifacts, due to dot crawl that slips through the comb filter. Then again, the comb filter's ability to eliminate cross-color artifacts made Clint rank it second in the group. Although the absolute black level wasn't as dark as that of the Zenith and Hitachi displays, we all found it preferable to that of the Panasonic set. As with the Hitachi and Zenith products, a qualified technician, at additional cost, can improve this from the service menu.
Unfortunately, the same technician can't do much with the VS-50607's color temperature. As it is, the display's low/6500 setting is nearly accurate with bright portions of the image and leans fairly blue as scenes get darker (see the measurement chart for details). Although everyone agreed the Zenith display was more accurate overall, Clint thought the Mitsubishi's image was a close second, having decent colors and sharp details. Chris also liked it, saying that—with colors slightly desaturated and the added punch from the slightly blue gray scale—images were pleasing to look at. Again, I was disappointed that a more-accurate gray scale wasn't available, even if I wanted to pay extra for it. Then again, most people prefer a bluer picture.
In the end, I'd say that Mitsubishi's VS-50607 is made more for the average user. Enthusiasts looking for a budget big-screen will want to compare the trade-off between the Mitsubishi's features and ergonomics and the Zenith's more-accurate image. Like Hulk—excuse me, Hollywood—Hogan, though, the VS-50607 is a definite crowd-pleaser with its user-friendly display, good features, and eye-popping picture.
• Excellent remote and onscreen graphics
• Front S-video inputs make for easy connection to Clint's new digital camera

HT Labs Measures: Mitsubishi VS-50607
The chart above shows the gray scale (or color temperature) of the Mitsubishi TV and the color points of the display's red, green, and blue CRTs. Out of the box, the gray scale, in the low/6500 setting, measures noticeably blue (11,000 Kelvin) with dark images and reasonably accurate (6,600 K) with bright images. Although the set offers gray-scale adjustments in the service menu, we found these adjustments to be at the end of their range, and they were unable to bring the gray scale any closer to the industry standard of D6500 K. The Mitsubishi's red, green, and blue color points accurately match those specified by SMPTE. The display has average DC restoration and a color decoder that emphasizes pink fleshtones. The light output, as measured with a 100-IRE, 15%-white window was approximately 27 foot-lamberts. A full-white field measures 28 ft-L, indicating that the display uses an excellent power supply.—MW