EPV Elevates Backyard Entertainment with New Wireless Screen Option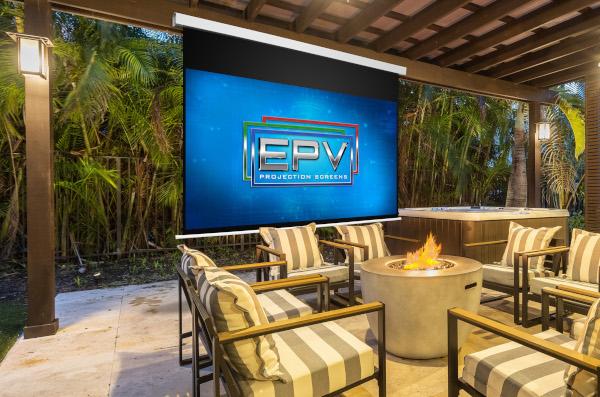 Before summer slips away, EPV Screens, the custom-installation brand of Elite Screens, is taking backyard movie nights to the next level with a new line of wireless, motorized projection screens.
Having a screen on your patio or deck that goes up and down at the press of a button is cool but what if it was battery-powered? EPV's new Twilight Wireless and Twilight Tension Wireless screens have a built-in rechargeable battery that's good for up to 200 cycles on a single charge, which means you can install the screen wherever it works best without having to worry about stringing a power cable to a nearby AC outlet (if one even exists).
With either model, the 125-inch (diagonal) screen can be lowered and retracted using a handy RF (radio frequency) remote (which doesn't have to be aimed like an IR remote) or controlled using buttons on the side of the screen casing, which has end caps and is made of heavy-duty steel finished in white. The screen comes fully assembled and ready to install; it can be mounted on a wall using sliding brackets or suspended from a ceiling on a hanging bracket. The brackets are made of rust-resistant aluminum and all screen components are IPX3-rated for water resistance.
Both models have a matte-white projection surface designed to retain image brightness at different viewing angles with a black masking border for enhanced contrast and black backing to "eliminate light penetration for enhanced brightness and color saturation."
The Twilight Wireless model ($4,489) is outfitted with EPV's 1.1 gain MaxWhite screen material and designed for use with standard-throw projectors. The Twilight Tension Wireless ($5,439) is compatible with short-, ultra-short-, and standard-throw projectors and boasts a tab-tension design to keep the projection surface taut and EPV's 1.25-gain ChromaWhite screen material, which is ISF-certified for accurate color reproduction.
The screens are covered by a five-year warranty and EPV offers lifetime tech support. For more information, visit epvscreens.com.
EPV also announced that its DarkStar Max UST-FR motorized screen, which retracts into a housing that sits on the floor when it's not in use, is now equipped with the company's RC1 remote control system, which enables full control of the screen's vertical position and includes a 12V trigger for automatic up/down operation when the screen is synchronized with the projector.
Offered in 101- and 121-inch sizes with a 16:9 aspect ratio, the Max UST-FR screen is and designed for use with ultra-short-throw projectors and features tab-tensioned ambient-light rejecting (ALR) screen material flexible enough to be rolled up. Prices range from $4,079 to $5,099, depending on options selected. The company will formally introduce the new feature next month at CEDIA Expo 2023.
The company also plans to showcase its Sonic AT8 ISF eFinity series of fixed-frame screens featuring an acoustically transparent projection surface made of a multi-layer, tightly knitted fabric. The screen is available in sizes 110-, 120-, 135-, and 150-inch sizes with a 16:9 aspect ratio and 138- and 158-inch with a 2.35:1 aspect ratio; prices range from $3,226 to $6,854. More information is available here.