Epson Gets Reflective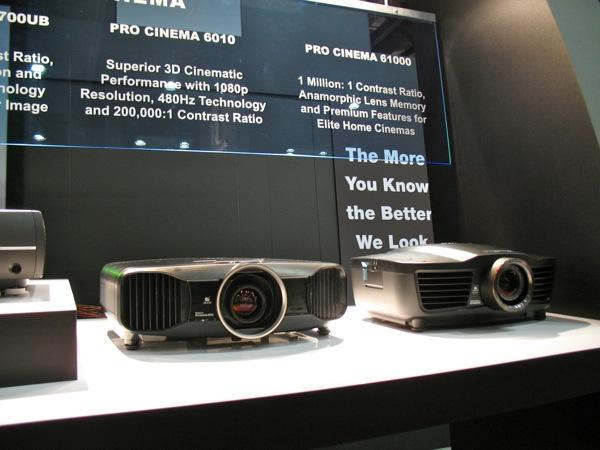 Epson made quite a splash at last year's CEDIA with a demo of its first LCOS projectors. The company actually refers to their version of this technology as 3LCD Reflective—essentially the same thing as LCOS, though I recall that they noted in 2010 that they were liquid crystal on quartz rather than on silicon.
But a year has past without any further sign of them. Until now. Apparently it took longer than expected to refine them to the stage where Epson felt they were ready for the highly competitive projector market. It was worth the wait.
Currently only one 3LCD Reflective model is being introduced: the Pro Cinema 61000. It is 2D only. Features include multi-position lens memory with motorized zoom, focus, and horizontal and vertical shift, and a claimed contrast ratio of 1 million:1 with its dynamic iris. The price is expected to be under $5000 when it's launched at the end of 2011.
Epson also introduced a slew of new 3D LCD projectors, beginning as low as $1600 and topping out at just under $4000 with the Pro Cinema 6010. The latter claims a 200,000:1 contrast ratio (presumably with its auto iris engaged).
Both the Pro Cinema 6010 and Pro Cinema 61000 were demonstrated in separate rooms. The 6010 demo was strictly 3D, with scenes from Yogi Bear. As bad as this movie is, it does have some striking 3D scenes, and the demo proved it. The 16:9, 112-inch (diagonal) Severtson Grayvision screen used for the demo has a gain of 1.8.
But the all-star here was the 61000, demonstrated on a 10-foot wide Stewart Studiotek 130 Cinecurve screen (gain 1.3). The claimed brightness on this screen was 17 foot-Lamberts, and it was also claimed that this THX certified projector required only minor setup adjustments out of the box. The image was outstanding, with flawless resolution, color, and, especially, superbly deep blacks. Though differences in source material, setup, screens, and screen size make any "best in show" determination highly dubious, this Epson would certainly be in the running.
Both projectors carry a 3 year warrantee (no limit on lamp hours), together with a replacement if the unit is delivered with even one bad pixel. The claimed lamp life on the 61000 is 5000 hours, and both projectors include a spare lamp and a Chief ceiling projector mount.
LATEST VIDEO