Epson Focuses on High Brightness Projectors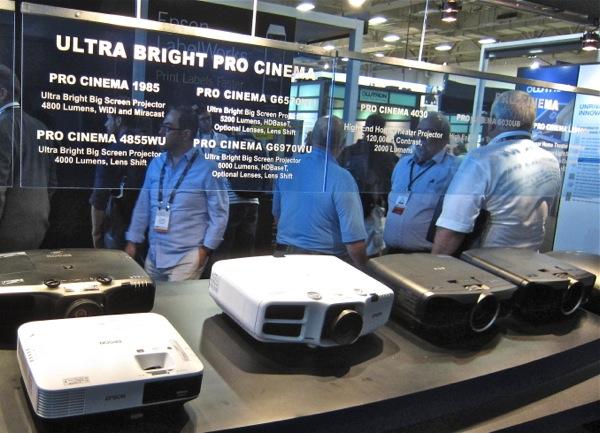 In addition to its market leading current home theater projectors, Epson showed several new high brightness models and its current laser model.
The company demonstrated the Pro Cinema 1985 (at the left in the photo, the smallest of the new high brightness models), which at $2,499 is rated at 4800 lumens. The recommended screen for this projector is a gray screen with a gain of under 1.0 (the screen used in the demo was 100-inch diagonal Da-Lite screen with a gain of 0.8.
A clip from the very bright The Art of Flight looked, well, like sunlit-snow should. It was almost as good with the room lights on (though those lights were fairly dim sconces and not nearly as bright as sunlight streaming through windows would be).
But Epson wasn't shying away from the fundamental purpose of this projector. Its deep blacks were admitted to be nothing special (and no such material was shown on them here) and it's recommended more for sports fans (who don't want to watch the game with friends in the dark) than movie fans.
The demo concluded with Epson's more typical dark room Pro Cinema 6030 HT ($3,500) which didn't produce nearly as punchy an image on this bright source (to be fair, the same 0.8 gain gray screen was used here also. It isn't really the best choice for this movie-optimized projector, which had vastly superior blacks than the PC1985. I can imagine a fairly well-off consumer buying both projectors, and perhaps two matching retractable screens, to be ready for any program material.
Epson also showed its current LS10000 laser projector ($8,000) on an 11-foot wide Da-Lite 1.1-gain screen. This projector can accept a 4K input but processes it through a 1080p chip, so the image on the screen is a conventional 2K. Stay tuned for Kris Deering's review of this projector.