Electronic Door Locks: Simple Security for Smart (and Dumb) Homes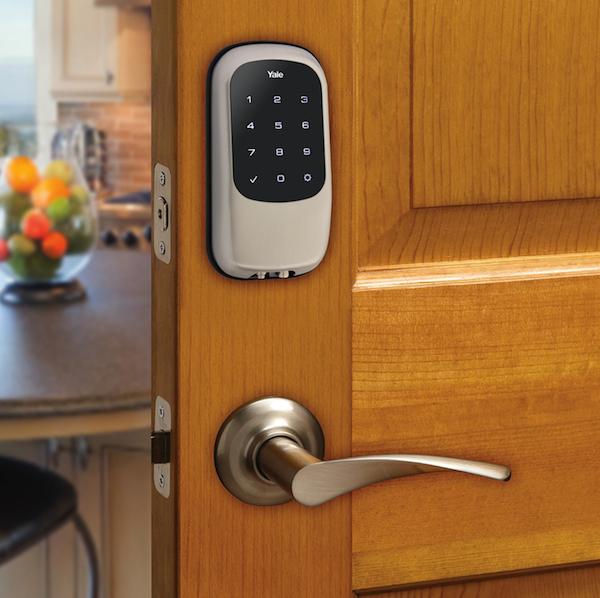 Locks have been around ever since people starting accumulating stuff that they didn't want other people to get their hands on. Over the millennia, various types of locks have been used to safeguard all kinds of things: stones (a.k.a. jewels), money, jars of Nutella, castle dungeons, the secret formula for the Krabby Patty, automobiles, and houses, just to name a few. Supposedly, there are 4,000-year-old clay tablets (probably locked away in a museum somewhere) from the Babylonian Empire that show an early form of keys on them. In ancient Greece, keys were large enough that they were carried on a person's shoulder. (Although Leonidas might have said, "This is Sparta!"; he most certainly never said, "Where did I put my keys?") Wealthy Romans didn't have to worry about losing their keys, either, because they often wore their keys on their fingers as, well, key rings.
Today, of course, we have lots of ways of locking up things without resorting to the old-fashioned lock-and-key routine. When it comes to smart home technology, motorized, electronic door locks aren't exactly the newest home automation device. Motorized locks aimed at the residential market have been around for a while, but (in my opinion) they've been extremely pricey. If you don't care how good it looks or how secure it truly is, you can get a basic, "turn it yourself with a key" deadbolt for as little as $10. Higher-quality, double-cylinder, deadbolt locks can easily range from $50 - $150. Get a hankering to install an electronic deadbolt in your door, and you're looking at forking over $200 and probably much more. If you had a smart home system with Z-Wave or ZigBee communication and wanted to automate your doors, it used to be that you could figure on spending close to $300 and up.
Electronic lock prices are coming down, though; and that's good because security is one of the most popular aspects of smart home systems. I've had electronic locks on the doors of my house for some time now, and I'm completely sold on the extraordinary convenience they provide. Rather embarrassingly, I always concentrated on the electronic parts of the locks, such as which wireless protocols they used and how compatible with different smart home systems they were. As far as the mechanical bits went, I assumed a lock was a lock.
Last week, Bryan Lieberman, the Channel Marketing National Accounts Manager at Yale Door Locks, shipped one of the company's Z-Wave-enabled Key Free Deadbolts to use while testing several of the new smart home hubs. On a lark, rather than leave it in the retail demonstration display stand it came in, I replaced one of my existing locks with the Yale YRD-240-ZW619. All I can say is, "Wow, what an incredible difference!"
It's not the Z-Wave module in this lock that makes it special. I have several other demo locks with Z-Wave that pair up with smart home hubs just as easily as the Yale lock. At $275, it's not the cheapest Z-Wave deadbolt you can buy, either, but it's not the most expensive. This particular Yale lock has several other things going for it.
First of all, instead of push buttons, it has a backlit capacitive touchscreen on which you enter your code. The lock I replaced, on the other hand, had buttons. Because this lock was on an eastward-facing door, it was in direct sunlight for half of the day. The combination of sunlight and daily use resulted in faded button caps. The touchscreen on the new lock shouldn't be susceptible to those same problems, although I haven't used it long enough to know for sure. The touchscreen is plenty bright, too. Since it's summer, however, one thing I have yet to discover is how well the touchscreen will work in freezing weather. (I do NOT want to be stranded outside the house in a snowstorm.)
Another thing about the Yale YRD-240-ZW619 is that it is a "key free" deadbolt lock. And "key free" means exactly that. There's no key because there's no keyhole and no cylinder. You have to enter your code in order for the deadbolt to unlock. In addition to not having to carry around a door key, the advantage of a "key free" lock is that it is impossible to pick. Like you, however, my first question was, "What do I do if the batteries in the lock, which are located on the inside side of the door, go dead while I'm away? Do I need to keep a crowbar under the mat just in case you have to break in?" Fortunately the crowbar isn't necessary. If the installed batteries run out of juice, all you do is touch a 9-volt battery to the terminals located on the underside of the lock's chassis. It'll give the lock enough power for you to enter your code and get inside.
But the most impressive thing to me about the Yale YRD-240-ZW619 is the extremely high quality construction and how wonderfully quiet it is. The original lock sounded like a piece of old farm equipment, and the noise it made was accentuated by the resonance of the metal door it was installed in. I'm not exaggerating when I say that you could hear the lock do its thing from several rooms away. The Yale lock is so quiet you can't hear it operate unless you're in the hallway where the door is located.
That might not seem like a big deal, and it might not be if you're hard of hearing or never sleep. But my locks are programmed to automatically lock (if they're not already locked) at 10:30 pm, and I've been rudely woken up more than once in the evening as the locks did their duty. Even if you don't have your locks on a schedule, there will doubtless be times when someone in the house comes home after everyone else has gone to bed…or right after you've put the baby to sleep. Even if it's not actually true, the lack of noise gives the impression that the lock is built better and is more secure.
Don't get too excited about the $275 YRD-240-ZW619, though. Due in August of this year is the much better named Yale Key Free T1L deadbolt. Partly because it incorporates an integrated Z-Wave chip rather than a plug-in module, the new T1L is going to retail for $240. (The push-button version, the B1L, is already available with an MSRP of $200.) The new Z-Wave locks also use a much simpler enrollment process when pairing the locks with a smart hub.
Not every automated device in a smart home is motorized. For those that are, such as door locks and shades, the quality of the mechanical construction (along with the battery life) is a key aspect you should always pay particular attention to. (Even if it doesn't have a key.) If the new Yale T1L and B1L are anything like the current YRD-240 model, they're going to be extremely hard to beat (or break into) for the money.