DVDO Air3 Outperforms Other Wireless Technologies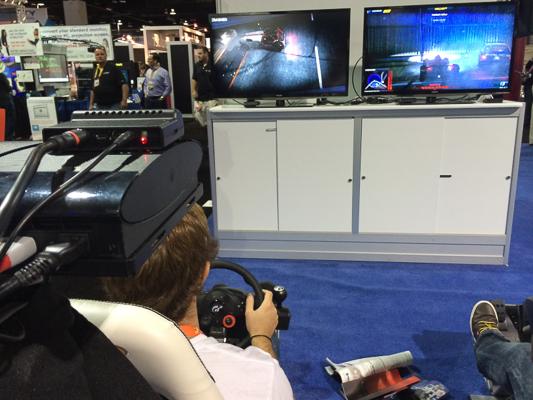 The DVDO Air3 Wireless HD system includes a transmitter and receiver that can send 1080p video at 60fps for up to 30 feet without any lag time or latency. The booth demonstration allowed CEDIA attendees to experience the immediate response of the video display by driving cars in a Playstation 3 game that was connected to the transmitter. It was the virtually the same as connecting the Playstation 3 directly to the TV.
Recently, I've been testing wireless technologies like WiDi for Ultrabook Laptops, Miracast for mirroring Android phones, and Apple AirPlay for mirroring iOS devices. All of these technologies have a latency where the display on the TV takes a few moments to react to input on the device. Moving the mouse on the desktop or sliding a finger on an Android phone screen appears nanoseconds later on the display, and letter appear very slowly when typing. My experience has been that WiDi and Miracast is suitable for streaming video but gaming is out of the question.
Wireless HD sends anything that can be connected to the transmitter via HDMI. The DVDO Air3 includes an MHL connection that connects to many Android phones with the Jelly Bean 4.1 or above operating system--Samsung Galaxy S4, HTC One, Moto-X, and many 2012 phone models. Until the Air3, there hasn't been a way to play video games on a smartphone and see it on the big screen. Miracast has too much lag time. And who wants to stand next to the big screen to connect the phone to the TV with an MHL adapter? The MHL port makes it possible to play video games on a phone while sitting on your couch.
If the DVDO Air3 works this well for video games, I'm eager to try it with a Blu-ray player or other high resolution video. See the tech details of the DVDO Air3.