Dune, Theaters, and Streaming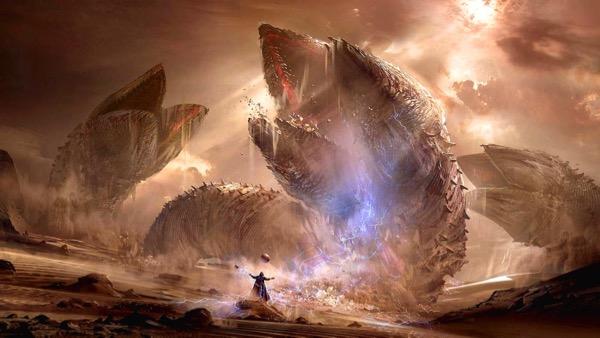 The changes to how we watch media resulting from the closing of theaters due to the Covid-19 pandemic have been unprecedented. True, not all theaters are closed. Here in the wilds of Florida my local AMC has been open for some time. But its current slate of movies is hardly the stuff of dreams:
Boogie
,
Chaos Walking
,
The Mauritanian
(not
The Mandalorian
!),
The Little Things
,
The Marksman
,
The Croods: A New Age
, and
Raya and the Last Dragon
. The latter is the only one tempting me to break my year long hiatus from that theater's Dolby Vision and IMAX auditoriums, but not quite enough for me to do so even though I've now joined the few, the proud, and the vaccinated.
A whole spate of potential blockbusters have either been released to streaming or are being held over until the studios are confident that if they show them (in theaters) they will come. The timeline for that is anything but certain, but if it extends much beyond midsummer theater chains will be in real trouble. But I don't think they'll ever completely disappear. The infrastructure remains and could sell for pennies on the dollar to the few companies flush with cash and willing to take a risk. Amazon Multi-Cinema or Apple Multi-Cinema, anyone? They won't even have to change the AMC name.
Perhaps the most highly anticipated film expected this year is a new version of Dune, directed by Denis Villeneuve (Arrival, Blade Runner 2049, Sicario). It's based on the book by Frank Herbert, first published in the weirding-way '60s. Previous attempts to bring it to the big or small screen (David Lynch in 1984 and a Sci-Fi Channel TV miniseries in 2000) have been, shall we say, less than widely praised by many fans of the book. That's not surprising; book-to-film adaptations rarely match up to the world a book reader has conjured up into his or her head from the printed page.
The film is now completed and sitting on the shelf for that golden-date release date, whenever that might be. It's been scheduled for October 2021, but a recent glitch has put even that at risk. Studios are caught between their need to see financial returns on completed films and the desire to generate new tentpole franchises. Dune fits both descriptions. Villeneuve's current film only covers the first half of the book's extremely dense and convoluted plot. A second film is planned to complete the story, and copious written sequels and prequels exist as well, some written by the now late Frank Herbert and others by his son. It's the ideal setup for a franchise, but that won't happen if the first film flops financially, no matter how brilliant it might be in visually and dramatically realizing Herbert's vision.
But in the current climate streaming is king, and Warner Brothers is the current distributor and partial financer of the film. Their original intent was to release Dune first in theaters and then, a month or so later, make it available on the HBO Max streaming service. But just recently Warner announced a new plan for simultaneous release in theaters and via streaming. This has raised a firestorm, with Villeneuve arguing that the film's epic production was made for the big screens and that only theaters can provide the full, immersive experience he intended. He didn't object to the theater-first and then delayed streaming in the initial plan, but argues that a simultaneous theater-streaming release, if it proves less than lucrative, will set back or even kill the intended sequel, not to mention franchise films based on those other Dune books. I have no doubt that one way or the other future Dune films will come eventually, but do you want to wait 10 years or more for them?
No mention of a possible disc release was part of this story, but we have to hope that packaged media is still seen as a profitable enterprise, at least for the next few years even if its glory days are now fading. We can all hope that the film is as good as claimed and brings us a 4K HDR release in early 2022— perhaps even in an extended version if good footage exists that had to be cut to accommodate theatrical running times.
I've never read the Dune books so come to my conclusions based only on what I see on the screen. I'm not a fan of David Lynch's 1984 Dune, but what about that 2000 mini-series? I own it on DVD and recently viewed it again for the first time in roughly 10 years. It's competent and easy to follow, but with a made-for-TV feel that didn't quite involve me. The production values were good for its time, along with usable but not particularly convincing CGI: it's all too easy to forget how far CGI has come since 2000. The DVD's picture and sound quality are respectable but little more. As far as know it was never released on Blu-ray, but is available for streaming on Amazon Prime.
Sci-Fi's 2003 Children of Dune mini-series sequel is very different, and available on Blu-ray at a fair price. I found the narrative a bit confusing at times, partially because some of the roles from the 2000 series were re-cast. It can be argued that the source material isn't quite up to Herbert's original story, but for me it was an altogether superior experience to its 2000 video prequel. The picture quality was solid, the sound well above the limitations of a TV production, and (with one or two exceptions) the acting ranged from good to excellent. The CGI was greatly improved as well, but don't expect 2021 feature film quality. The mood was enhanced dramatically by Brian Tyler's outstanding score, and the atmosphere as a whole edged closer to the tricky combination of reality and mysticism appropriate to the Dune saga.
But for now we wait to see how the new version of Dune fares, both on the big screen and on our smaller ones. I hope it's good enough that the wait for the inevitable (?) 4K Blu-ray won't be too long after the theatrical release, and sales of the discs are robust enough to convince studios that packaged media is far from dead.