Dome's Guardian Water Leak Protection System Installs Without Tools or Plumber's Butt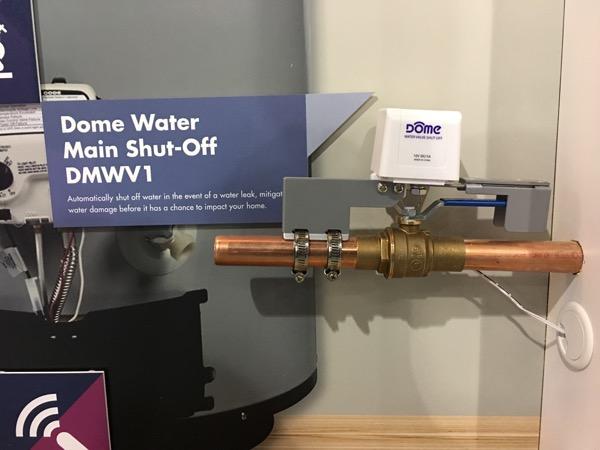 Water, water everywhere, and not a drop in the sink—at least that's what happens approximately 14,000 homeowners
every day
, according to
Dome
. The company also estimates that water leaks in a home can cost upwards of $8,000 if not caught early. That's where Dome's new wireless water leak detector, called
Guardian
, can save your butt (and prevent you from having to see a plumber's butt).
Guardian is a Wi-Fi-based system that includes three types of wireless devices; and, as if you couldn't guess, it includes a smartphone app to control the system. The heart of the system is Dome's water-valve controller. The concept behind the device is about as simple as it gets: it's a motorized "arm" that is attached to the manual shut-off valve you already have. When a connected water leak sensor detects water where it's not supposed to be, the Shut-Off Valve automatically turns the handle on the existing valve, immediately shutting off the source of water to the leak. Dome says the water-valve controller is designed to attach to your existing water main shut-off valve. Unlike other, more-expensive automated water shut-off controllers, Dome's is simple to install by the homeowner without tools, special hardware, or—best of all—the need for a plumber.
Guardian also includes three wireless water-leak sensors. The sensors, much like the water-valve controller, are designed to be easy to install. They connect to the water-valve controller wirelessly and automatically, and you simply place them where you want to monitor for water leaks. (No, it's best not to put them in your baby's diaper…)
The smart siren that's included as part of Dome's Guardian provides a voice and/or visual notification when a leak is detected. The smart siren's battery backup means you'll receive an alert even if the power has gone out.
In addition to the ease of setup and no need for a plumber, another benefit to Dome's Guardian system is that no smart home hub or other central controller is needed for Guardian to operate. The free Guardian smartphone app provides all the control to the user—and there are no monthly fees.
The Guardian water-leak prevention system will be available later this year for $299 MSRP.
Dome currently offers the DMWV1 Z-Wave automated water-valve shutoff device for use with other companies' Z-Wave-compatible smart home control systems. No tools or plumber is required, and the DMWV1 installs on any existing 1/4-turn ball valve in a matter of minutes on pipe sizes between 1/2-inch and 1.5-inches thanks to "self-aligning technology". It includes a built-in temperature sensor that automatically shuts off the water when the ambient temperature falls too low. Because Dome knows neither you nor I would do it, the valve does a weekly self-test of opening and closing to make ensure the valve and mechanism remains in good working condition—and is ready to operate when it needs to. (There's even an optional backup battery available.) Finally, the Dome DMWV1 has a wide variety of built-in connectivity options, including Wi-Fi, Ethernet, Serial, and Z-Wave. As a result, Dome says it'll work with nearly any smart home system on the market.
Dome's Shut-Off Valve is available now for $99.