Does Multichannel Music Have a Future? (2005)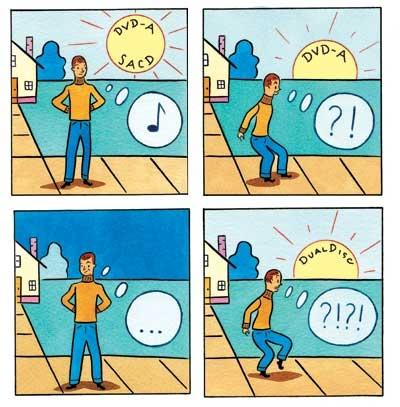 Basking in surround mixes for my Elton John review last month, I got fired up by the London 2002 version of "Don't Let the Sun Go Down on Me" from the Dream Ticket DVD-Video. Six channels of band, orchestra, chorus - to paraphrase Elton, "Hearing everything / Is like the sun shining all 'round me." But when I consider the current state of DVD-Audio and Super Audio CD, a line from Elton's new album, Peachtree Road, comes to mind: "It's sure getting dark in here."
Judging from this month's "Digital Horizons" (click to read), Ken Pohlmann believes DVD-A and SACD are already below the horizon for the mass market. Herb Goldman, an S&V reader (and a regular "Feedback" correspondent), reminds us that he foretold their fate three years ago. "No one I know spends long periods of time listening to music at home anymore. These are formats the public just doesn't want. Let it go, guys. Time to disconnect the respirator."
At the Surround 2004 confab, the mood of a panel on "How's the 5.1 Business Really Doing?" wasn't encouraging. Universal, with its aggressive release program for both DVD-A and SACD, carried the ball for the major-label music groups last year. (The indies were led by DTS and Silverline for DVD-A and by Telarc for SACD.) But on the subject of sales, Universal's Paul Bishow would only say, "the numbers are nothing I'd like to write home about." Or as Warner's Robin Hurley understated, "there's a general lack of awareness."
Warner, the champion of DVD-Audio, sat out most of the year because of its change in ownership - and also because of the launch of the DVD-Audio-capable DualDisc. Sony Music, the engine behind SACD, also had a quiet year because of its merger with BMG. Sony didn't even send anyone to the surround panel, for the second year in a row.
Ted Cohen was there, representing EMI, which has backed both DVD-A and SACD. He minced no words: the formats "die on the retail floor. We need commitments from the Best Buys and the Wal-Marts."
Well, I've never seen DVD-A or SACD displays at my local Wal-Mart in suburban New Jersey - nor would I expect to, given the chain's mass-market focus. And all I found at Best Buy was an unkempt rack of discs. Meanwhile, "I went to my local Circuit City ," writes another reader, Jason Storey, "and they had sent all their SACDs and DVD-Audio discs back!" Is this a new company policy? At press time, I'd gotten no reply from Circuit City 's PR director.
Things are mixed at "record stores." In New York City , Tower's Lincoln Center location has a good display near the front door. But at Virgin's Times Square megastore, the mini-rack is lost in the imports. More space is given to action figures.
Which brings us to videogames. "In two years, games will be the new radio, the new MTV, and the new rec-ord store all in one," said Electronic Arts' Steve Schnur at a recent MusicWorks conference. At Surround 2004, music attorney Chris Castle said this: "The way most people listen to music isn't CD, DVD-A, or SACD. It's MP3. Some of those kids are gamers, with exotic systems for their games. So they like the sound of a machine gun, but they won't listen to [Jimi Hendrix's] 'Machine Gun' in surround."
It's been almost five years since the dawn of DVD-Audio and almost four since SACD went multichannel. " Rome wasn't built in a day," replies Olivier Robert-Murphy, who runs the multichannel program at Universal. But in today's ever-faster-paced society, five years ago might as well be ancient Rome - especially for the music industry, which is ruled by quarterly reports. As producer George Massenburg said at Surround 2004, "multichannel music is stalled because of the lack of return on investment."
Despite all the gloom and doom, we at
S&V
remain unabashed fans of music in surround. And we won't let it go yet: as this issue shows, we continue to cover the technology ("Tech Talk," page 33, Feb/March 2005 issue) and the art ("Tracking Surround," page 108, Feb/March 2005 issue). But given that multichannel music is stalled, what will get it going? DualDisc? Unfortunately, that format is off to a rough start ("Random Play," page 14). Can musicians do the trick? Says Universal's Howard Siroca: "When we get artists like Beck and Pete Townshend excited about it, that makes all the difference. That's the killer app."
Still, though Elton John's Goodbye Yellow Brick Road won top honors at the Surround Music Awards - and though he's a fan of surround - recent features in Rolling Stone and Entertainment Weekly don't even mention his DVD-Audio and SACD activity. "A general lack of awareness," indeed.
Both articles do mention the Dream Ticket DVD, of course - and I'm whisked back to "Don't Let the Sun Go Down on Me." As it swells for the finish, drummer Nigel Olsson finally gets to hear strings, horns, and vocals envelop him at once, and I can watch as he mouths his reaction: "Oh, baby!"
But I have to admit: my goosebumps just wouldn't be as big if I couldn't watch him on DVD- Video. And in this Video Era, maybe that's the point.
LATEST VIDEO