Is DLP's 4K Really 4K? Page 2
It's important to note that, while test patterns are a great way to make objective observations, it's not always easy with modern projectors to account for why results may vary from the ideal. Each manufacturer will implement designs in different ways, and some post-processing isn't defeatable. While the XPR results were consistent across the two projectors I saw, there's always the chance that models from other manufacturers will produce different results. Keep in mind, as well, that the comparison was done against a $35,000 state-of-the-art native 4K projector and a self-emanating emissive flat-panel TV—though I found the BenQ's optics to be quite good. Also, none of us really watches test patterns at home. In the past, I've seen some of our Top Pick projectors do poorly with resolution test patterns, and the results of those tests weren't clear indicators of the performance seen with regular video content. Extreme tests with test patterns may separate one technology from another, but they don't tell the whole story. While there are some spectacular titles available in the new Ultra HD Blu-ray format, none will be as demanding as single-pixel resolution patterns.
So, I moved on to subjective testing of regular video content, using a variety of material on UHD Blu-ray. Here, the differences in picture detail between the displays rarely manifested. Resolution as a whole looked comparable, though the lack of native contrast with either of the DLP projectors gave the image a flat, washed-out appearance that was hard to ignore with most of the content. The XPR designs also had an ever so slight inherent softness that reminded me of the native 4K designs I've tested from Sony. Both the recent Sony projectors I've tried and these XPR designs required some fine-tuning of their image-enhancement features to deliver the sharpness one would expect from a native 4K design—an issue I never had with my reference projector. With some careful tuning, image fidelity looked better, with improved image delineation, though minor ringing was evident if I looked hard enough.

Overall, however, I think that most consumers—seated at a normal viewing distance from nearly any size screen—would have a hard time seeing a difference between an XPR 4K image and a native 4K display when it comes to resolution alone. Other factors such as lens quality (which was better with the BenQ compared with the Optoma), image-enhancement settings, and contrast performance will more dramatically affect the viewing experience, along with the quality of the source displayed. In particular, native contrast performance (without assistance from any iris or dynamic contrast processing) was something that concerned me with the XPR designs, since both performed badly in this area. Their sequential full-on/full-off contrast measurements hovered near 1,000:1, which is very poor by today's standards for any display technology. This disappointing contrast will directly affect the viewing experience for image depth, dimension, and subjective sharpness, and if it's inherent in the new technology rather than something to do with the execution in my two product samples, it will most likely be XPR's biggest drawback to image quality. We'll have to audition more XPR-based models to find that out.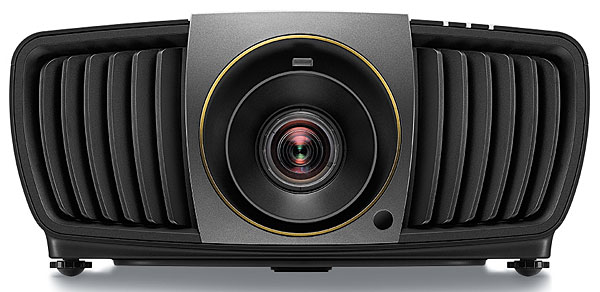 DLP's XPR technology is a step forward from the pixel-shifting designs we've seen from JVC and Epson, and it puts the viewing experience closer to what you'd achieve from a native 4K device. But I've previously compared those companies' 1080p pixel-shifters directly against native 4K displays, and I found that, with typical viewing, the differences are already pretty minuscule to begin with until you reach very large screen sizes (greater than 130 inches diagonal). And, as previously noted, image attributes other than resolution (contrast, image stability, modulation transfer function, and lens quality) typically dominate the viewing experience.
All of these solutions have their pros and cons, and all of them do provide stunning performance with high-quality 4K content. But there's no doubt that the XPR design narrows the already tiny gap between "shifted" 1080p performance and true native 4K.
Editor's Note: We currently have full reviews in progress of both the BenQ HT9050 and Optoma UHD65 projectors Kris auditioned for this article. While our evaluation of the Optoma was still in early stage at press time, our examination of the HT9050 was essentially complete and revealed both a surprising lack of critical features for a projector at its $8,999 price (including no support for HDR or the Rec. 2020-encoded wide color gamut found on UHD Blu-rays) and unusually poor contrast/black-level performance (attributable at least in part to the lack of any sort of dynamic iris or functional contrast-enhancing circuitry). BenQ informed us during our fact-check phase that pending firmware updates should address these issues, meaning that our results would not reflect the product in the market by the time you read our review. We're holding this test report temporarily while we await new software and assess the veracity of our sample, but barring any future report of substantial improvement in our results, we are obligated to suggest that readers avoid this model and look at other options in that price range. We'll publish the full review at soundandvision.com or in print as soon as we're able.—Rob Sabin