DIY To The Max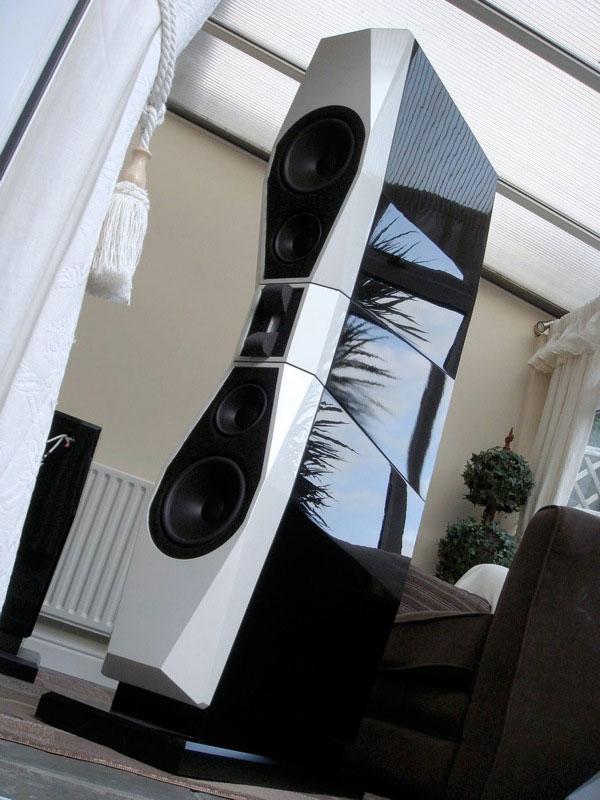 Would you suppose that the speaker shown in this photo is some new commercial speaker selling for six figures?
Actually, it was built from the ground up—cabinet, electronics, everything—by an audiophile in the UK, who is obviously a skilled cabinetmaker as well. He built the pair of speakers shown here with only commonly used hand and power tools; no CNC machine was used. (CNC, or computer numerical control, is computer-controlled cutting, shaping, and routing, and it's the only practical way to make those multi-faceted front panels in commercial quantities.)
I discovered this design accidentally while following a link from a DIY website. The associated thread is nearly 180 pages long! Obviously, I haven't read it all and may never get through it, but the few bits I sampled while scrolling through it to find this and other photos revealed that the speaker is multi-amped with DSP crossovers and room correction. The main speakers and electronics alone appear to have taken over a year to complete.
The speaker is certainly big, but it may be a bit smaller than it looks since the large woofers are only 8-inchers. The drivers are very expensive, premier models—the woofers and midranges from Audio Technology and the ribbon tweeter from RAAL. Each channel includes three cabinets that are modular and stacked together. The builder's plans also include a matching tower subwoofer with four 10-inch drivers plus a center-channel speaker and surrounds, though he apparently never built any of those. In fact, in his closing 2008 comments in the original thread, he said that he was getting out of DIY for a while, and I can certainly see why!
But he recently returned. The new thread shows some of his ideas for similarly ambitious but smaller speakers. He may market them, but on a very small scale under the Adept name. His estimated prices for the smaller designs appear unrealistically low given that they also include DSP processing and power amps for these multi-amped designs! From the computer renderings in this thread, he is also clearly very talented at CAD. Even a rear terminal "photo" is computer rendered.
I've discussed do-it-yourself computer design and building in the past. It's not for the weekend tinkerer, but it's a viable approach if you are prepared to climb a steep learning curve, acquire some measurement and woodworking tools (and skills!), and can accept the risk that, speaker preferences being what they are, the result may not turn out to your satisfaction. But the DIY speaker niche is populated by a wide range of passionate hobbyists.
There is also a vast assortment of online DIY speaker plans and kits, many (but not all!) from individuals as knowledgeable about the art as any designer of commercial speakers. Even if you don't plan on getting into this side of the audio hobby, you can learn a lot about speaker design from many of the sites—though how much you already know will help you weed out the duffers from the pros and near-pros. Sites to visit (some of them international in flavor but all in English) include HT Guide, DIY Audio, Troels Gravesen, Zaph Audio, Linkwitz Lab, Humble Homemade Hi-Fi (check the history link), Madisound, Meniscus Audio, and Parts Express.