DISH Unveils Mother of All DVRs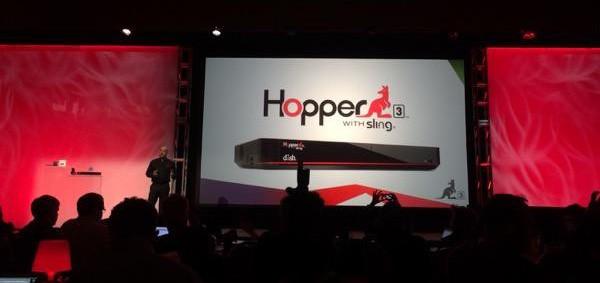 Despite the fact that CES2016 hasn't even officially opened yet, DISH's press conference is likely to be one of the top highlights of the entire Show this year.
During the press conference, Vivek Khemka, DISH Executive VP and CTO, unveiled the company's new Hopper 3 and HopperGO. The Hopper 3 is the latest-generation of DISH's whole-home DVR with a whopping 16 built-in tuners and numerous 4K content options including a proprietary "Sports Bar Mode". The portable HopperGO is a wireless flash drive that stores up to 100 hours of recorded content that can be watched on smartphones and tablets away or at home.
With 16 tuners, the amazing Hopper 3 is claimed by DISH to have more built-in tuners than any other DVR in the world. Why 16 tuners? Isn't that a bit over-the-top? In this case, it's not simply a numbers game. With all those tuners, Hopper 3 is capable of feeding unique video to up to 7 TVs in the home simultaneously. The built-in hard drive remains at 2 TB (up to 500 hours of HD recording), but Hopper 3 incorporates USB 3.0 connectivity for use with external hard drives for more storage.
Hopper 3's 4K capabilities includes native 4K support along with access to 4K content from Sony Pictures and Netflix. Some 4K content will be available via the satellite connection while other choices will be streamed over the Internet using the Hopper 3's Gigabit Ethernet connection.
Other advances that are part of the Hopper 3 is a new Universal Search and Discover feature that brings up all offerings of the content being searched for, whether it's from On Demand, live TV, or Netflix. YouTube will join Netflix, Vevo, and Pandora as natively supported online video services.
The Hopper 3 is capable of decoding 4 HD channels simultaneously and encode those 4 channels into a single 4K stream. Called Sports Bar Mode, this allows owners of 4K TVs to watch four channels in HD simultaneously in a quadrant arrangement on a single 4K TV.
The new HopperGO is a "personal mobile video drive" with 64 GB of storage that can store up to 100 hours of user-selected recordings from their Hopper 3. The HopperGO has four hours of battery life, creates its own private Wi-Fi cloud, and supports up to five simultaneous Wi-Fi connections. No internet access is required.
The Hopper 3 will be available this month. "Qualified" subscribers will be able to upgrade to the Hopper 3 at no charge with a $15 monthly fee. The HopperGO is expected to be available in the Spring of this year for a flat fee of $99 with no additional subscription fees required.