DISH Hopper Does Prime Time, All The Time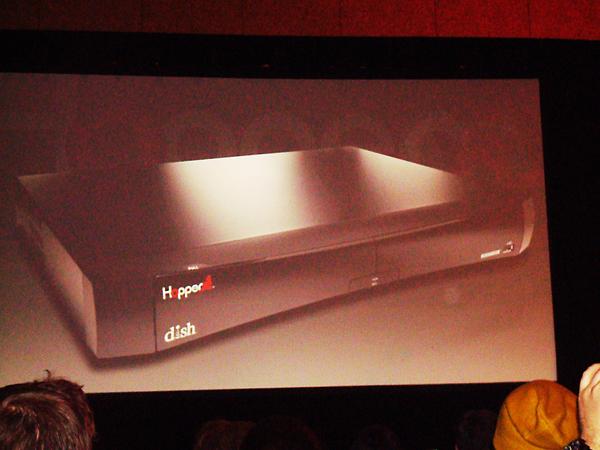 DISH Network is attempting to "hop" all over its competition at CES with a new whole house DVR that records prime time, all the time.
As part of a full company makeover that includes a new kangaroo mascot, the satellite TV provider is introducing Hopper, said to be the world's most advanced DVR. It's a 3-tuner model with a massive 2-terabyte hard drive that can record up to six HD programs simultaneously, and allows simultaneous viewing of different channels in up to three additional rooms through the companion Joey set top box.
Notable among Hopper's features is PrimeTime Anytime. When it's activated, the DVR automatically records all the prime time programming from each of the four major networks—CBS, NBC, ABC and FOX—for 8 hours each night and a duration of 8 days. This allows access to a full week of primetime network programming at any time day or night. Even with PrimeTime Anytime turned on, Hopper still keeps two tuners free to allow recording of two additional shows on other channels. Altogether, the hard drive supports up to 2,000 hours of storage, including 250 hours of high definition programming.
Powered by a 750 Mhz Broadcom satellite TV processor said to be fastest currently available, Hopper boasts an ultrafast, high definition tile-based graphic interface that simplifies use by allowing access to content from a variety of sources on a single screen. That includes all recordings, the usual satellite TV programming (acessible via a quick-scrolling guide), streamed content from a home network via DLNA, and streamed content from Blockbuster@Home, an enhanced version of Blockbuster Movie Pass that brings additional family friendly titles to the box. For those without Internet service, a Dish Unplugged feature generates a library of movie and TV titles on the unit's hard drive brought in via satellite that can be accessed in lieu of the usual streaming library. allows To learn more about DISH's new content and streaming offerings, including a new high-speed satellite Internet service, check out our companion report by Barb Gonzalez.
Additional innovations include an RF4CE Zigbee two-way remote with a clever "remote control finder" alert that can be triggered from the front panel of the Hopper or the Joey, and built-in Bluetooth for easy linking to wireless headphones.
LATEST VIDEO