Denon, Marantz Embrace HDR, Auro, Alexa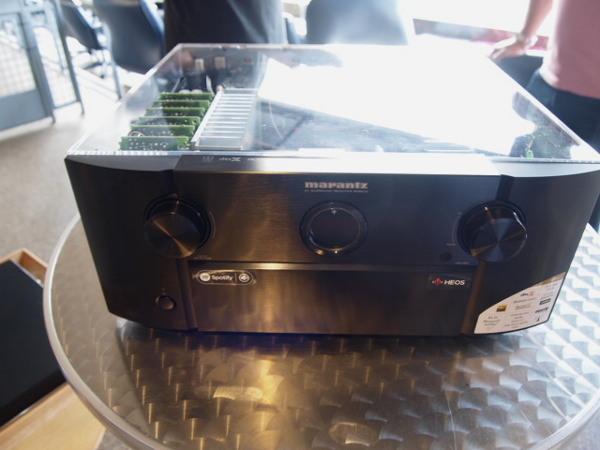 Denon and Marantz aren't playing favorites when it comes to high dynamic range (HDR) and immersive-audio technologies. And the brands are getting along with Alexa too.
The Sound United-owned brands came to CEDIA 2017 with two high-end AVRs apiece, with Marantz throwing in a high-end AV preamp processor. All five home-theater products pass not one but three HDR formats (HDR 10, HLG, and Dolby Vision) through their HDMI inputs and outputs. All of the new models also come with Dolby Atmos, DTS:X, and Auro-3D immersive-audio decoding.
The new AVRs are Denon's $1,599-suggested 9.2-channel AVR-X4400H and $2,199 11.2-channel AVR-X6400H, and Marantz's new $2,199 9.2-channel SR7012 and $2,999 11.2-channel SR8012. The Marantz preamp processor is the $2,199 11.2-channel AV7704.
With these and previous 2017 launches, Auro-3D is available out of the box in select AVRs that are also equipped with Dolby Atmos and DTS:X. In previous years, Auro was a paid firmware update. In August, Dolby Vision and HLG updates were extended to all 2017 Denon and Marantz AVRs but one $279 Denon AVR model, as well as to all Marantz AVPs.
The five product introductions also bring the brands' Heos wireless multiroom-audio technology to all networked AVRs and AVPs.
Via a software upgrade this month, the five new models, all other Heos-equipped AVRs, most Heos multiroom speakers, a current Heos-equipped multiroom amp, and a new Heos-equipped four-zone multiroom preamp will get Amazon's Alexa for Home skill. With it, consumers will be able to use their voice to control the following Heos-product functions through the far-field microphones in Amazon's Alexa-equipped smart speakers: on/off, volume, mute, skip, back, pause, and input switching, including switching to Heos sources.
In early November, another software update will add Alexa's multiroom capability to Heos products. An Amazon smart speaker will then be able to send music from one of its Alexa music services to one or more Heos devices at a time. Users will also be able to direct different Alexa music services and different stations to different Heos devices in different rooms for simultaneous playback.
These and other Heos-equipped 2017 AVRs and AVPs will get a software update sometime next year to upgrade Apple AirPlay to AirPlay 2, which brings multiroom capability to AirPlay.
Sound United executives said you can also look forward later this year to finding Denon and Marantz components bundled with Polk and Definitive Technology speakers. All four brands came under Sound United ownership in February when Sound United purchased the Denon and Marantz brands.
The company expects to bundle Denon AVRs with Polk and Definitive Technology speakers, Marantz AVRs with Definitive speakers, and Heos products with Definitive speakers. Sound United will also merchandise the four brands together in stores.