Dabby Just Might Be the Ultimate Streaming Device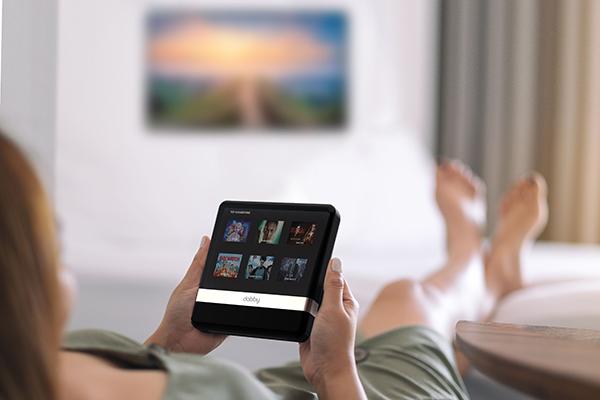 As we subscribe to more and more niche streaming services, it's becoming harder and harder to find movies and TV shows you want to watch without having to search through every streaming app you own. A new smart streaming device called Dabby has a solution: It searches through all of your subscription services to find the program you want to watch. All you have to do is connect a dongle to your TV and use its 7-inch touchscreen controller to search for programs of interest. Its impressive debut at CES 2020 left many people thinking it could be the ultimate streaming player.
Dabby takes search to a whole new level with an AI (artificial intelligence)-based search engine. Far-field microphones like those found in smart speakers let you call out, "Hey Dabby, search for (the movie or show you want)." Dabby finds the program and begins playing it instantly. It doesn't ask you to confirm which service you want to use and there are no additional clicks. Dabby knows where you can play the movie because all of your subscription services are connected through it.
Besides helping you find a specific a movie or TV show, Dabby can conduct a "deep search" to find a favorite sports highlight from patriots.com, a particular cat video from thousands of websites, or videos on Instagram, Twitch, and TikTok. You can even use deep search to find a specific movie scene — like the one in A League of Their Own where Tom Hanks declares, "There's no crying in baseball!" All you have to do is ask.
Dabby also has the ability to search for and play specific episodes of a TV series instead of taking you to a page that simply lists the episodes the way other streaming devices do. You can use Dabby to search for music, too. Ask for "jazz music featuring saxophone" and it will create a playlist that matches the search.
DabKick, the startup behind Dabby, says the device can "play anything," drawing on thousands of sources: YouTube, Vudu, Tubi TV, Netflix, HBO, you-name-it — even live TV on Xfinity or Sling.
Dabby's AI analyzes what you watch and uses a ranking algorithm to show relevant movies at the top of search results. Let's say you watch a lot of Jack Nicholson movies. When you ask Dabby to find horror movies, The Shining and other movies featuring Nicholson will show up at the top of the list.
Because Dabby monitors which programs you watch, it will even help you pause a subscription service you haven't used in a long time. (It's not clear if it automatically pauses the service or displays a message asking if you want to pause the service.)
The primary purpose of the Dabby touchscreen is to serve as a controller that communicates with the streaming dongle connected your TV. And DabKick sells extra dongles so you can use Dabby with other TVs in the house. The controller automatically pairs with each dongle so you can finish a video you started watching downstairs in an upstairs bedroom.
Similar to smart displays like Amazon's Echo Show, the Dabby touchscreen can display photos or play videos and has a camera for video calling.
Dabby is also resurrecting a couple of features found on early touchscreen-based streaming devices, such as the ability to "flick" a video from the touchscreen to your TV or use the touchscreen as a second-screen device that displays related content (such as player stats for sports) and comments from other Dabby users watching the same show.
With its myriad features, Dabby might seem a bit too ambitious to succeed but it is backed by heavy hitters who have worked for the likes of Apple, Amazon, Oracle, HP, Xerox, and others, so it just might have a shot.
Let's hope that Dabby can do everything it promises because, at $400, it's quite a bit more expensive Roku, Fire TV, or Apple TV. Extra dongles run $179 apiece. Dabby is available for preorder at heydabby.com with delivery expected in the March/April time frame. I've been waiting for the ultimate streaming device so I'm looking forward to getting my hands on one.