D-Link Bows Router with Improved HD Streaming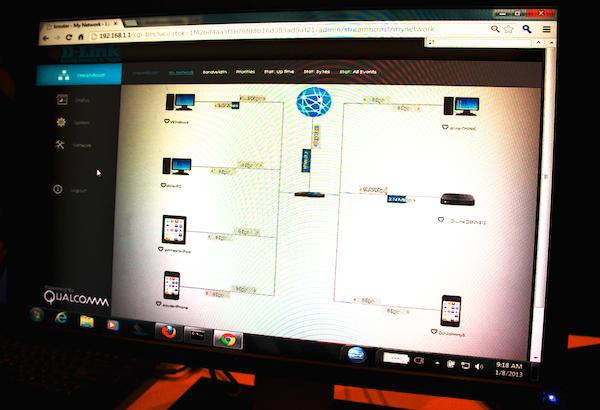 D-Link announced a new router with Qualcomm's StreamBoost technology for better high definition video streaming, and with a new dashboard to monitor and control your home network. The DGL5500 router is called a "gaming router" because it has low latency (no lag time) for online game play. This capability also makes it an excellent router choice for streaming movies.
The router's dashboard can be accessed via web browser on your computer or a D-link router app that is being developed. A visual map shows all of the streaming devices on your home network that are connected to the router along with what app the device is currently accessing--Netflix, Vudu, Pandora, YouTube--and the speed of the stream going to the device.
The StreamBoost technology automatically decides which device is accessing a service that needs the most bandwidth in order to stream at the highest quality without interruption. If someone is playing online game World of Warcraft on their computer, it will get the highest amount of bandwidth to prevent latency. A device that is streaming an HDX movie from Vudu will get more bandwidth than a computer accessing email.
However, if you are trying to watch that HDX format Vudu movie and it is not streaming smoothly, you may want to move the priority of the stream to your device higher than that computer, which is playing an online game. The D-Link router dashboard allows you to manually change the priority of all of the devices that are accessing the router. By moving the Vudu streaming device to the top of the priority list, it will force the router to allow more bandwidth for better streaming.
The D-link gaming router should be available in the late spring of 2013.
LATEST VIDEO