The Custom Installer: Speaker Caddy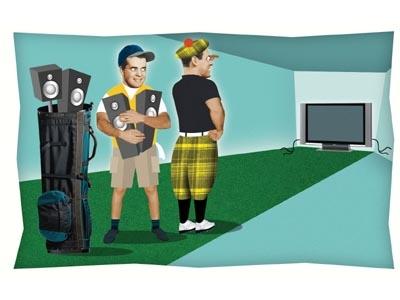 Years ago, a friend of mine qualified to play in the California State Amateur Golf Tournament, and he asked me to caddy for him. This was a big event, held at two difficult courses against the toughest competition in the state, so having a good caddy by his side was important.
Depending on the golfer, a caddy's role can vary greatly. Some players don't want any assistance - they want a pack mule. Others want a sounding board: "What do you think about this club?" "It breaks left, doesn't it?" And others want a knowledgeable companion - it can be a grueling day out there, and some friendly advice (and conversation) can make it more bearable.
All of this is very similar to helping people select speakers for their home-entertainment system. Like a trusted caddy, I try to guide them to what I feel is the best decision. But ultimately they need to pull the trigger and make the choice.
Some people don't want any help - they know what they want and just need an authorized dealer to get it for them. Most people, however, enter our showroom, take a quick look around, and then proclaim, "I need some new speakers. What d'ya got?"
Before letting them look at or listen to anything, I gather some information. This is where a good speaker caddy can really shine.
First, I need to know how many speakers we're talking about. Is this for two-channel listening or a home theater? If it's a home theater, can the room accommodate 5.1 or 6.1 channels? That is, front left, center, right and left/right surround speakers on the side walls opposite the seating area, plus a subwoofer and a back surround speaker centered on the wall behind the seating area (6.1). Or can it accommodate a 7.1-channel setup with two back surrounds?
Second, are there any aesthetic concerns that need to be addressed? Are the speakers going into an entertainment center or cabinetry? Can we consider towers, or do they need to be speakers on stands? Oh, you can have any speakers as long as your wife doesn't have to "see" them. Is there any open wall space in the room? What about the ceilings?
Their answers to these questions narrow the field of choices immensely. If I know that the customer would never consider a floor-standing speaker, I won't waste his time looking at them. If the walls are covered with windows or artwork, in-wall or on-wall speakers might not be the answer either. And if some of the speakers will be wall mounted, size will be a factor.
Next, I gather information related to performance. How large is your room? For some reason, the answer to this question is usually, "Oh, not too big." But, when I ask for details, the truth comes out. "Well, it's about 16 x 20 feet, with vaulted ceilings. Oh, and it opens up to the kitchen and the breakfast nook." By home theater standards, any room over 3,000 cubic feet is considered large. And sound waves (especially in the bass region) don't "see" the room as just the 8 x 8-foot area you sit in to watch movies. They try to excite all the available air. This means the kitchen, the breakfast nook, the hallway...
I follow that up by asking about listening habits. Will you use the system more for music or movie listening? What kinds of music do you normally listen to? What kind of movies do you typically watch? People who like classical music or jazz usually gravitate to different kinds of speakers than people who like hip-hop or blockbuster action films. And some speakers just perform better for certain types of material.
I also want to know the volume level customers prefer. Is being able to hear dialogue at low levels critical, or do they want to shake things off the walls? Just because someone prefers Vivaldi doesn't mean he won't want to recreate live sound levels that rise above 100 decibels (dB).
Now, the customer might want small wall-mounted speakers and a petite subwoofer that hides under a plant, but that could be a poor choice, depending on his listening preferences and room size. My golfing friend might want to hit a particular shot - like a lowpunch wedge that skids to a stop on the green - but he wouldn't like the results if he tried that under the wrong conditions, say on a rock-hard green with an up-front pin tucked just behind a bunker.
At this point, I'll have a few system ideas in mind, but before we start listening, I'll ask about my final qualifier - budget. The customer might be an ideal candidate for a 7.1-channel system, he might want tower speakers, and his room and listening preferences might suggest a large subwoofer. But if he can spend only $1,000 for the whole enchilada, some compromises will need to be made.
Keep these things in mind when you go shopping for your next set of speakers - or any new audio/video gear, for that matter. Finding the right caddy for your style can take some searching, and a salesperson who quickly leads you to a wall of gear before finding out what you really need might not be the best candidate.
Back to Custom Installer Main Back to Homepage What's New on S&V
LATEST VIDEO