CUJO is a Smart Firewall That Learns and Obeys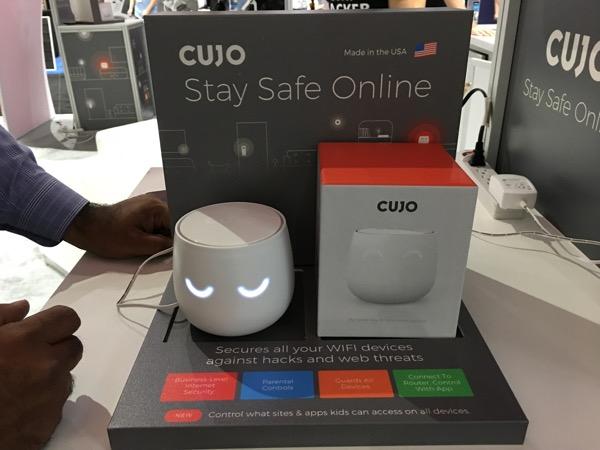 Although not associated with Stephen King and his
his horror novel of the same name
, smart firewall maker,
CUJO
, says that there are over 20 billion internet connected devices worldwide as of 2017. These devices include internet-connected TVs, refrigerators, thermostats, security cameras, home automation systems, and even baby monitors. Surprisingly, most of these devices have little, if any, security measures built-in, a situation which is essentially equivalent to leaving all the doors and windows in your home wide open with a sign on the lawn saying, "Take what you want." If you have children in your home, there's the additional worry of dangerous, devious, and/or deviant web sites that are waiting to be discovered by the youngsters who have access to the internet through your home network.
CUJO is a friendly looking, tabletop device with LED status "eyelids" embedded on the front. CUJO uses artificial intelligence to guard against outside attackers taking aim at the devices on your home network. CUJO also offers parents the ability to use access control on a device-specific basis to "avoid inappropriate sites and apps, manage access schedules, and set time limits." Perhaps in keeping with the Stephen King theme, the company elaborates on the dangers of unprotected, unmonitored internet access (possibly scaring the pee-pee out of new parents and/or highly suspicious, overly paranoid people):
Most households have several devices that are capable of getting on the Internet or that can access to questionable content. If you leave children to browse whatever site they want on the web, there is a great potential for danger. These danger include cyberbullying, exposure to pornography and sexting, sleep deprivation. With CUJO smart firewall at your home you can keep a better eye on how and when your children are using the Internet connected devices. Access control will ensure your child's adventure in cyberspace is safe.
CUJO's built-in security features include:

Safe Browsing (IP/DNS)
Command & Control blocking
Unauthorized access blocking
Antivirus and Antimalware
Behavior Analysis
Local+Cloud security layers
DoS attack protection
Protection of all devices on the network (like PC, Phone, TV, Camera and etc.)
Rule based protection
CUJO's hardware specs include:

Processor:

Dual Core 1GHz

Flash Memory:

4GB Flash

SDRAM Memory:

1GB DDR SRAM

Acceleration:

Cryptographic Hardware Accelerations

Ports:

2 x 1Gbps Ethernet Ports
CUJO is available now for $249 and comes with a lifetime subscription that includes monitoring and future updates.