Is NEEO the AV Friendly Smart Home System We've Been Waiting For?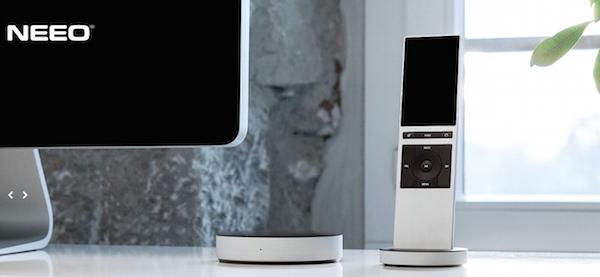 Predicting what the lovechild of so-and-so and such-and-such would be like isn't an exact science. After all, Frankenstein's monster was a lovechild of sorts, and we all know how badly that went. But after looking over
a new Kickstarter project
, I'm convinced that if
Logitech Harmony
,
Bang & Olufsen
, and
Revolv
(R.I.P.) ever rubbed up against one another long enough to swap the right amount of corporate DNA to create a lovechild,
NEEO
, "The Thinking Remote", would be it.
NEEO isn't affiliated with (nor was it spawned by) Logitech, B&O, or Revolv (R.I.P.) so let's get that out of the way to begin with. But a lot of what NEEO says it wants to be when it grows up will sound familiar to anyone with a smattering of knowledge about NEEO's hypothetical trio of parents. For example, NEEO is self-described as "a smart system that lets you control all your devices from one place", andwait for it—it's the result of "new thinking both in design and technology."
Blah, blah, blah. That's what every smart home system at CES said about itself. In fact, NEEO's claims are rather tame by smart home industry PR standards. But don't make the mistake of writing off NEEO as a future me-too has-been smart home system just yet. There are some very interesting aspects to NEEO that merit serious consideration.
In essence, NEEO is a smart home automation system that extends its control capabilities to the components in your AV system. That feature alone separates the NEEO wheat from the smart-device-only control of the ever-multiplying smart home system chaff. The NEEO hub—NEEO calls it "the brain"—can emit IR commands in a 360-degree spread, which means it should be able to control AV devices located in the front, sides, and back of the room. It's a bit unclear as to how many device IR codes NEEO has in its database. At one point on the Kickstarter page, NEEO says it has a database of more than 30,000 devices. Down in the FAQ section, however, NEEO says, "Our device database contains over a hundred thousand popular new and legacy devices." Either way, that's a lot of devices; but it still pales in comparison to Logitech Harmony's 270,000+ device codes. Like the Harmony remotes, though, NEEO can also learn IR codes as needed.
The brain is more than an IR emitter. Inside the puck-like device are antennae (four in all) for Bluetooth 4.0, Bluetooth BLE (low energy) Wi-Fi, 6LowPAN, ZigBee, and Z-Wave. NEEO says it's also ready for Thread, whenever that's released into the wild. NEEO supports IP-controlled devices, too, such as Sonos, Apple TV, Roku, and Philips Hue. There's a long list of compatible smart device brands, although NEEO doesn't list the Z-Wave device types (such as door locks, thermostats, water valves, and others) it's compatible with. The only thermostat NEEO explicitly says it can control is the (Revolv-killer) NEST, but since Honeywell is a Z-Wave device manufacturer on NEEO's compatibility list, I assume NEEO will handle Z-Wave thermostats, too.
The NEEO remote recognizes the palm of your hand when you pick it up and automatically switches to your individual profile and displays your playlists and favorites on screen.
You can buy the NEEO brain by itself and control it using the NEEO app on a smart device. (Both Android and iOS are supported.) But that would be downright stupid. Aside from the fact that it's incredibly cumbersome to exclusively use your smartphone to control your AV and home automation system—the more smart home systems I use, the more I am convinced that dedicated remotes and touchpanels are must-have accessories – the NEEO remote is nothing short of awesome. Actually, if it performs the way NEEO says it will, awesome doesn't even come close to describing the NEEO handheld remote.
Here are just a few of the features that make the NEEO remote so incredible. For starters, rather than being a shiny, button-cluttered monstrosity, the NEEO remote looks like something straight out of Bang & Olufsen's catalog. It's etched from a single piece of aluminum, uses Gorilla Glass to protect its 291-ppi display, and places a scant few hard buttons (for menu and transport control) in the middle of the remote. It includes a built-in rechargeable battery and comes with a recharging cradle, but NEEO says the hardware consumes so little power that the remote "runs for months on a charge."
In my opinion, though, the most spectacular feature on this most spectacular of remotes is its "unique patent-pending technology" that recognizes your hand (specifically, your palm) when you pick it up. The NEEO remote then automatically switches to your individual profile and displays your particular playlists and favorites on the screen. If your significant other picks up the remote, it will immediately customize itself according to his/her profile. (NEEO's Kickstarter page doesn't mention what will happen if you begin fighting over the remote and both grab it simultaneously. Hopefully NEEO's processor won't go into some irreversible logic loop that causes it to explode like the one Kirk initiated in the Nomad space probe, ultimately leading to its destruction.)
Although it may not seem as marvelous as hand recognition to you, I think the NEEO remote's SOS alarm is an outstanding feature that's depressingly lacking on nearly every universal remote control. I'm embarrassed to say how many total hours I spent looking for the damn handheld remote over the course of reviewing Logitech's Harmony Ultimate Home system. I lost the damn thing in the couch. I left it in the kitchen. I set it on a bookshelf in the hallway. I think I even left it in the bathroom once. Had the Harmony system included something similar to NEEO's SOS function, I would have been able to quickly locate it by using the NEEO app to make it beep.
NEEO anticipates that the retail price of the NEEO Brain/Remote combo will be $299. The $199 Super Early Bird Combos are all gone, although you can still get in on the Early Bird Combo for $219 with an estimated shipping date of May 2015. The NEEO brain can be had for a $148 pledge. As of this writing, NEEO's Kickstarter campaign has more than tripled its $50,000 goal in pledges. So it looks like I'm not the only one thinking good thoughts about the new NEEO "Thinking Remote".