Contour Score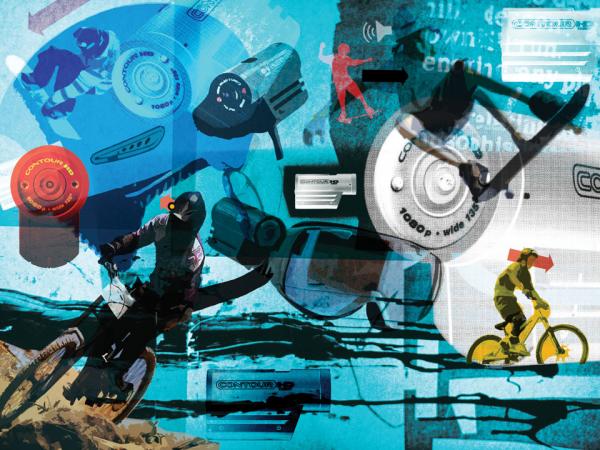 My 13-year-old son is an avid skier, skateboarder, and longboarder. From time to time, he'll document his activities with a Flip camera.
There are two issues with the Flip, however. First, you have to hold it in your hand. Second (and more important), Flip is out of business.
Good thing we found an alternative. On a recent visit to our local skateboard and surf shop, the owner was raving about the ContourHD 1080p hands-free camera ($250; contour.com). My son was so excited that he asked if we could try it out, so I decided to let him test it for this column.
When the camera arrived, we took it out of the box together, but I let him get everything set up. That proved to be incredibly easy, even for my 13-year-old. The miniscule size of the manual is a testimonial to just how easy it is to use. Insert battery, fire it up, and start shooting.
The ContourHD's lithium-ion battery lasts 4 hours. And with a 16 GB MicroSD card, you should have plenty of room for all your activities. The camera weighs 4.3 ounces. At times, it feels so light that you might think it isn't sturdy, but it's got a really nice aluminum and fiberglass body.
I asked my son to make a list of the things he liked about the Contour, and here are the highlights:
1. "It has great picture and great sound." As noted, it's 1080p, so the picture is sharp and the sound is pretty clear given the small built-in microphone.
2. "It mounts to my helmet pretty easily." Actually, it has a variety of mounts, so you can place it on just about anything: bicycle, car, helmet, surfboard, whatever. Being hands-free is one of the best things about the Contour. It's also water-resistant, so you can use it in light snow or rain. If you want to use it while surfing or in heavy weather, you can buy the ContourHD waterproof case for $40.
3. "It's really easy to use." One of the features my son loves is the on/off button. It's not a button that you push; it's one that you slide. That makes it very easy to use if you have ski gloves or sliding gloves on, especially when the camera is mounted where you can't see it. It also beeps once to let you know it's on and twice to let you know it's off. Could it be any simpler?
4. "Downloading my videos is a snap." The camera attaches to your computer via USB cable, and my son imported the files directly into iMovie. That made editing super-easy. I asked my son to give me the best moment he captured. "I put the camera on my helmet, then I rode my lon board and did a bunch of tricks and turns," he said. "The picture was awesome, and I got to show a great point of view from the perspective of a longboarder."
All things considered, I find the ContourHD to be a high-quality camera for a great value. I've seen it used in a variety of places, most recently on Dirty Jobs. I figure if it can survive that show, it can survive anything.