Console Yourself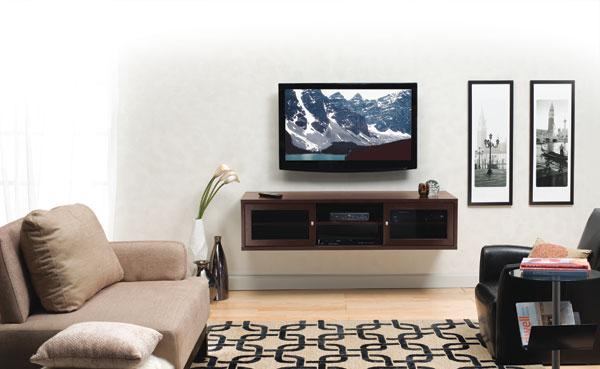 Put a flat panel on the wall, and you gain back valuable real estate in your living room or den. The challenge then becomes what to do with your A/V components, media, and accessories. An enclosed or even semi-enclosed cabinet offers a clutter-free look, eliminates eyesores, and lets your TV serve as the focal point of your room.
As larger flat panels become the norm, the latest cabinets can now anchor sets in screen sizes beyond 70 inches. In choosing a console, be sure to account for gear you've already got and for future purchases, and look for adjustable shelving—that way you can reconfigure your system as needed. Cord management and, especially, ventilation are other important considerations for easy access and to keep everything operating efficiently.
Some consoles are dual-purpose and can be either wall-mounted or floor-standing depending on your preference, room configuration, and TV size. A wall-mounted cabinet is not only efficient in terms of space, but also gets bonus points for making it easier to vacuum and clean underneath the space.
For high-performance furniture that can keep up with today's larger flat panels, here are a few to consider.
BDI's Ola is a curvy cabinet ideal for larger home theaters thanks to a substantial top panel and base to position up to a 73-inch flat panel. Go with either the chic Satin White finish or the more traditional Chocolate-Stained Walnut. The open-center compartment has an adjustable shelf perfect for a center-channel speaker. Gray-tinted glass doors conceal your gear but are IR-remote friendly. A removable back panel provides easy access to cables and connections. $1,775
Sanus' JFV60, part of the exotic Java Series, is a durable, dual-purpose lowboy in a Chocolate-finished oak veneer that shows off your 63-inch TV. Modern and versatile, the cabinet can be hung on the wall or placed on the floor with the included attachable feet. The sliding glass doors secure your gear without blocking remote controls. $499.99
Bello's AVSC2155 is a contemporary-styled cabinet that supports a flat panel up to 65 inches. It can house at least four audio/video components and a center-channel speaker on its hanging shelf. Black tempered safety glass accented with Espresso-finished sides and back complete the look. The built-in cable management system hides wires and interconnect cables. $399.99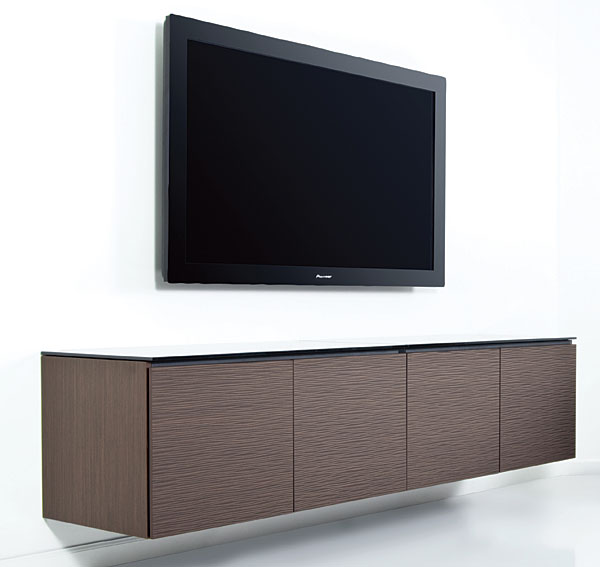 Salamander's Berlin 247, part of the Chameleon Collection, is a quad-configured console with contemporary cache that can be hung or floorstanding, and with its 88-inch width, it's perfect for bigger screens. It emanates European influence with a dramatic Wenge (West African) finish and wavy, textured front. Key features include adjustable shelves and ventilation louvers in the bottom of the cabinet segments. For an elegant ambiance, add optional under-cabinet lighting to accentuate the floating look of this piece. $2,499