Cleer is Clearly In the Moment with New Product Lineup for 2018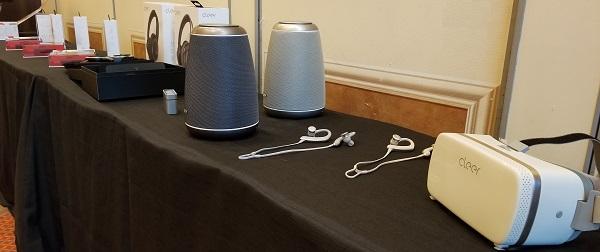 Cleer's motto "Be In the Moment" couldn't be more apparent with a new product lineup that takes advantage of many new technologies emerging lately, including voice activation, heart rate monitors, and ruggedness for today's active lifestyles. The 2018 lineup includes a series of new headphones, a smart speaker, and a VR headset.
The Edge Voice wireless headset has Alexa voice assistant and a built-in heart-rate monitor for $170. It features always-on voice control and coaching features integrated with the heart-rate monitor. Sound is paired through Bluetooth 4.2 and NFC. It has 6 hours of playback with a fast-charge feature that gives an hour of playback from just five minutes of charging. It is shockproof and water-resistant with an IPX5 rating. It will be available in July.
The Ally is a true wireless earphone that also features Alexa. There is a sensor that pauses music playback when the earphones are removed, and restarts when they are placed back on.  They have 4 hours of playback and the carrying case will add an extra 10 hours of charge.  They are also water-resistant with an IPX5 rating. They'll be available for $129 in July.
The Flow is a Hi-Res Audio certified wireless headphone with ironless drivers with excellent sound properties. The Flow uses Bluetooth 4.2 with AAC and aptX. It has active noise cancellation that has an ambient mode so you can still hear important sounds around you, while still filtering out noise. It has 20 hours of playback and will be available in July for $280.
The Trek is a noise-cancelling earphone with 12mm drivers and an inline microphone. It also has an ambient mode to let in some outside sounds. The Trek has up to 13 hours of playback with the 5-minute quick charge that will give an hour of playback. It will be for sale in March for $149.
The Vista VR is an all-in-one virtual reality headset - no phone or wires needed. It features a Qualcomm Snapdragon 820 processor. The built-in OLED screen has a refresh rate of 90 Hz and resolution of 1440 x 1280 per side. It will be for sale for $350 and comes with premium in-ear headphones.
Cleer's first foray into the smart speaker space is with the Space. This is a "7.1" speaker system, with an array of seven 1.5" speakers and a single subwoofer, powered by a 55-watt amp. It can be configured to play in a variety of ways - stereo with the sound radiating forward, 360 that sends out equal volume all around, movie mode that creates a center speaker feel, and "follow me" that sends the sound toward the direction that issued the voice command.  In addition to working with Alexa, Cleer will be creating a version for China that uses Alibaba. The Space will be $250 when released in July.
Cleer is a small company, but they have big things planned for 2018.