Chromecast Opens the Music Box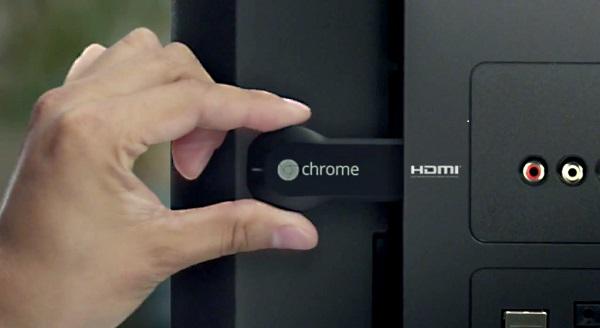 The wildly popular Google Chromecast just got even better. It has added Pandora Radio and Hulu Plus to its list of supported content. And, the best may be yet to come.
Chromecast, as you know, is an HDMI dongle that plugs into your TV. It allows you to stream AV content from your smartphone or other digital device to your TV via WiFi. Everything is neatly run from a phone using a Android or iOS app, or from a computer running a Chrome browser.
When Chromecast went on sale in September, sales were stupendous. For 35 bucks, why not give it a shot? In fact, the device immediately sold out and was backordered for weeks, and within 24 hours of launch, Google ended a promotion that gave three months of free Netflix. At release, the system supported Netflix, YouTube, Google Play Music, Google Play Movies and TV. Now, Pandora and Hulu are onboard. (Not all apps are supported by all the operating systems.)
Even more interesting, the Chromecast software developers kit is still a beta product. In fact, Google has told companies not to release their apps until the production version of the kit is available. (It's my guess that Google was shocked by the wild success of Chromecast, and wasn't prepared to fully launch it). When Google releases the production version of the kit, it is expected to open the floodgates to many more apps. In helping ensure this, Google has given Chromecast the "most favored developer" status.
What third-party apps are in the pipeline? Well, rumoured apps include AOL On, Bitcasa, Blip, Devour, Fandor, HBO Go, PlayCast for PlayOn, Pocket Casts, PostTV, Redbox Instant, Revision3, Simple TV, Songza, Split Browser, Tonido Home Cloud, Twitch TV, VEVO, Vimeo, Web2go, and Zattoo. Currently, Chromecast does not allow streaming of content stored locally on a mobile device, but some of these new apps may change that. Chromecast does support local content from a PC or external drive if the content is playable on Chrome.
Do you see what Google is doing here? The $35 Chromecast is the perfect Trojan Horse. It gets more people to use more of Google's resources (from which it profits), it gets more copies of Chrome onto more computers (more profit), and it puts Google on your TV (yep, you guessed it).
Chromecast (along with AppleTV, Roku and TiVo) is the perfect marriage of computers and home theater. It puts the whammy on small-screen viewing and crummy-sounding sound docks. With Chromecast you get all the viewing advantages of your TV's gigantic hi-res display, and the sonic excellence of your soundbar or home theater speakers. Phones and computers do what they do best: access and store content. And your home theater does what it does best: let you watch and listen to it. Win win.