CES04 Live: Heading for a Record

In 28 years of attending the International Consumer Electronics Show, I never witnessed the tide of humanity that swept into the opening day of this year's CES. Usually the crowds swell on the second and third days of the show, but this opening day rivaled the most crowded days of yore, and then some. However, most attendees were not interested in a record - they focused on a different disc: DVD.
Ubiquitous DiscPeople finally stopped debating what the letters DVD stand for and started celebrating the biggest success in the history of consumer electronics. With 73 million DVD players sold to 55 to 70% of U.S. households (depending on who's counting), all companies could think about was what they would do when those last 45 to 30% of households bought players. Few companies, even those not directly involved in audio/video, failed to show or use DVDs in their displays. In retrospect, the best name would have been UD, for ubiquitous disc. Every A/V company worth its lasers showed not only multiple DVD players, but DVD recorders, DVD portables, DVD/VCR combinations, DVD/hard-drive combos (some with TiVo), home theater receiver/DVD players, TV/DVD combos, and DVD players that play SACDs or DVD-Audio discs, MP3, or Windows Media Audio, with perhaps a few more esoteric features and enhancements. Fortunately, no one displayed a combo DVD player/microwave oven.
Panasonic introduced the first TV/DVD recorder combos, with the PV-27DR84 at $800 and the PV-DR2714, which also includes a VCR, for $900. These 27-inch TV combos will be out in June. If you prefer a complete home theater center, Panasonic debuted the SC-HT820V, which combines a five-disc DVD-Audio/Video (and CD) changer with a VCR and a home theater receiver with 500 watts of power (total for all channels). It'll be available in May for $400. Panasonic's SC-HT820V combines a home theater receiver with both a five-disc DVD-Audio/Video changer and a VCR. Available in May for $400.
The monster Motorola DCP601 combines a DVD-Audio/Video player and a digital cable-ready HDTV/AM/FM receiver with 600 watts total power. Besides cable, it can receive HDTV off the air, and it has 6.1-channel Dolby Digital EX and DTS-ES decoding, deinterlacing for upconverting standard video to progressive-scan, MP3 decoding, and JPEG picture display. All this for $1,199 sometime around the beginning of summer.
The Motorola DCP601 combo melds a digital cable-ready home theater receiver with an HDTV off-air tuner and a progressive-scan DVD-Audio/Video player. Available for $1,199 sometime early this summer.
Samsung combines a DVD-RAM and DVD-R/RW recorder with a VHS VCR in the DVD-VR300, which lets you record from any of its formats to any of the others. It's ideal for converting videocassette libraries to DVD. Available in April, it will sell for $550. Its more expensive sibling, the $650 DVD-HR800, marries a 120-gigabyte (GB) hard drive with a DVD recorder, but it also includes a 6-in-2 input slot for nearly every memory-card/micro-drive format on the market so you can play and record JPEG and MP3 files from/to these devices. It will be available in August.
The recordable-DVD format wars appeared nearly over since an increasing number of models record and play both the plus and the hyphen formats (DVD+RW and DVD-RW), such as the Sony RDR-GX300, available in July for $500. It was also interesting to see a resurgence of DVD-RAM, a format recently written off as strictly for computers, saved by Panasonic's continuing to burn the torch for it in standalone recorders.
Singing the Happy Blu(e)sDVD recorder sales are projected to surpass VCR sales in about a year. Once most people buy a DVD recorder, the industry pondered, what great innovation would make us replace our DVD recorders with something new? The answer has them singing the happy blu(e)s, as in Blu-ray Disc, or BD for short, a high-definition DVD that's recorded and played using higher-frequency blue lasers, as opposed to the red lasers used in current models. (I think they should keep the "u" in the abbreviation and make it BuD.)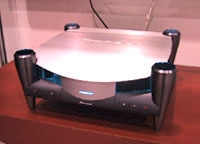 Pioneer's stylish prototype Blu-ray high-definition DVD recorder.
The Blu-ray founders held a press meeting to explain the format and begin the momentum to make it the industry standard. Although there are competing high-definition video formats using red lasers, it's rare when Hitachi, LG Electronics, Matsushita (Panasonic), Mitsubishi, Pioneer, Philips, Samsung, Sharp, Sony, and Thomson (RCA) are all on the same side of the fence. At the press conference, Dell and Hewlett-Packard announced their support of the format for use in computers. Unlike previous CD and DVD formats, BD is a multiuse, recordable disc from its inception, with BD ROM, BD R (write-once), BD RE (rewritable), and, of course, a mode for movies. There are no pluses, hyphens, or other qualifiers in the nomenclature. BD records 11 hours of standard video and 2 1/4 hours of high-def video on a single layer, or about twice that on a dual-layer disc. (I'm surprised the Blue Man Group did not make the presentation, as they're performing on the Las Vegas Strip.)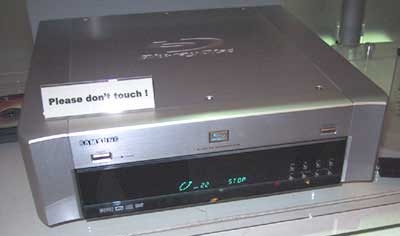 Samsung's BD-R1000 Blu-ray high-def DVD-recorder prototype.
LG Electronics jumped the Blu-ray gun with its early press conference on January 7, announcing that it would market a Blu-ray recorder before the end of this year for under $3,000. All other manufacturers made vague references to sometime in 2005 for their Blu-ray products. All showed prototypes, including a very stylish unit from Pioneer and the BD-R1000 from Samsung.
LATEST VIDEO