CES04 Live: D'You Want High-Res Audio on That?
Integra and Integra Research finally learned what pizza makers have known for decades. You establish a reputation for a great basic pie and finish it off to suit each customer's taste. Actually, these brands are simply designing high-end audio/video electronic components as if they were PCs. The Integra DTR-10.5 digital surround receiver and the Integra Research RDC-7.1 A/V controller platform each consist of a power supply and a basic chassis containing card slots. Integra will introduce the first seven modules for the DTR-10.5 in April and continue developing new ones to appear starting in the fall.
There are fixed analog audio and video modules as well as an AM/FM tuner module. Initial optional modules will include a copy-protected i.Link (FireWire) digital input to connect with compatible Super Audio CD and DVD-Audio players, allowing users to bypass multichannel analog inputs and handle decoding and bass management in the DTR-10.5. Another option is an HDMI (High Definition Multimedia Interface) connector, the new type of copy-protected port that replaces DVI (Digital Video Interface) and adds audio switching. Another is a Net-Tune and Ethernet client receiver for accessing Internet radio and digital music files over a local network. The choices for the RDC-7.1 are similar. The DTR-10.5 with the first seven modules will cost $3,500, with the price of individual optional modules to be announced. The RDC-7.1 will extract $4,000 from your credit card. The beauty of this design approach is that it forestalls obsolescence.
Onkyo (the parent company of Integra and Integra Research) showed its TX-NR1000 digital surround receiver with a similar arrangement, also for $4,000. Optional future modules include HD Digital Radio and enhanced video outputs. Onkyo said it plans to sell the HD Radio module for less than $300. Onkyo's TX-NR1000 digital surround receiver ($4,000) takes a modular approach. You'll be able to add an HD Digital Radio module for less than $300, for example, as well as enhanced video outputs.
Quadruple Crossover OperationHarman Kardon introduced a complete new line of digital surround receivers with glamorous styling - like large volume knobs glowing a seductive blue - and advanced video processing. The AVR 7300, a 7.1-channel model, includes built-in video scaling using a Faroudja integrated processor with DCDi (Directional Correlational Deinterlacing) technology to upconvert interlaced 480i sources to 480p (progressive-scan). It incorporates nearly every surround mode on the market and uses a Quadruple-Crossover Bass Manager for both home theater sources and multichannel DVD-Audio and SACD. The AVR 7300 will reach store shelves in March for $2,199. Even near the lower end of the line, the AVR 330 at $799 includes 6.1-channel sound.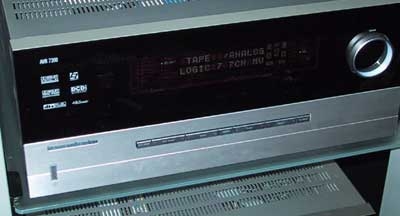 At the top of Harman Kardon's new receiver line is the AVR 7300, a 7.1-channel model that features a Quadruple-Crossover Bass Manager for home theater and multichannel audio sources. It'll be in stores this March for $2,199.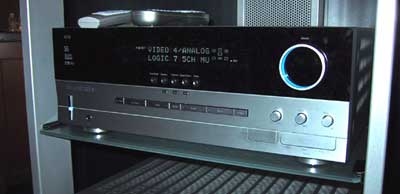 Clearly in the same family is HK's AVR 330, a 6.1-channel digital surround receiver priced at $799. If you're on a more limited budget, HK offers an exceptionally attractive compact home theater speaker system, the HKTS 7, available now for $449, with optional stands. The slightly beefier HKTS 14 system costs $649.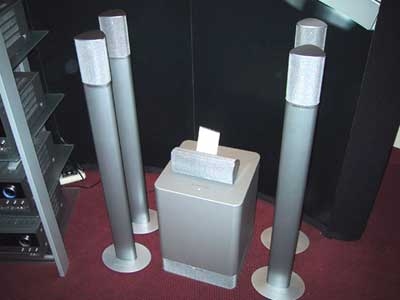 Harman Kardon's attractive compact HKTS 7 home theater speaker system is available now for $449 (the stands for the left/right satellites are optional at extra cost).
Denon showed a do-all, be-all audio/video receiver, the 7.1-channel AVR-5803, with features and price similar to the new HK flagship. However, Denon's pride is the new AVP-1x, an audio control center/surround processor that incorporates a separate, dedicated video preamplifier. It's packaged with the DVD-1x universal disc transport, and it supplies the POA-1x seven-channel digital power amplifier. The components all interconnect digitally. The 1x package, when it becomes available later this year, will sell for about $20,000.
Denon's AVP-1x preamp/processor is part of a 7.1-channel system of home theater electronic components that all interconnect digitally. The package will be available later this year for about $20,000.
Wireless and Semi-WirelessPreviously I reported on wireless TVs, and audio gear is anxious to shed wires, too. OmniFi's Digital Media Streamer (www.omnifimedia.com) can send music from any PC in the house to a system anywhere else using wireless Wi-Fi 802.11g or existing Ethernet wiring. That means you no longer need to have your computer in the same room as your music system. The second-generation DMS2 will be available this fall for $349.
Another trend features wireless surround speakers. This is not a new idea - several companies, including JBL, tried it a decade ago. What makes it more practical now are digital transmission technologies, including not only Wi-Fi (which, after all, stands for wireless fidelity) but also digital infrared, Bluetooth, and new frequency bands. The speakers aren't completely wireless - you still have to plug them in to a power source.
Sony forgoes Wi-Fi in favor of its own Digital Infrared Audio Transmission technology in the DAV-FR10W wireless DVD Dream System. It includes a five-disc, slot-loading, progressive-scan DVD/SACD player and a total system power of 800 watts. This dreamily styled system will sell for about $1,000 in September.
Samsung introduced its HT-DB930 wireless home theater system, which includes a progressive-scan DVD player and 400 watts of power. To relay the signals to the surround speakers, it uses the Bluetooth technology most commonly found in computers and occasionally cellphone headsets. The HT-DB930 will be available shortly for $500.
Sky Music, and Now Traffic and WeatherBoth satellite radio services, XM and Sirius, increased the number of music channels they offer. XM announced it now has 1.36 million subscribers and added more commercial-free music channels. JetBlue and AirTran Airways will offer XM as in-flight entertainment this fall. Sirius, which announced 261,000 subscribers at the end of 2003, added a channel dedicated to vinyl recordings from the 50s and 60s and when possible will offer music processed by Dolby Pro Logic II for 5.1-channel playback. Its live concert broadcasts will immediately convert to Pro Logic II. Also, both services will begin delivering local weather and traffic reports in major metropolitan areas, XM starting this spring, Sirius later in the year.
Digital Signal PrestidigitationAmid the complexity of the electronics at CES, a little company called Zvox created the simplest device of the show. It even lacks a volume control. The 17-inch-wide, 14-inch-deep Zvox Sound Console contains three forward-facing speakers and a "subwoofer," along with an amplifier and a proprietary PhaseCue circuit and virtual surround processing to give the impression of larger sound projected outside the box. You can connect the audio output from any sort of electronic gear - whether a stereo TV, a CD portable, a videogame console, a satellite radio receiver, or a computer - to this $199 black box and hear something like surround sound.
Off the show floor in a suite in the Las Vegas Hilton, Texas Instruments (TI) demonstrated its own latest digital signal processing (DSP) chip, which could dramatically improve the sound of many audio products - especially home-theater-in-a-box systems - starting next year. Besides being the chipmaker behind the explosion of large-screen DLP (Digital Light Processing) TVs, TI also makes many, if not most, of the chips that perform Dolby Digital/Pro Logic and DTS functions in home theater receivers.
At the Hilton, Tomlinson Holman, formerly of Lucasfilm (many claim his name provided the first two letters of THX, since he developed the system), explained his new Audyssey speaker-room equalization software. It combines different approaches to room equalization that used to be considered mutually exclusive, such as analog real-time analysis and digital FFT, to create a fast, highly accurate, and easy to use equalizer that will be incorporated in future TI DSP chips, such as the Aureus. TI announced that the Aureus now includes the newest Dolby format, Dolby Pro Logic IIx, which provides 7.1-channel playback from 5.1-channel soundtracks.
LATEST VIDEO