CES 2014: Been There, Missed That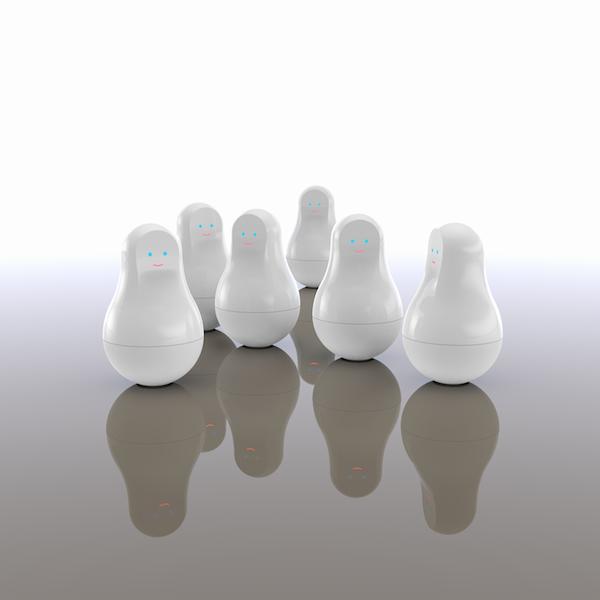 CES is just too big for any one human being - or, in our case, nine human beings - to cover completely. And, unless you're a word-factory like my compatriot,
John "The Sciacca"
(who, I believe, outsources his blogs and reviews to a small company in Sri Lanka), it's damn near impossible to write about everything you see at CES while you're in Las Vegas. And then, of course, there are all the things you didn't see but wished you had.
You've probably seen and read way too many CES2014 wrap-ups already, but this one's a little different. Instead of presenting a big, overarching picture of this year's CES, I want to focus on a handful of products that I think were noteworthy in some small way but that I spent too little time looking at or missed completely.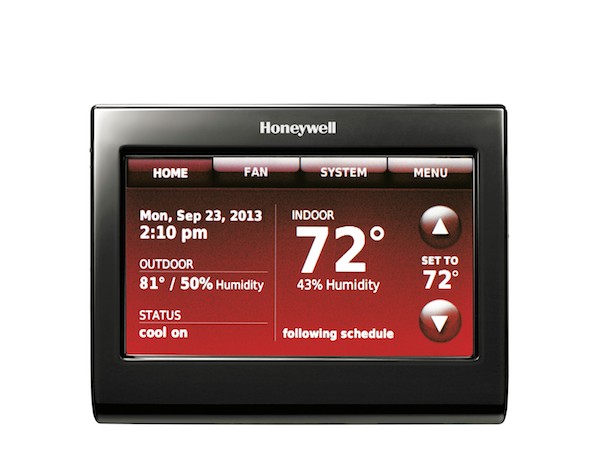 Have a heated talk with your thermostat.
Thanks to all the hoopla that went on after Google announced it took $3.2 billion out of its petty cash drawer and bought the sexy-and-smart thermostat maker, NEST, another interesting thermostat languished in home-automation obscurity. Honeywell's Wi-Fi Smart Thermostat with Voice Control doesn't have the NEST's slick styling that makes you want to touch it when you see it—but that's okay because this thermostat responds to touch or voice. In fact, Honeywell claims this is the first thermostat with built-in voice controls. Wi-Fi connectivity allows the thermostat to be controlled by Honeywell's Total Connect Comfort smart phone app for iOS and Android. The new thermostat can also use your home network to connect to Honeywell's cloud-based server in order to download updates, and Honeywell says the system "will get smarter over time, adding more commands based on its interactions with homeowners." Speaking of smarts, the voice-controlled thermostat is also designed to learn and adapt to the homeowner's heating and cooling cycles. (Sound a little like some other smart thermostat in the news?) Honeywell's Wi-Fi Smart Thermostat with Voice Control is available now for $349 and is DIY-friendly.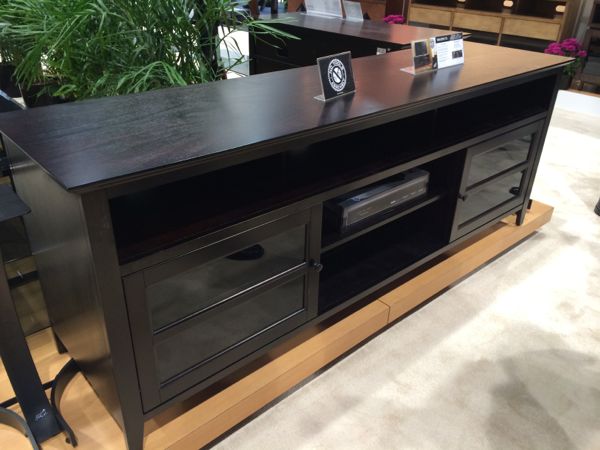 Pop-up cabinets that stand out.
I've always admired the various furniture products from Bell'O, but this CES I came away with even more admiration after watching a short, real-time video of one of the company's full-size, wooden, console-style cabinets being put together. In order to keep the overall cost down, these cabinets are shipped in a flat package. It's what's know in the furniture business as RTA or "Ready To Assemble". But anyone who has ever bought a piece of RTA furniture knows how painful it can be to put all the parts and pieces together properly - and that's if all the pieces were included in the box. Bell'O, on the other hand, designs these RTA cabinets for what they call "No Tools Assembly"; and they literally mean no tools. The cabinets are shipped flat but when taken out of the box by the customer, they can be unfolded—almost like a pop-up book—and snapped together in minutes. The cabinet in the picture above, for example, is part of the No Tools Assembly series. Not only is it virtually impossible to distinguish it visually from a pre-assembled cabinet, but (as I proved by sitting on it) it's just as sturdy as one.
Between a wireless ROCKI and a hard-rock speaker.
I wished I'd had more time to spend with ROCKI's co-founder and CEO, Nick NM Yap. The company just recently kicked some serious Kickstarter butt ($220,000+ raised in a little over three weeks), and the folks at the booth were sky-high with enthusiasm over their ROCKI Wi-Fi music streaming technology, which, the company says, "is expected to knock Bluetooth out of the market [in terms of wireless music devices]." (As a matter of fact, you could see true pain on Yap's face when he said the words, "Bluetooth for music?? Oohh…") The ROCKI PLAY - the small, many-sided object pictured above next to a glowing portable speaker - is a small Wi-Fi-enabled, battery-operated (up to 8 hours) device that allows you to play music from your smartphone, tablet, PC, or even from a NAS, Dropbox, or online music services. ROCKI PLAY does not include an amplifier, so it needs to be used with either powered speakers or an audio system. What makes ROCKI even more exciting than all of its possible uses is that it sells—well, you can pre-order it, anyway—for only $49 with shipping ($15) estimated to start as early as the end of January 2014. The ROCKI PLAY+ will retain all of the features found in the ROCKI but will add HDMI and optical (TOSLink) connections. It'll sell for $89 and is expected to ship by the end of February 2014.
You can play with MiiPC - but use your own controllers.
I'm not really sure why I hesitated briefly in front of the MiiPC booth, but I stood there long enough for one of the MiiPC folks to draw me in. After all, a company touting the creation of "the world's first Android PC for families" isn't normally on my beat. Essentially, the two MiiPC models (Basic and Premium) are little desktop computers running Android 4.2 (Jelly Bean) with an HDMI connection and three USB ports. So you can hook it up to an HDTV and use a keyboard and mouse as you would with a typical PC or Mac. It has built-in Wi-Fi and Bluetooth, as well as built-in MiiPC Media Server software. But the thing I found to be extremely interesting about the MiiPC is the fact that they now support traditional game controllers, such as those for the PS3 and Xbox. Why is this noteworthy? Well, Android-based games are designed to be controlled by your smartphone or tablet - often by tilting or moving the device. That's not usually possible with traditional computer keyboards or mice. Being able to use a controller many people already own keeps the machine affordable and much more enjoyable to use. Both MiiPC models are available now. The Basic (with 1 GB RAM/4 GB Flash Memory) sells for $129. The Premium model (2 GB RAM/8 GB Flash Memory) goes for $149.
Mother may eye?
I think the one thing I'm most disappointed about not seeing was Mother. No, not my mother. I saw Mother's booth in the distance while I was running through the aisles of new things being previewed in Eureka Park at the Venetian, but I didn't have time to stop. I really should have, though. You see, "As with your real mother, Mother cares about you and loves you. Yet this Mother is programmable. You decide what aspects of your life you want her to handle and she tunes to your current needs. Unlike other devices that specialize in only one area, this Mother knows how to help you in many areas of your daily life: fitness, health, security, well-being and comfort. You decide how she can help simplify your life, ultimately helping you live better, healthier and happier." How the hell does it do that? Mother uses "a family of Motion Cookies, a unique, new generation of multipurpose, autonomous sensors that connect real-life actions, detecting and understanding movements, temperature and more. Small and slick, yet powerful with the exceptional ability to analyze, find patterns, learn and continuously readapt, turning everyday objects into something smart." The Motion Cookies are small (1.9in x 0.8in) and weigh a mere 0.2 ounce. They have a one-year battery life and a 10-day memory in case the Mother is out of range or the network is down. It's an intriguing mix of home automation and personal automation, and I don't need Mother to kick me in the butt for not stopping and getting the full explanation. One Mother and a pack of 4 Motion Cookies is available to pre-order now (with anticipated Spring 2014 delivery) for $222.
Arming yourself with technology.
Finally, a quick word about Netatmo, a company originally known for introducing the first Personal Weather Station with Air Quality sensors with connectivity for both iOS and Android devices. At CES 2014, the company showed off its new Netatmo Thermostat for Smartphone with its "audacious yet minimalist design". One more player in the smart thermostat field, the Netatmo Thermostat is controllable by smartphones, tablets, or PCs with the company's free app - and "adapts to your life by observing your habits: it knows what time the day starts, when the kids get home from school and when it's time to go to sleep. It self-regulates to provide a comfortable temperature adapted to your activities while economizing energy." But I was most intrigued by Netatmo's June, a wearable UV sensor that tracks your cumulative UV exposure through the day in conjunction with your smartphone. It also uses the motion sensing capabilities of your smartphone to guesstimate whether you're sitting inside a building, sunbathing outside, or jogging. It's designed to look good enough that women will want to wear it everyday. (Fitbit, Withings, and the rest: you all should take note.)
And there was so much more. I'd almost like to say I wish CES would last for twice as many days…but then I come to my senses and realize there's no way in hell anyone could survive that long covering it.