CES 2013: NYNE NH-6800 - The Shape of Things to Come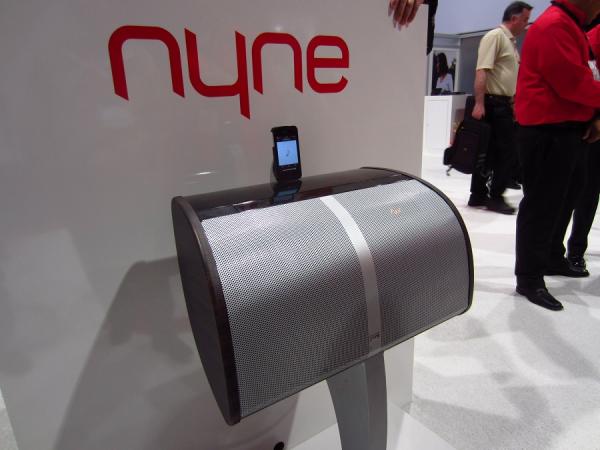 While everyone on the floor is showing off tiny, tinny little Bluetooth speaker docks, NYNE is making a bold statement with the new NH-6800. This gorgeous stand-alone speaker system features Bluetooth with apt-X and AAC, and it's also one of the first systems that will feature a Lightening connection for the new Apple product line.
The NH-6800 is a large floor-standing speaker system that includes a beautiful brushed aluminum stand. At CES, it's being shown with a choice of a light wood finish or a rich, dark natural wood look. It's just a prototype here, but should be available in May or June for $1200.
Behind the aluminum grill is a LED clock, keeping a sleek, polished look – the dock is located on the top of the cabinet. Inside, the NH-6800 features two 5-1/4" woofers, two 1" tweeters and a mono 8" front-firing subwoofer. This model has 120-watts per channel RMS but there will be a more powerful larger system also available later this year. In addition, a smaller table-top version will be available as well.
The NH-6800 has a very clean, uncluttered look. Keeping the system self-contained, without a bunch of cables and with an attached stand makes it easy to bring great sounds wherever they're needed. This retro design is a prime example of the innovative thinking that is evident throughout NYNE's product line, and sprinkled across the entire show floor. I can't wait to critically listen to this at home.