CES 2013: The iLuv MobiRock Wireless Dock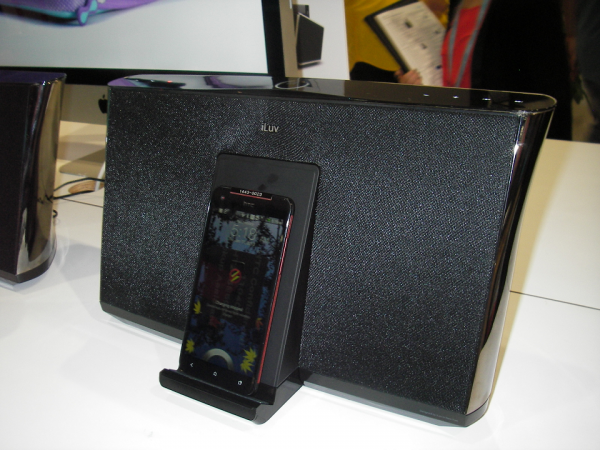 While everyone's been showing off their Bluetooth docks (and I've certainly covered a number of them) the folks at iLuv were showing off something slightly cooler at the International CES this year. The MobiRock is a small wireless dock that features wireless charging for Qi-enabled devices. The MobiRock (iMM711) is currently compatible with the Nokia 920 and some HTC models. An adapter will be available for other devices in the near future, and there is a USB charging port for non-Qi devices.
Qi-charging is so easy to use with this device. The pad is angled, so you can see what's playing while you're wirelessly charging on the Qi-certified wireless charging pad. No cables, no fuss.Unlike the hoops that some players force you through to connect, the MobiRock uses NFC assist for easy pairing – just tap and sync. Near Field Communication (NFC) technology, makes pairing devices simple and fast. There is an AUX input for non-Bluetooth connections.
"With the variety of mobile devices on the market, Bluetooth speakers have become a popular option for consumers due to their compatibility with a wide array of products," said Felix Kim, Sr. Manager of Global Product Marketing at iLuv. "The addition of MobiRock to our already extensive line of Bluetooth speakers will give consumers more options to take their mobile devices to a new level. These speakers will give music lovers the chance to listen to their favorite music and charge their devices easily, wherever they may be—all with the convenience of wireless technology."
The price of the MobiRock isn't available at this time, but expect to see it for under $200.00.

LATEST VIDEO