CES 2012: Audio-Technica's 50th Anniversary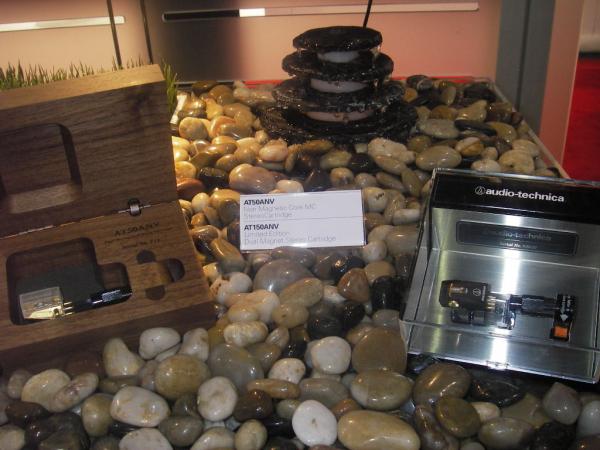 While it's always a party at CES, this year was something special for Audio-Technica. They're here celebrating "50 Years of Passionate Listening" with five limited edition headphones and phono cartridges debuting here.
Unlike the literally hundreds of headphones and earbuds that are flooding the show floor, these are works of art, and the prices reflect their exclusivity. Beyond the new in-ear ATH-CKW1000ANV that Brent Butterworth told you about, there's also an audiophile over-the-ear headphone, the ATH-W3000ANV (MSRP: $1299.95) with lacquered hardwood, high-power driver magnets and a newly designed 53mm wide-range driver, along with numerous other refinements – the earcups are designed from Spanish lambskin. Nice.
The other over-the-ear headphones, the ATH-PRO700MK2ANV ($549.95), are designed for the DJ crowd. They also use a 53mm driver, but these are tuned to produce a more enhanced bass response. The headphones swivel from 50º - 90º and have an attractive, if not understated, gold trim.
The ATH-CKW1000ANV ($299.95) are the new in-ear headphones. They have a limited-production 14 mm driver and titanium-and-wood hybrid ear pieces that are designed to reduce resonance. It comes with an assortment of ear tips to provide a better fit for a variety of users.
There are two new moving coil phono cartridges, the AT150ANV ($799.00) and the AT50ANV ($1499.00.) The AT150ANV uses enhanced damping materials to reduce unwanted vibrations and enhance overall performance. The AT50ANV features proprietary new magnetic technology said to almost double the output of older cartridges for low noise and better bass response.
It's easy to see why Audio-Technica is showing off these new products here to celebrate the anniversary — who doesn't come to Vegas to party?
LATEST VIDEO