CES 2012: AfterShokz Sport Headphones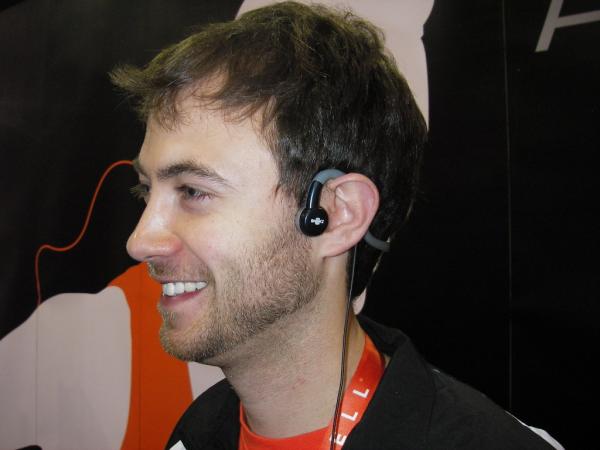 The CES show is just inundated with headphones and earbuds. Seems the only way some people think to break through the clutter is to add celebrity endorsements. One company, tucked away in the back of the convention floor is taking an entirely different approach.
AfterShokz uses patent-pending bone conduction technology to transmit sound through the cheekbone directly to the inner ear, completely bypassing the eardrum. They don't go in the ear, or cover the ear – they sit in front of the ear, resting against the side of your face. Now, before you think that there's no way that can work, and even less of a chance of them sounding good, you should know that this technology was developed for military special ops and law enforcement. And, I had a chance to check them out and I was impressed.
While wearing them, I was still able to hear the conversation going on around me, and converse without shouting, because I could also hear myself. These are ideal for runners and cyclists, because they let you hear traffic and other sounds around you. Frequency response was acceptable – because they don't have to fit into your ear, they can use a larger driver. And, because they aren't jammed into your ear, they're quite comfortable.
One other important aspect of the AfterShokz technology is that you can really turn up the sound without risking damage to your eardrums. As more and more of our entertainment options go mobile, having safe listening becomes essential. The AfterShokz use active drivers – their dual suspension drivers are powered. They'll run for about 15 hours at low volume, and recharge via USB.
There are three models. Sport ($59.95) has in-line controls so you can adjust the volume on the move. The Mobile version ($69.95) adds an in-line microphone that will stop the music when a call comes in while activating the mic. The AfterShokz Game ($69.96) also has an in-line microphone but uses a USB connector instead of the 3.5mm jack and includes an 9-foot cord so gamers can easily move about.
Cutting through the clutter of CES takes something remarkable. Honestly, I almost walked by thinking this was just a gimmick. In reality, these might be my go-to headphones for working out on the road.