CEDIA Expo 2014 Preview: Let the Geekfest Begin

2014 CEDIA Expo Coverage Begins Wednesday
In the grand scheme of all things electronic, it's not as big a deal as the annual CES in Las Vegas. In many respects, though, CEDIA Expo 2014 is an even more important event for people interested in customizing home technologies to make them seamless, integral parts of their customers' lives. Oh, hell, what am I saying? "Customizing home technologies…" The guys—and most of them are guys, although that's changing—who go to the CEDIA Expo every year are fascinated by gear that can be hidden, be controlled at a distance, is motorized or otherwise moveable, and can be tweaked and tinkered with. Sure, we talk about "lifestyles", but the reality is we go to CEDIA to geek out on the gear.
It's a completely safe bet that when the show floor officially opens at 9:00 AM on Thursday, September 11, the place will be packed—and a number of us from Sound & Vision will be fighting our way through the throngs of installers, designers, specifiers, representatives, and booth demonstrators. We're going to be there as your eyes, ears, and rears (hey—somebody needs to try out those theater seats). Okay, who am I kidding? We're going to be there because we're just as mesmerized by gadgets with lights that move and make sound as the rest of them. Sure, we're going to blog about what we find at CEDIA Expo 2014 in order to keep you up-to-date on the latest in the whole-home AV, custom installation, and smart home world; but, mostly, we'll be blogging just to make you jealous that you're not in Denver experiencing it all for yourself…
In all seriousness, there's going to be a lot of extremely cool stuff at CEDIA Expo 2014. I doubt there'll be anything mind-blowingly revolutionary, like some sort of telepathic, immersive, simulated surround that'll take the place of soundbars and speakers. (Maybe next year…) On the other hand, I'm certain there'll be more than enough almost-as-exciting things introduced at this year's Expo. In fact, here are a few of the things we'll be looking out for.
Audio Front and Center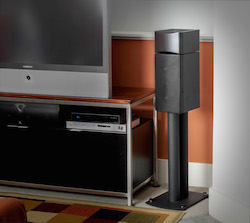 When it comes to audio, Dolby Atmos should be one of the highlights of CEDIA Expo 2014 as multiple manufacturers will be bringing real products (not just prototypes) to demonstrate. (Read Tom Norton's "Dolby Atmos Explained Plus More First Impressions" post for a more in-depth listen.) In addition to Dolby Atmos-compatible gear from Pioneer (AVRs and speakers) and Yamaha (AVRs), Atlantic Technology is expected to demonstrate its Dolby Atmos Speaker Module. Triad Speakers plans on doing two live system presentations. One will use four of the company's new Bronze LR-H ($1,000/each) that integrates a Dolby-enabled height channel on top of the speaker enclosure. The other will feature a system using Triad in-ceiling speakers.
Dolby Atmos won't be getting all the multichannel sound love at CEDIA. At least two companies will be demonstrating processors with AURO-3D technology built-in. (According to Wilfried Van Baelen, the inventor of the format, "Auro-3D is the next generation three-dimensional audio standard… By fully immersing the listener in a cocoon of life-like sound, Auro-3D creates the sensation of 'being there' by adding a very specific ingredient to the sonic mix: height, the crucial third and final dimension in the evolution of sound reproduction.")
Storm Audio will be presenting the SSP 16-3D processor with 16 fully assignable channels and full IP remote monitoring and control. Not to be outdone, Steinway Lyngdorf will be introducing the Model P2 surround sound processor. The Model P2 will support both AURO-3D and Dolby Atmos speaker setups. Pricing hasn't been announced yet, but you can be certain neither product is going to be cheap.
Multiroom Mania
In addition to multichannel audio, CEDIA Expo 2014 will be chockablock with multiroom audio gear. At this point, I'm convinced that one of the multichannel hits of the Expo will be the new HEOS by Denon wireless multiroom sound system. I've had a sample system for a week or so now, and I can tell you that it is awesome in both performance and appearance. One of the other new system introductions scheduled for Expo this year is a new portable, wireless multiroom speaker system from Mass Fidelity—the company that introduced the Relay Hi-Fi Bluetooth DAC Al Griffin earlier this year. The startup launched an Indiegogo campaign on September 4, 2014 to help fund production of its new Core wireless speaker system. Although the goal is a modest $48,000, the company has already raised over $240,000 from 630+ funders—and there's still almost a month left in the campaign!
By the way, when Mass Fidelity refers to the Core as a "speaker" system, they literally mean a single speaker. According to the promo video on Indiegogo, the Core is a single speaker that uses "Wave Field Synthesis (WFS)" and "clever psychoacoustic processes" to create a room full of "holographic" sound regardless of the listeners' seating positions. The Core is designed to work with Bluetooth smart devices and has plenty of inputs, including a control input that makes it compatible with a number of home automation systems. It's also battery operated. And it removes warts and reverses hair loss. (Actually, the video doesn't mention anything about warts or hair loss—but with everything else the thing can do, I wouldn't be surprised…)
Peerless AV will be demonstrating its eight (independent) channel PeerSound Wireless Audio System, which it says is "the industry's first and only rack mountable wireless audio transmission system with a remote antenna." It's designed to support surround sound applications or to create wireless zoned audio systems, "especially in areas that are difficult and/or costly to run speaker wires." Long-time multiroom system and parts maker, Russound, will take the wraps off the company's MCA-88X Digital Streaming Multizone Controller that has Russound's XStream technology built-in, along with six 40-watt amps. You can add a whole-house Bluetooth input with Russound's BTC-1X Bluetooth Extender and enjoy even more wireless-ness by adding X5 XStream Wireless Controllers.
Disappearing Architectural Speakers
There won't be any shortages of architectural (i.e., in-wall and in-ceiling) speakers at CEDIA EXPO 2014. One of the companies I'm most interested in seeing—or not seeing, as the case may be—and hearing is Nakymatone. On the company's website, Nakymatone claims to have created "the very first and ONLY fully enclosed invisible loudspeaker in the market." The installation video they have on the site is very compelling; but, of course, it really doesn't matter how simple a speaker is to install in the wall if it sounds like crap. Hopefully we'll get a chance to give the Nakymatone speakers a good listen in a quiet environment.
The legendary Jeremy Berkhardt, one of the pioneers of the architectural loudspeaker 30 years ago, is back with a new company—Origin Acoustics—and a "completely re-imagined" take on the in-wall speaker. The installation process is said to involve no tools. (Well, I suppose they mean no tools after the hole has been cut in the wall.) The new drivers use a progressive suspension system (which means they'll never be advertised on Fox News…), and the aspect ratio of the baffle is supposed to "closely mirror the Golden Mean" to make it "more aesthetically pleasing in the home." There will be 10 models in Origin Acoustics' initial lineup, ranging from $250 to $1,600 each. Normally I'd say that the last thing the world needs is another architectural loudspeaker company, but Jeremy and his partners (Ed Hasse and Ken Humphreys) have an incredible track record in the custom installation industry. Origin Acoustics is definitely a company to keep an eye on.
Smart Home Automation

There's sure to be some tension at CEDIA Expo 2014 between the big-time, high-end, professionally installed and programmed home automation system folks and the hordes of DIY smart-home-on-the-cheap companies that will be hungrily circling around them. There's so much going on right now with smart home technology that new systems pop up on what seems like an hourly basis. At the moment, it's difficult to guess which way things are going to shake out. Stay tuned, though, because one of my favorite powerhouse home automation companies, Control4, is supposed to make several important announcements at CEDIA.
Crestron, another biggie in the industry, is also scheduled to make some news during the press walk-through of the Crestron booth early on Friday, Sept 12. Among other things, Lutron will be demonstrating the new Lutron Caseta Wireless Bridge and other Caseta Wireless devices. In addition to promoting their new, more affordable smart home automation and music system, Savant promises that they "have something big coming" for CEDIA; and Clare Controls will be introducing the new ClareVue Lighting system consisting of Z-Wave-certified dimmers switches, keypads, and receptacles.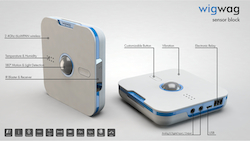 On the more DIY-oriented side, SmartThings—flush with cash after recently being acquired by Samsung—will be answering plenty of "How will the Samsung acquisition affect SmartThings' open-architecture system design?" questions. Startup WigWag will bring its rule-based, services-filled WigWag Relay and accompanying WigWag Sensor to CEDIA—it monitors eight environmental parameters, includes two expansion ports, and provides control for a low-voltage relay, a seven-color LED, and a sound buzzer. My guess is that in addition to demonstrating the system, they'll be taking pre-orders, too…
Of course, there's plenty more on our lists that I haven't mentioned; and there's sure to be quite a few surprises. Expo press conferences start on Wednesday, September 10. We'll be posting daily from then on until the bitter end of the Expo, so keep coming back for the latest info.