CEDIA Expo: Headphones from PSB and Paradigm?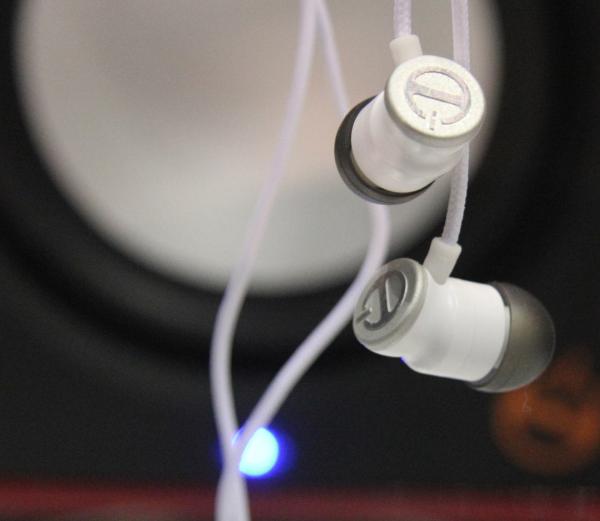 The CEDIA Expo focuses on home theater sound, home automation, high-end video projection, and all sorts of toys for rich guys' mansions. So I'm surprised to say that the first report I'm filing from the Expo is about headphones — a product that few custom installers even sell.
Seeking to get in on the explosion of the headphone market (or at least what we're being told is an explosion of the headphone market), companies known for making speakers are jumping in. We've already seen offerings from B&W, Bose, and Klipsch; the latest entrants are Paradigm, PSB, and Polk.
Paradigm is doing three new earbud models that are voiced to match the timbre of three of the company's main speaker lines. And the three are also named after those lines: the $79 Monitor, the $129 Studio and the $179 Signature. The latter two include inline controls and a built-in microphone, and all three available in black or white. A Web site selling the new earbuds will go online in early October.
PSB's $400 M4U 2 was developed and voiced by Paul Barton, the company's founder and chief engineer. The M4U 2 is a noise-cancelling model that's fully amplified, and also works in passive mode so your sound doesn't stop when the headphones' dual AAA batteries die. The earcups use an unusual pinched oval shape, with more padding at the rear because the side of your head slopes back at that point. "They're voiced absolutely textbook," Barton said, "except they have about +3 dB boost from 50 Hz to 200 Hz to simulate the room gain you get with real speakers." Indeed, my brief audition of the M4U 2 reminded me a lot of PSB's regular speakers — it sounded super-smooth yet extremely detailed. They were extremely comfortable, too.
While Polk didn't show its upcoming headphones, a company rep told me that it would be announcing and demonstrating them next week at an event in New York City.
No celebrity endorsements for these yet, but to me, the endorsement of the engineers who build some of the world's best speakers means more than the endorsement of some musician who — for all I know — never even heard the things before he inked the deal.