Highlights and Personal Faves from CEDIA 2015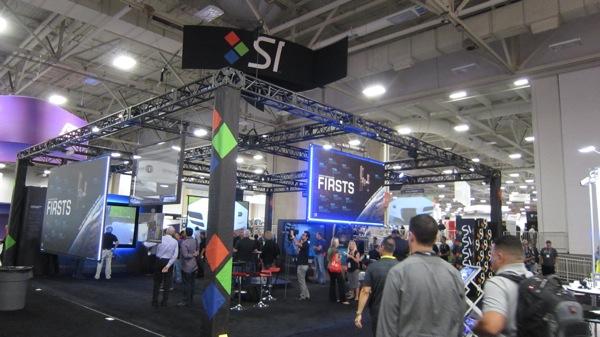 My first CEDIA was in Dallas in 1995, and it was held there for the next year or two. But unless my memory deceives me, 2015 was its first time back in the Big D. As I rode the Super Shuttle into the city from the airport, the building that housed that 1995 event was clearly visible next to the expressway. I went to a boatload of classes and seminars that year. There was plenty of time for them. You could cover the main exhibit floor in less than an hour—if you lingered. Calling them exhibits that year was a little grandiose; they were simply tables occupied by many new, unknown manufacturers hoping to grab a foothold in the growing but still small home theater custom installation market.
More Than Just Home Theater
Today, however, home theater is only part of what CEDIA promotes. Home automation, communication (increasingly wireless) and connectivity now rule the custom installation roost. The organization is also feeling pressure from products designed to make it easy for the homeowner to install some of these things without help; there were even new seminars at the show on how custom installers can slay, or at least coexist with, the DIY dragon.
But there's still as much home theater at CEDIA as ever, though it's now a smaller part of a growing organization. In the past I used to wander the aisles looking for that small gem waiting to be discovered. That was much more difficult this year. A combination of aisles blocked every hundred feet or so by other exhibits, together with a byzantine booth numbering system, were constantly frustrating. It was much harder than it should have been to locate the small companies that lacked those grandiose overhead signs highlighting the largest exhibitor's locations.
Not Like CES
Though my primary assignment at the show was video, there's no way I could ignore audio. For most A/V scribes who have been writing about consumer electronics for more than five nanoseconds, audio is in our DNA. And while audio at CEDIA tends to focus on in-wall and on-wall installations, there are always interesting product launches, sometimes even the free-standing variety. But audio at CEDIA is not like audio at the immensely larger CES. At the latter, a whole hotel is reserved for high-end audio demos, making that event the biggest audio show in the country, though it's open (officially) only to the trade. (But many a resourceful visitor figures out a way to get registered, usually through a friendly dealer or blogger!). But you won't see much home theater at CES—a few lonely demos at most if you're lucky. For that, CEDIA is still the place to be, and despite its reduced share in the custom installation universe there were still enough home theater exhibits to keep me curious and occupied for the show's three-day run.
Projectors a Plenty
Video at CEDIA usually means projectors, and while you'll see some flat panel sets there, they're usually thin on the ground. LG had a small (for them) booth showing its newest OLEDs, now at far more attractive prices. Sony had a limited flat panel presence (see below). And Vizio displayed its new Reference line, including the 120-inch, $130,000 monster we wrote about recently. But some of the most well known names in HDTV weren't even there, including Samsung and Panasonic.
I covered my video beat thoroughly in my show blogs. I did miss a few closed-door presentations, but caught most everything else. The only video demos I know for certain that I missed were Barco (see Kris Deering's CEDIA blog) and whatever video was in use in the Steinway Lyngdorf demo.
So what impressed me the most? One highlight was Sony's Ultra HD VPL-VW665ES projector with HDR and advanced color compatibility. At $15,000 it falls in the middle of Sony's new three-model Ultra HD projector lineup. I saw it during the press event, or at least that's what Sony said it was using for the press conference, but that for the rest of the show they would change over to the $60,000 home theater flagship, the liquid-cooled, 5000 Lumen VPL-VW5000. The latter was claimed to be capable of the Rec. 2020 color gamut, though we're unlikely to see any source material needing this for quite a while. I didn't manage to get back to see the VPL-VW5000; the line waiting for that demonstration looked like a queue for free Super Bowl tickets, even on the usually slow third day of the show.
Perhaps even more impressive were JVC's new projectors. But first a word about show comparisons. Most booths were using distinctly different source materials, except for those that were featuring Atmos and used Dolby's latest Atmos demo disc, which we were blessed (!?) to experience over and over and over again. Screen materials and sizes also varied from exhibit to exhibit. In my opinion JVC had better 4K source material than Sony, but perhaps I say that only because the next time I spot a Spider-Man demo I'll spin my own web fly and out of there.
JVC's new projectors use the company's pixel-shifting "4K" technology, E-shift, now in its 4th generation. While the projectors will accept 4K sources, they use pixel shifting to display them using 1080p LCOS chips. Nevertheless, the resulting images were consistently outstanding, particularly on their top-shelf, $10,000 model (the DLA-X950 in the Procision range and the identical DLA-RS600 in the Reference Series—the corresponding projectors in the two ranges differ only in their marketing channels). The images were stunning across the board, with blacks that no other projectors at the show, regardless of cost, even approached.
Yes, there were a few high-end projectors being demoed on immense screens at prices that made the big Sony look like a bargain basement special. But they looked no better than the JVC's or Sony's, and sometimes worse in both their color and contrast. Their main calling card appeared to be the ability to fill really big screens with bright images. But the biggest screens JVC used were 14-15 feet wide, and the projectors were bright enough to fill them in their low lamp mode. The Sony's demo screen was at least that big.

HDR vs. SDR
Using two of its flagship flat screen HDTVs, Sony demonstrated high dynamic range (HDR) side by side with the same picture in standard dynamic range. The photo here can't convey the full impact, of course, but does show the difference. I must say that the demo did appear to be exaggerated. The SDR on left looked like it was poorly set up, with either too low a gamma or too high a Brightness setting (or both). Either of these alone will reduce image punch and subjective contrast. And the HDR on the right looked decidedly over-cooked. Still, the point the demo made was valid; HDR is not subtle. A Sony rep nearby, however, claimed that the HDR image showed Rec. 2020 color and a peak brightness of 4000-5000 nits (1169-1459 foot-lamberts!) both of which I find wildly unlikely given the state of the art in today's consumer sets. Even with quantum dots (Sony uses them in their best sets), I don't believe Rec. 2020 is fully realizable, and perhaps not even desirable (as some experts argue) for reasons to complex to discuss here. And I know of no consumer HDR set claiming more than 1000 nits of peak brightness (292 ft-L).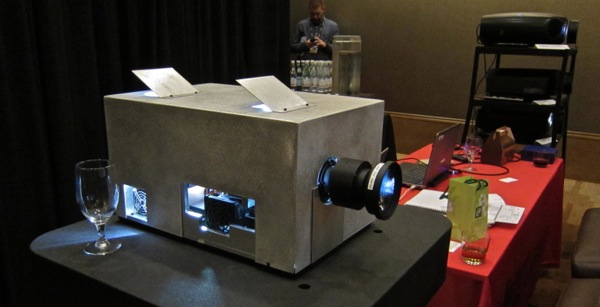 Texas Instruments Scores Big
But the most exciting video introduction at the show, open by invitation only, isn't even yet available in a current product. It was a technology demonstration of a new DLP chip from TI, demoed in a prototype projector. It's a smaller, more affordable version of the DLP chip used in theatrical projectors but designed for home theater. Yes, it only has 4 million pixels, in contrast to the 8 million pixels in a full 4K image. Like the JVC it uses pixel shifting to produce those 8 million on-screen pixels. In that respect it may also be unfairly tagged with the "Faux K" label that has dogged JVC's E-shift in some quarters. But TI's imager does have twice as many pixels to work with as JVC's 1080p chips. For more on this, see my CEDIA blog.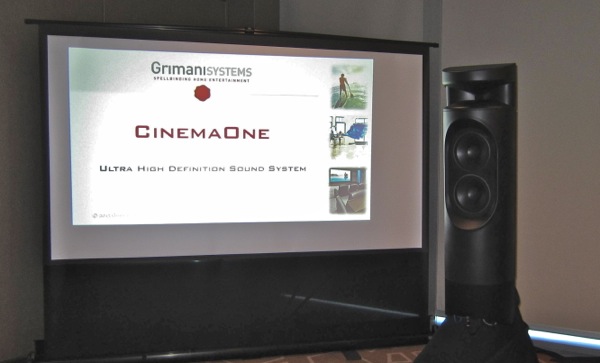 An Abundance of Audio Demos
On the audio side Grimani Systems launched new, 3-way active "Cinema Audio Ensembles" for custom installations. The speakers are unique in many ways, including a claimed 180-degrees of horizontal dispersion extending even into the normally directional treble range. Their demo was strictly stereo, but when played back at anything like a reasonable level (they'll play at unreasonable levels as well, but my ears won't!) they performed superbly. It's clear that a lot of thought and research went into developing this system. Unfortunately, their prices, which cover full surround packages (with immersive audio—Atmos, etc. optional at extra cost), start at $200,000 for the least expensive recommended system and rise to $300,000 for a package consisting of 13 speakers and 29 amplifiers!
But my award for the best sound at the show, at least in multichannel, goes to the Harman exhibit using more JBL speakers than I care to think about together with electronics featuring a new Synthesis pre-pro based on the Trinnov processor but with JBL's own room correction.
Addendum: In addition to JBL Synthesis electronics and Kaleidescape's player/server/vault, the Harman demo included 3 JBL Reference M2s (L/C/R front), 11 JBL SCS8s, 10 JBL CBT-50-LAs (line arrays), 8 JBL Synthesis S2S-EX subwoofers, and a Digital Projection HIghlight laser projector on a 17' x 9' Screen Research screen. The video here, apart from being among the best at the show, ironically looked better than anything I saw in Digital Projection's own booth.
On the more affordable side the audio setup in the Sony demo impressed me as well, using Sony's own new STR-ZA5000ES AVR (Sony's first Atmos AVR) and Sony ES speakers. The former is at least approachably priced at $2800, and while the ES speakers are pricey, they're well short of the mortgage-level demands that the Grimani and JBL Synthesis setups will make on your bank account.
GoldenEar had setup similar to the system they demoed last year, but this time with in-ceiling speakers across the front as well as in the surround and Atmos channels. It was surprisingly effective and fooled a lot of attendees into thinking that the Triton Ones on the floor were serving as the front L/R channels. I can't say that this arrangement sounded as good as last year's GoldenEar demo, but it was far more effective than I expected. GoldenEar had a point to make for those who can't or won't use floor speakers for whatever reason, and they made it convincingly.
There was even a high-end "Two-Channel Experience" section on the main show floor. But it was surprisingly small. Only a few booths sat beneath a large banner, with Germany's Burmester the most prominent. But there were high-end products scattered elsewhere at the show as well. Grimani and Harman mentioned earlier would certainly qualify, as would many others. The Trinnov pre-pro (marketed both by Trinnov and rebadged by Harman in the JBL Synthesis range, as noted above) is hardly a blue light special at $17,000 and up—mostly up, depending on the number of channels and whether or not you want it configured for Dolby Atmos/Auro/DTS:X immersive audio. At extra cost, of course.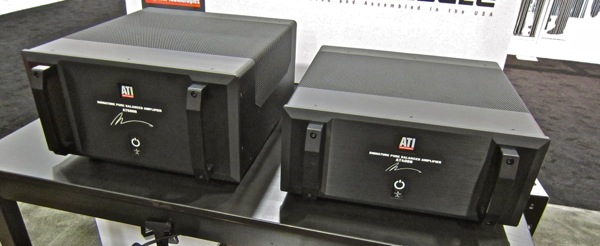 From the house of ATI came a smaller ATI Signature amplifier (on the left in the photo), available with from two to seven 200W channels. Prices range from $3000 to $6000.
And from the same ATI factory comes the monster BGW, with up to 16 amps in a single chassis in several power configurations (200W x 16, 400W x 8, 800W x 4, and even split arrangements such as 200W x 8 plus 400W x 4). Its $8860 price (for all configurations) is a bargain by high-end audio standards, but explained by the fact that it's designed for commercial theaters, which won't or can't spend high-end prices for each amplifier channel.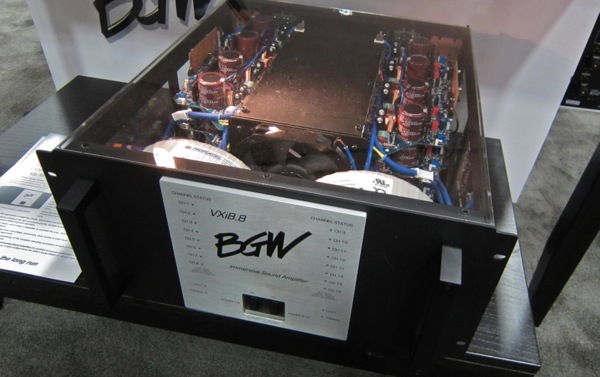 But I can see it being used in upscale home theaters as well. The 400W x 4 plus 200W x 8 would be ideal for a 7.2.4 immersive audio setup, with one of those 400W channels (or 2 x 200W channels) left over. At over 20" deep and up to 112 lbs., however, you'd better have the space—and the 2 x 20A at 117V outlets it requires—to accommodate it.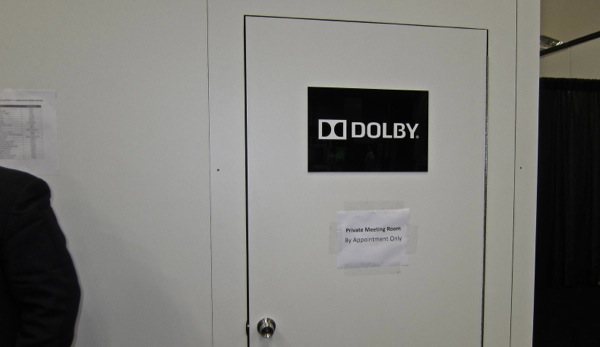 Finally, secret goings on were reportedly, um, going on in the Dolby booth, but only those flashing their Captain Ray secret decoder rings were allowed in. That didn't include us, but there were rumors in the air, including something about a Dolby Atmos-enabled sound bar…