CEDIA EXPO 2015 Is Here!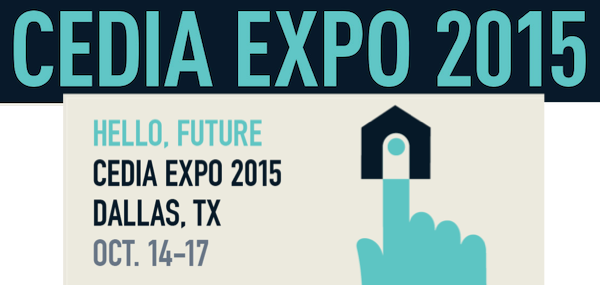 Our Coverage Begins Wednesday, October 14
Better late than never. CEDIA EXPO 2015—"the global showcase of the future home experience"—officially begins this week on Wednesday, October 14, with the Tradeshow portion of EXPO opening at 9:00 AM on Thursday. Normally, EXPO takes place in September; but due to scheduling conflicts, the custom install event of the year takes place a month later. Another change this year is that rather than happening in the smaller, cozier confines of Indianapolis or Denver, EXPO is returning to a city that saw some of the earliest CEDIA conventions—Dallas, Texas. We're sending a bevy (yes, a bevy) of editors and contributors to Big D to cover the newest, the best, the most interesting, and even the most ridiculous things that'll be announced or on display at this year's EXPO. Starting Wednesday, make sure you check out our CEDIA EXPO 2015 blog.
If you're not familiar with CEDIA EXPO, it's a fascinating custom installapalooza chockablock with all sorts of vendors involved in one way or another with custom installation (CI) tools, products, devices, and systems. Although this is ostensibly a show aimed at professional installers and designers, there are usually a number of DIY systems on display, as well. Here's a sampling of some of the more interesting things we'll be on the lookout for.
You could easily make the case that running and concealing the wires for one or two pairs of remote loudspeakers was the genesis of the modern CI industry. Pulling wires is certainly still a large part of CI today, but wireless audio (and some wireless video) will be featured in plenty of booths at this EXPO. The big kahuna, Sonos, will be there, of course, no doubt showing off the just-announced, new-and-improved PLAY:5. Hopefully they'll be demonstrating the company's amazing Trueplay room-acoustics adapting technology, too.
The Sonos booth won't be the only place to find Sonos gear, though, because a couple of companies will be displaying accessory-type products for various Sonos speaker systems. Vanco, for example, is set to launch the Concealer, an in-ceiling housing for the Sonos PLAY:1 as well as other wireless, self-contained speaker systems from HEOS, Bose, and others. If you're wondering how a PLAY:1 will sound in a 6.5-inch enclosure mounted in the ceiling, I have one word for you: Trueplay. (I can't say how the mounting location might affect other companies' speakers.)
Of course, HEOS and Bluesound will be at EXPO. In fact, Bluesound's exciting news is that there are now Control 4-certified drivers for integrating Bluesound components into larger, whole-house Control 4 systems. (Okay, that might not be exciting news for you, but Control 4 dealers and customers will be very happy.) Bluesound will likely also bring samples of the company's gorgeous new Gen 2 models, including the VAULT 2, NODE 2, and POWERNODE 2.
The extent of the wireless audio systems at EXPO doesn't end there, however. MartinLogan will be showing the company's new Bravado wireless stereo bookshelf speaker ($700) and Forte wireless amplifier ($600). Both models feature the rare built-in combination of both Apple AirPlay and DTS Play-Fi technologies. MartinLogan is also introducing its $1,700 Motion Vision X 5-channel, simulated-surround soundbar that will include DTS Play-Fi technology—but not Apple AirPlay—as well as three Folded Motion tweeters. Sister company Paradigm will be unveiling the first three models of the company's Premium Wireless Series (oooh, that sounds so impressive!): the PW 800 premium wireless speaker ($800), PW 600 compact premium wireless speaker ($600), and PW AMP premium wireless amplifier ($500).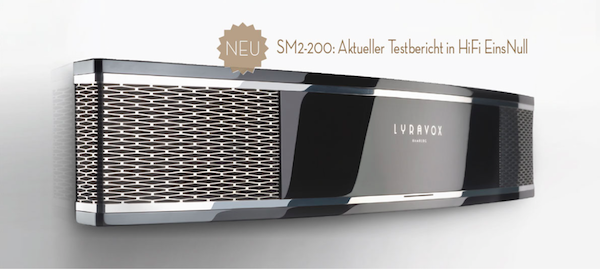 German audio company, Lyravox, is getting into the high-end wireless audio game with three versions of the stunningly good-looking SM2-200, a two-channel all-in-one speaker system with integrated CD drives. Each SM2-200 can be used as a single unit or multiple SM2-200s can be linked for music in multiple rooms.
While we're on the subject of wireless, we'll also be on the lookout for quite a number of new home automation devices and systems that will employ wireless technology. Z-Wave, for example, will have an entire booth featuring manufacturers and the products they offer with the Z-Wave wireless communication protocol built-in.
One of the more interesting newcomers to the DIY home automation arena is White Rabbit Electronics, a company that is focusing on "smart security and home automation". The White Rabbit Smart Hub is "designed to help your home run efficiently, with virtually no assistance from you." The Smart Hub is supposed to be able to sense when everyone leaves the house and then shut off the lights, lower the thermostat, lock the doors, arm the alarm system, and keep the cat from scratching up the furniture. (Not really, but it'd be a great feature to have.) When you come home, the system will reverse the process and adjust all the home's smart devices to your particular preference. Of course, lots of other smart home companies have made equally big and bold promises of systems that learn your behavior without you having to do much of anything. We'll see if this one can live up to its claims.
Smart lighting will be at EXPO, too, including "the world's smartest light bulb" from ilumi. I don't know what the testing requirements were for "smartest", but I can tell you that the new ilumi smartbulbs are much more attractive than the original versions. ilumi smartbulbs don't require a smart hub. They are controlled via Bluetooth from either an Android or iOS device. They also work just like a regular dumb bulb. (But hopefully not a dim bulb…)
This might be the year that smart doorbell cameras hit the big time. Yale, one of my favorite smart lock makers, is going to launch the company's Look Real Living Digital Door Viewer. Despite the awful name, the LRLDDV looks like its going to be one of the better smart doorbell cameras available so far. In addition to providing two-way live video and audio communication with the person at the door, the $200 Wi-Fi/Z-Wave version can be linked to smart home hubs (using Z-Wave) in order to trigger or control various actions throughout your house. Yale will also be showing its new Linus smart door lock that includes Nest communication capabilities thanks to the Works With Nest program.
Mivatek is looking at the DIY smart home from a slightly different direction. Rather than focusing directly on automation and convenience, Mivatek highlights the security, safety, energy, health, and elder care aspects of putting together a smart home. They say they "offer customized services and accompanying devices to cover a lifespan, from baby to elderly." In some cases, Mivatek offers the consumer free devices when he/she signs up for $9.95/month (or more) monitoring services. The company claims its systems are "true zero-pairing plug-n-play." (If true, the folks at Mivatek should win the next Noble Peace Prize.) Mivatek's systems also offer IFTTT integration.
RoseWater Energy will be at EXPO with its RoseWater Residential Energy Storage Hub, which "is the first all-in-one residential and light commercial power solution integrating three capabilities into one platform to serve the complete electrical needs of an entire premise, in essence transforming the electrical system in place into a self-sustaining microgrid." The Energy Storage Hub:
Protects all home and office electronics by, delivering conditioned electricity that's much cleaner than utility power to power sensitive audio and video systems as well as home networking components, home automation and lighting control systems.
Uninterruptable Power Supply with zero transfer time, to safely and securely ride out power failures
Ready for renewables – users adopting the RoseWater Energy Hub for power quality and back-up reasons can "go solar" for relatively little additional cost, for greener living and energy independence
I'm not sure what it costs—you can bet it won't be cheap—but I want one.
CEDIA EXPO isn't usually the venue for manufacturers to introduce major new video products, but there will be some new gear that's perfect for the CI market, such as a number of new 4K projectors from companies such as, Barco, Christie Digital, and Digital Projection. Projection TVs need screens, so there'll be no lack of new screen designs. Stewart Filmscreen, for example, will be featuring 4K-rated edgeless-design LuminEsse screens. Seymour-Screen Excellence will take the wraps off of the TAM-4: "a 4-way, constant-area True Aspect Masking (TAM) acoustically transparent (AT) film screen." Of course, the "must see" video product at EXPO will be Vizio's $130,000 Dolby HDR Flat Panel. (No, we didn't skip a zero in that price. It's seriously $130,000.)
If you've made it this far, I'm sorry to tell you that we've only scratched the surface on what's going to be on the show floor at CEDIA EXPO 2015. The good news is that you can keep up with all the latest by checking back with us throughout the coming week.