CEDIA Expo 2012: New Sim2 Projectors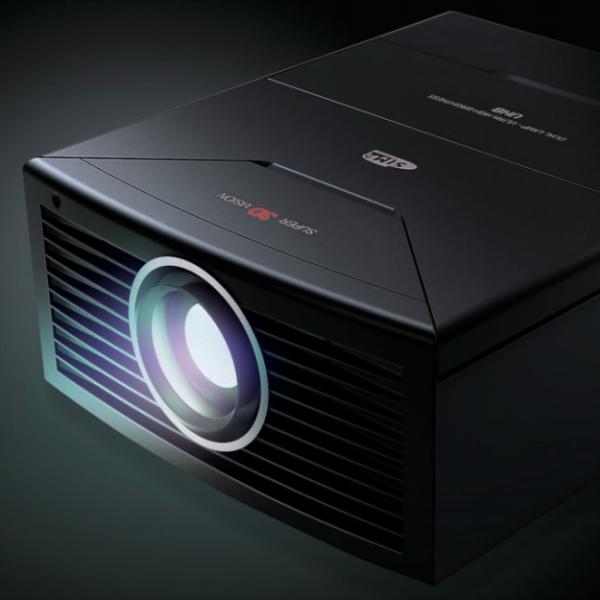 With their usual Italian flair, Sim2 showed off their latest projectors.
The two big announcements: A dual-lamp, high-brightness projector for "media rooms" and a 4K DLP projector (sort of).
All the info after the jump.
Imagine our disappointment when the 4K projector turned out not to be part of the demo. It sat, like a teasing bulky box of future potential awesomeness. The re-worked Christie cinema projector certainly has some impressive specs, like up to 20,000 ANSI Lumens from its 2 kilowatt xenon lamp. So too is its requirements, like a 240 volt power and $158,000 (plus lens).
Showing its D-Cinema roots, the resolution is 4,096x2,160 instead of the more common "4K" home resolution of 3,840x2,160 (also called "Quad-HD"). Named CinemaQuattro, it should be available later this year for the well-heeled.
No word yet on 4K DLP for the more mainstream market.
On the lower end of the price scale (comparatively), is the new SIRIO. It's a single-chip DLP with dual-lamps that "transforms any large media room into the ultimate high-tech, high performance entertainment system." In other words, it's got enough output to compete better with ambient light than most single-lamp projectors (given a screen designed to do the same).
The dual 350 watt lamps produce a claimed 6,000 ANSI lumens with a contrast ratio of 6,000:1. There are two color wheel options: SIM2Color, which has more accurate color but less light output; and SIM2Shine, which maximizes brightness.
I'm most curious what 3D will look like on the SIRIO. Given the intense light output, the normal light loss through active shutter glasses shouldn't be as much of an issue.
No pricing or availability yet, but keep checking back in with Sim2. Expect "soon" and "uncheap."