CEDIA Expo 2012: New JVC Projectors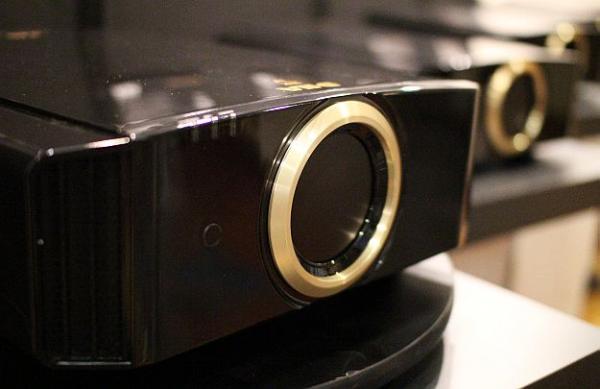 New CEDIA, new JVC projectors. Seven, in this case. As we've come to expect, the new models offer a little better performance and new features at lower price point.
Starting at $3,499, and perhaps most interesting, JVC's 4K e-shift technology will now be available at $5,000.
All the info and more images after the jump.
At the top of the line, there's the DLA-X95R/DLA-RS66 twins, which sport a claimed 130,000:1 native contrast ratio, and the latest update of e-shift, cleverly titled e-shift2. E-shift2 shifts the pixels of the 1080p D-ILA chips half a pixel horizontally and vertically, creating quad-HD resolution on-screen. I was unimpressed when I reviewed the previous version for S+V, but the demo they had at the show here of the new version did look exceptionally detailed. That could also have been the excellent contrast ratio.
Stepping down the line, there are slightly lower specs, down to the DLA-X55R/DLA-RS48 twins offer e-shift2 4K for $4,999. JVC claims the new version of e-shift offers better contrast ratio than last year's.
While you don't get 4K when viewing 3D, JVC claims you also don't get a decrease in brightness. I'm skeptical of this claim, but it's cool if true. A "crosstalk canceller" claims to do, well, just that.
If e-shift 4K doesn't interest you, there's the DLA-X35/DLA-RS46 for $3,499. It has a claimed 50,000:1 contrast ratio.
We'll be reviewing one of the new projectors shortly after they're available in November.