CEDIA Expo 2012: New Epson Projectors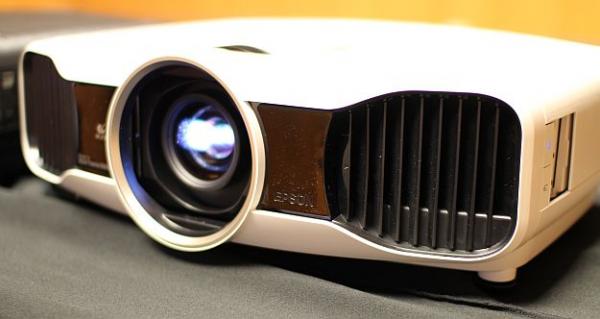 Epson today announced three new projectors, including an update to the Sound+Vision Certified and Recommended Epson PowerLite ProCinema 5010.
The 6020, 5020, and 3020 are all 3-chip LCD models with 3D, lots of light output, and more.
All the details after the jump.
The PowerLiteHome Cinema 3020 and 3020e (the "e," in Epson's nomenclature, means "wireless") twins are the babies of the bunch, but still feature 1080p, 3D, and a claimed 2,300 lumens and a contrast ratio of 40,000:1.
There's a split screen feature to watch two sources at once - or as Epson points out, you can watch TV on one side, while you surf the Web on the other. The 3020e comes with a wireless transmitter with five inputs so you don't have to run an HDMI cable to the projector.
Epson is expecting a street price of under $2,000.
The PowerLiteHome Cinema 5020UB and 5020UBe, the successors to the 5010, offers the same basic features of the 3020, but bump the light output to a claimed 2,400 lumens, and the dynamic contrast ratio to 320,000:1.
A big new difference from the 5010 is that the 5020 is THX Certified. There's also a trick new Bright 3D Drive Technology that boosts brightness with 3D.
Epson is expecting a street price of under $3,000.
The PowerLitePro Cinema 6020UB is largely similar to the 5020, but adds a 3 year warranty (up from 2 on the 5020), an extra lamp, a ceiling mount, and more. Performance should be the same as the 5020. Epson is expecting a street price of under $4,000.
At an S+V Exclusive preview, I got a chance to check out the 5020 and 6020 at Epson's US Headquarters. My initial impressions are that Epson improved on the strengths of the 5010. The 2D image was just as bright, but the 3D image seemed even brighter. Color, though I wasn't able to take measurements, seemed accurate and vibrant. The wireless worked flawlessly with no visible artifacts, and the picture-in-picture feature seemed really cool - something we haven't seen in displays in a long time.
We've requested a 5020UBe for review, look for that later this year.