CEDIA Expo 2012: AudioExperts Korners Surround Speaker System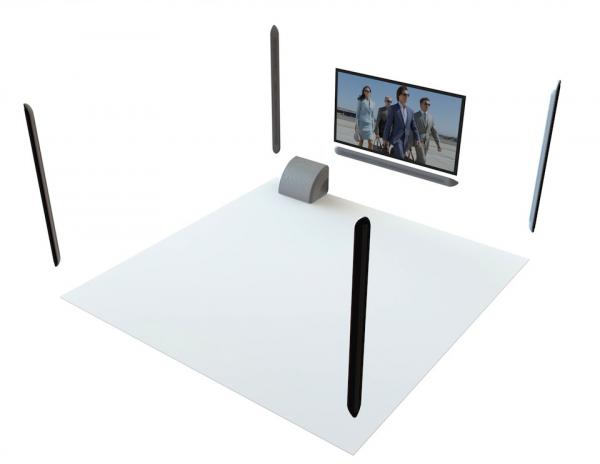 Last month we got a peek at the 4TV and EVA, the initial offerings from AudioXperts, a new company with a long collective history. We were sworn to secrecy at the time, but there was one cool product we couldn't tell you about then - and now we can.
Korners, introduced today at the CEDIA Expo, is a neat alternative to traditional in-wall installations. It's a full surround system (configurable in any number of ways), based around an easy-to-conceal set of slim Korners L/C/R speakers based around a 1-inch tweeter and 6 2-inch drivers, and 8 2-inch passive radiators, available in 56 and 1/8-inch or 66 and 1/2-nch lengths. The idea is that they can be hung in corners (thus the name) or wherever wall meets ceiling or floor. With paintable white grilles (also available in black or silver finishes), they can disappear into a room. A matching half-cylindrical 100-watt sub (the Korners Kompact Sub) can be placed in a corner or against floorboards.
The system also includes a set of wire channels and wall brackets; a wireless transmitter and receiver is optional, and the whole setup should be available this fall. A bigger, more robust sub option is also on the way, aimed at bigger rooms. No word on pricing yet, but we'll keep you posted.